Michelin CrossClimate Tire Review & Rating
Overview
As seasons change so does our attire — in summer, we wear standard apparel with no overalls, whereas in winters we pull out our jackets, sweaters, and pullovers from the closet. But it all depends on how big of a shift takes place in the temperature, right?
The same is the case for our vehicles – summer tires are not able to handle extreme winter conditions – and vice versa. This is why people either keep two sets of tires or if the region in question does not have severe winters — people rely on all-season tires.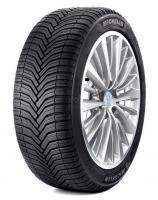 However, all-season tires are just meant to be used in light snow and are not safe to be used when there is knee-deep snow, nor do they have the traction or braking capabilities for such conditions.
Well, such is the case for almost all-season tires, but except for one exceptional tire brought to you by the famous tiremaker, Michelin.
Michelin CrossClimate has the best of both worlds: A summer tire with enhanced capabilities to perform in winters as well. As a matter of fact, they are stamped with the 3PMSF symbol — which means the tires comply with all industry standards.
Even if you have a set of winter tires at your disposal, the CrossClimate gives you a certain amount of leverage when it comes to shifting to the winter pair.
The featured rubber compound is like none other, the traction on these tires is beyond impressive, which is why they passed the traction test to be certified with the Three-peak-mountain-snowflake symbol.
The compound is enriched with high-levels of Silica, a compound common in winter tires, which leads to low-rolling resistance, and uncompromised performance in winters.
However, despite the assurance, it still will not be at par with the performance you will see from winter tires such as the X-Ice or Blizzak — so if your state sees heavy snowfall each year, we suggest you go for winter tires.
The 3D sipes on the tire make Michelin's offering unique; it changes shape to adapt to road conditions. The sipes are placed on the tread and can amend form as and when needed — depending on the encountered pressure.
This means that as severity rises, the sipes come outward, which allows for a better grip on snowy, muddy, and slippery roads. Whereas in the pleasant summer the sipes remain intact.
Above all, the way the tread is designed makes all the difference. And the brilliant tread design seen from these revolutionary tires can be categorized somewhere between simple and complex.
The Michelin CrossClimate tire has a directional tread pattern, which is not like your conventional summer tire tread — it is not as open. A perfect combination to maintain uniformity in normal driving conditions and stability when there is an adverse shift in weather.
The tread design has two layers: One underneath the surface and the other on the treads. This makes the tire heat resistant – instead of just the contact patch – all produced heat is dispersed across the tire.
Braking distance on the tire is, without a doubt, one of the best we have come across in a while. All thanks to the wide shoulders of the tire, all water gets dispersed as you drive.
Pros
Better than your average all-season tire

Performance on dry and wet roads is equally impressive

Splendid traction control on light-to-medium snow

Short braking distance

Treadwear is quite slow

Steering control is good

Stamped with the 3PMSF symbol

Provides more miles per gallon
Cons
The tires are not as good in winters as winter-specific tires
Overall Thoughts
There is a reason why enthusiastic motorheads to people with little to no knowledge of cars are aware of Michelin — for its outstanding designs and uncompromised tire performance.
So, it is a safe assumption that anything produced by Michelin has to be good, and this is precisely what the Michelin CrossClimate Tire reinforces.
Countless hours and tests were done to the masterpiece. The development process took three years, in which the tire was tested in different temperatures ranging from -30 to 40 degrees. Furthermore, it was tested for over 300 thousand miles with over a thousand lab tests.
Simply put, it is an excellent tire, and you get good value for money.
Remember, if you live in an area with heavy snow these tires shouldn't be your first choice!
What Vehicles Will The Michelin CrossClimate Fit?
The Michelin CrossClimate Tire is meant to be installed on sedans, coupes, station wagons, and crossovers. Some of the many manufacturers these tires can be used for are:
Suzuki

– Baleno, Liana, Splash, Swift, Escudo, Grand Vitara,

Renault

– Clio, Lutecia, Megane, Modus, Pulse, Twingo

Mercedes-Benz

– Vaneo

BMW

– 6 Series Gran Turismo, 7 Series, X3, X4

Buick

– Encore GX, GL8, Rendezvous, Terraza

Chrysler

– New Yorker, Voyager

Ford

– Five Hundred, Mustang
Available Tire Sizes
14″
185/60 R14

175/65 R14

185/65 R14

165/70 R14

175/70 R14
15″
185/60 R15

195/60 R15

185/65 R15

195/65 R15
16″
195/55 R16

205/55 R16

225/55 R16

215/60 R16

225/60 R16

235/60 R16

215/65 R16

215/70 R16
17″
215/45 R17

205/50 R17

215/50 R17

225/50 R17

215/55 R17

235/55 R17

215/60 R17

225/60 R17

235/60 R17

215/65 R17

225/65 R17

235/65 R17

265/65 R17
18″
235/45 R18

245/45 R18

215/50 R18

225/50 R18

235/50 R18

215/55 R18

225/55 R18

235/55 R18

255/55 R18

225/60 R18

235/60 R18

245/60 R18

255/60 R18

265/60 R18

235/65 R18
19″
225/45 R19

285/45 R19

235/50 R19

255/50 R19

265/50 R19

225/55 R19

235/55 R19

255/55 R19

275/55 R19
20″
245/45 R20

255/45 R20

265/45 R20

275/45 R20
Price Range
The tire sells for $141 – $275 depending on the variant you choose. You can find them in the aftermarket, or you can go online and find excellent bargains and discounts.
Warranty
The warranty offered with Michelin CrossClimate tires is:
Uniform warranty – 1 Year / first 2/32″ of wear

Workmanship & Materials Warranty – 6 Years / Free replacement first year, 2/32″ or 25% of wear, then prorated until 2/32″ remaining depth