Maxxis Razr MT Tire Review & Rating
Built to deliver unmatched off-road performance with impressive on-road handling and comfort, the Maxxis Razr MT tire features the latest in tire technology and experience. Created for all types of trucks, SUV's, jeeps and other 4×4's, the Razr MT 772 tackles the toughest terrain while also being right at home as a daily driver.
Maxxis uses a new off-road tread compound that is cut and chip resistant for added toughness and a longer treadlife, which Maxxis backs with a 40K mile tread warranty. You won't find that kind of mileage warranty among most any other MT tires. In addition, this tire has a 20/32-inch tread depth, which is much more than your typical 10-11/32 inch on most new tires.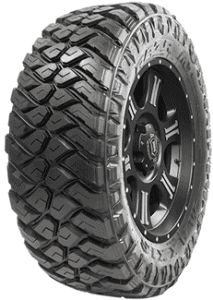 Of course, Maxxis built the Razr MT with off-road performance in mind and it shows. The symmetrical tread pattern has sculpted center blocks to get you through the mud, while the tires' stone and mud ejectors rid themselves of rock and other debris for maximum traction.
Aired down, the Razr MT easily goes through deep wet sand and other soft terrain. Rock climbing is another area in which this tire excels due in part to the sidewall design. Maxxis uses an innovative design whereby the sidewall actually becomes part of the tread surface when aired down to take you over jagged rocks and other difficult terrain.
How tough is this tire built? It's Dual-Cord armored body ply technology was developed after years of off-road competition and includes a 3-ply polyester sidewall, 3-polyester, 2-nylon and 2-steel belts around the tread for increased casing strength. Other driver reviews agree that this model is one of the toughest tires available today.
Although crafted for serious off-road performance, Maxxis hasn't forgotten the need for more civilized manners when driving on the street. The symmetric tread pattern and sculpted blocks reduce the road noise, while the sipes in the tread blocks further wet traction and grip on snow covered road surfaces. This is an area that somewhat surprised us since one look at the aggressive tread would have you thinking this would be a loud tire on the highway.
Maxxis offers a variety of 17-20 inch sizes in the Razr MT with C, D or E load ratings. As mentioned earlier, a 40K mile tread warranty is also part of the package, which is rare for an MT tire.
Pros
Off-road performance is nothing short of spectacular
Easy to balance
Very good on-road drivablity
Treadlife
Cons
Traction in deep snow and hardpack
Overall Thoughts
When you think of Maxxis you tend to think of solid performance. After all, their trailer tire is one of the better models available for several years now. This new Razr MT continues in that line with outstanding off-road performance. It simply goes through all types of terrain without issue.
Air them down and you can take the worst rock formations with relative ease. It has your back so to speak when you need them the most. That's what you look for in any situation.
On the highway, which is where most drivers spend the bulk of their time, this tire doesn't leave you with a bad back from all the jolts. You also will not find a busted ear drum from all the road noise as this tire is much quieter than expected. Sure, you'll find some noise, but nothing that is excessive or overbearing.
Our only minor issue is traction in deep snow and braking/acceleration on ice and hardpack. It's M+S rated instead of having the mountain snowflake emblem for severe winter service.
Overall, if you're seeking one of the better performing MT tires available today, the Maxxis Razr MT is one that does not disappoint. Highly recommended.
What Vehicles Will The Maxxis Razr MT Fit?
(This is not a complete list of ALL vehicles this tire will fit)
Chevrolet Silverado, Avalanche, Tahoe, TrailBlazer
Dodge Ram, Dakota
Ford F-150, Escape, Explorer, Expedition, Ranger
GMC Canyon, Sierra, Yukon
Honda Pilot, Ridgeline
Jeep Grand Cherokee, Wrangler
Land Rover Range Rover
Mercury Mountaineer
Mitsubishi Montero
Nissan Titan, Frontier, Armada, Pathfinder
Ram 1500
Toyota FJ Cruiser, Highlander, 4Runner, Sequoia, Tundra, Tacoma, Land Cruiser
Tire Sizes
17″
35X12.50R17LT 121Q E RBL
35X13.50R17LT 121Q E RBL
37X12.50R17LT 124Q E RBL
40X13.50R17LT 121Q C RBL
LT315/70R17 121/118Q D RBL
20″
35X12.50R20LT 121Q E RBL
38X13.50R20LT 128Q E RBL
37X13.50R22LT 123Q E RBL
Price Range
Maxxis Razr MT prices range from approximately $343 and up. You may also find occasional rebates, discount prices, coupons and special offers on this tire.
Warranty
Maxxis provides a 40,000 mile tread warranty on the Razr MT.
---