Mastercraft SRT Touring Tire Review & Rating
Built to deliver reliable all-season traction to go with a comfortable ride quality is what the Mastercraft SRT Touring was designed for. Created for drivers of coupes, sedans, minivans and smaller crossovers, the SRT Touring is also economically priced to fit most any budget.
An all-season tread compound and 5-rib tread pattern is M+S rated and designed to provide more even treadwear and a longer lifespan. It works fairly well with this tire as we've heard many drivers speak highly of the treadlife.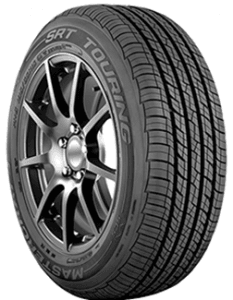 The tread pattern sports 20% more lateral grooves around the tire from the previous generation, which adds to wet traction as well as performance on light snow covered road surfaces. Four wide circumferential grooves increase rubber to road traction and help in reducing the risk of hydroplaning.
Mastercraft has focused quite a bit of attention on reducing outside road noise by utilizing a newly developed tread pitch sequence that addresses this area, however, this is certainly not a strength for this particular tire.
Inside the tire are two steel belts that add strength and durability. A wide range of 14-18 inch sizes are available in T, H and V-speed ratings. Mastercraft backs the SRT Touring with either a 65K mile or 50K mile tread warranty depending on the tires speed rating.
Pros
Reliable dry and wet traction
Treadlife better than many comparable tires
Lower cost versus bigger name brands
Cons
Road noise may be an issue for some
Ice and hardpack grip
Overall Thoughts
The SRT Touring delivers a mixed bag of results for the most part. As a division of Cooper Tire, Mastercraft has a number of good quality tires in their lineup, and that would include this model.
Dry traction and handling are very good. Braking and acceleration are more than adequate. No, you won't mistake this tire for the likes of a Pirelli Cinturato P7 All Season Plus, but it performs well for a second tier brand. Treadlife has shown to be better than average as well.
Where you may see issues is with traction on ice and hard-pack. It lacks the grip and bite of a winter tire when conditions worsen. It's a common problem that plagues most every all-season tire to a degree. The bigger issue that we've found is with a little extra road noise, especially at highway speeds. We've heard this from a number of drivers of this model.
Overall, Mastercraft has a pretty good tire in the SRT Touring. Despite the bit of extra noise, the positives far outweigh the negatives. This is especially true when you factor in the much lower costs of this model over tires from the bigger name brands.
What Vehicles Will The Mastercraft SRT Touring Fit?
Fits these vehicles and many others:
Acura TL, CL, RL
BMW 135i, 330i, 530i
Cadillac CTS
Chevrolet Cobalt, Cavalier, Malibu, Cruze, Impala, Sonic LTZ
Dodge Grand Caravan, Nitro, Avenger, Intrepid
Ford Focus, Mustang GT, Taurus, Fusion
Honda Civic, CR-V, Insight, Accord, Odyssey
Hyundai Genesis, Sonata, Elantra
Kia Optima, Rondo
Mazda6, 929, Mazda3
Nissan Altima, Maxima, Versa, Leaf, Cube
Pontiac Vibe, Grand Am, Grand Prix, G5
Subaru Legacy, Impreza Outback
Toyota Camry, Prius, RAV4, Avalon, Solara, Sienna, Corolla
Volkswagen Jetta, Passat, Touareg
Tire Sizes
14″
185/70R14 88T BLK
195/70R14 91T BLK
175/65R14 82T BLK
185/65R14 86T BLK
185/65R14 86H BLK
185/60R14 82H BLK
195/60R14 86H BLK
15″
205/70R15 96T BLK
215/70R15 98T BLK
185/65R15 88H BLK
185/65R15 88T BLK
195/65R15 91T BLK
195/65R15 91H BLK
205/65R15 94H BLK
205/65R15 94T BLK
215/65R15 96T BLK
185/60R15 84T BLK
195/60R15 88T BLK
195/60R15 88H BLK
205/60R15 91T BLK
205/60R15 91H BLK
16″
205/65R16 95H BLK
215/65R16 98T BLK
225/65R16 100T BLK
235/65R16 103T BLK
205/60R16 92T BLK
205/60R16 92V BLK
205/60R16 92H BLK
215/60R16 95H BLK
215/60R16 95V BLK
215/60R16 95T BLK
225/60R16 98T BLK
225/60R16 98V BLK
225/60R16 98H BLK
195/55R16 87V BLK
205/55R16 91V BLK
205/55R16 91T BLK
205/55R16 91H BLK
215/55R16 97H XL BLK
225/55R16 95H BLK
225/55R16 95V BLK
225/50R16 92V BLK
17″
215/65R17 99T BLK
225/65R17 102T BLK
235/65R17 104T BLK
215/60R17 96T BLK
225/60R17 99T BLK
215/55R17 94V BLK
225/55R17 97H BLK
215/50R17 95V XL BLK
225/50R17 94V BLK
18″
225/60R18 100H BLK
225/55R18 98H BLK
235/55R18 100V BLK
225/50R18 95T BLK
Price Range
Mastercraft SRT Touring prices range from approximately $58 and up. You may also find occasional rebates, discount prices, coupons and special offers on this tire.
Warranty
Mastercraft provides a 65,000 mile tread warranty on T-speed rated sizes and a 50,000 mile warranty on H or V-speed rated sizes on the SRT Touring. Tire uniformity is guaranteed on all sizes for the first 2/32 inch of wear.
Materials and workmanship are warranted for 6-years and include free replacement during the first 2/32 inch of wear. A prorated amount is given down to the final 2/32 inch of tread depth. You also receive a 45-day road test guarantee that allows you to exchange the tires if you are not completely satisfied.
---