Mastercraft Courser MXT Tire Review & Rating
The Mastercraft Courser MXT, which is a sub-division of Cooper Tire, is an"extreme" mud-terrain tire intended for use by drivers of light trucks, SUV's or other 4×4's. The tire has been designed for use both on and off the highway, but off-road is where this offering really shines of course.
The tire's tread pattern features an optimized void-to-rubber ratio, which means that the contact area of the tire has been specifically engineered to provide enhanced off road traction and response.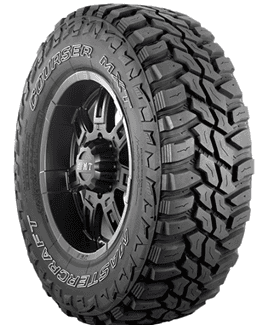 Furthermore, the tire's sidewalls are quite deep, which improves traction in uncertain terrains as well as preventing abrasion to the sidewall, which is a common occurrence off the highway. The shoulder scallops and traction edges are also larger than one would find on a standard tire, which help to scoop mud and bite into nearly any surface for additional grip.
The tire isn't just for use off the road. Deep sipes aid in traction on wet road conditions. Even if the tire's tread wear has reached 50%, four fifths of the siping will remain intact. This not only improves grip, but provides drivers with a consistent experience throughout the lifetime of the product.
This tire is available in sizes ranging from 15-20 inches and comes with a limited tread life warranty.
Pros
Solid all-around traction on and off the road

Good traction in deep snow

Attractive price point
Cons
Highway driving takes some getting used to and may feel "sluggish" at first
Overall Thoughts
The Mastercraft MXT isn't what you might call the perfect mud-terrain tire, but it's an excellent choice for most weekend off-road enthusiasts. Compared to similar tires in its class, the tire is appropriately priced. It isn't exactly a budget tire, but it isn't over priced either.
Aired down, the MXT delivers more than capable performance on rocky terrain, as well as in the mud, dirt, gravel and other rough terrain. No, it's not a hard-core rock climber and doesn't pretend to be. For the weekend trail driver however, it makes a good fit.
On the highway, this MT tire may feel somewhat sluggish until it gets broke in. What may surprise you is the lower road noise that it puts out. While any MT tire is going to be noisier than an AT tire, this one is not as noticeable as most.
Overall if you end up purchasing this tire you'll likely be pleased… assuming your goal is solid off road performance, and "good enough" performance on the road to get from point A to point B.
What Vehicles Will The Mastercraft MXT Fit?
(This is not a complete list of ALL vehicles this tire will fit)
Chevrolet Silverado, Colorado, K1500, Avalanche, S10, C2500, Blazer, Tahoe

Dodge Ram, Dakota, Durango

Ford F-150, F-250, F-350, Ranger, Bronco, Expedition

GMC Sierra, Canyon, Envoy, Yukon, Jimmy, Suburban

Isuzu Trooper, Hombre5, Rodeo, Amigo S

Nissan Titan, Pathfinder

Jeep Wrangler, Cherokee, Grand Cherokee, Liberty, CJ5, CJ7

Suzuki Sidekick, Equator

Toyota FJ Cruiser, 4Runner, Tacoma, Tundra, Sequoia
Tire Sizes
15″
31X10.50R15LT 109Q C OWL
32X11.50R15LT 113Q C OWL
33X12.50R15LT 108Q C OWL
35X12.50R15LT 113Q C OWL
16″
LT235/85R16 120116Q E BLK
LT245/75R16 120116Q E BLK
LT265/75R16 123120Q E OWL
LT285/75R16 126123Q E OWL
LT315/75R16 127124Q E OWL
LT305/70R16 124121Q E OWL
17″
LT235/80R17 120117Q E BLK
LT245/75R17 121118Q E OWL
LT265/70R17 121118Q E OWL
LT285/70R17 121118Q E OWL
LT295/70R17 121118Q E OWL
LT315/70R17 121118Q D OWL
LT305/65R17 121118Q E OWL
37X12.50R17LT 124P D BLK
18″
LT275/70R18 125122Q E OWL
LT305/70R18 126123Q E OWL
LT275/65R18 123120Q E OWL
LT305/60R18 121118Q E OWL
20″
LT305/55R20 121118Q E BLK
35X12.50R20LT 121Q E BLK
Price Range
Mastercraft Courser MXT prices range from approximately $156 and up. You may also find occasional rebates, discount prices, coupons and special offers on this tire.
Warranty
Mastercraft provides a limited tread warranty on the Courser MXT. There is also a first 2/32 inch tire uniformity guarantee as well. Materials and workmanship are covered for 5 years and include free tire replacement during the first year or first 25% of treadwear. The amount is then prorated down to the final 2/32 inch of tread on the tire.
---