Mastercraft Courser HXT Tire Review & Rating
The Mastercraft Courser HXT is designed as a commercial highway light truck tire that is built to provide reliable year-round performance. In addition, the HXT is priced lower than many bigger brand name tires to save you money at the same time.
Mastercraft uses a tougher all-terrain tread compound in the HXT that is matched up to an M+S rated asymmetric tread pattern for added traction on dry, wet or snow covered road surfaces.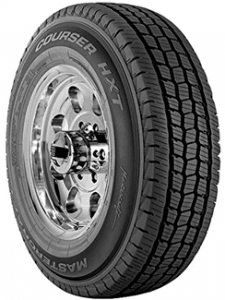 Interlocking tread elements deliver improved handling and steering response throughout the speed range, while the continuous shoulder rib adds to a quiet ride and increased treadlife.
Large circumferential grooves around the tread and numerous lateral grooves help enhance grip on wet pavement and greatly reduce the risk of hydroplaning. It also helps when driving on snow and ice, although ice traction is not a strength for this tire.
The Mastercraft HXT is available in a range of 15-20 inch LT sizes, and includes a 50K mile tread warranty.
Pros
Reliable on and off-road traction
Quiet ride
Treadlife is very good
Value for the money
Cons
Road noise as tire wears down
Overall Thoughts
Mastercraft, which is made by Cooper Tire, has engineered a solid performing tire with the HXT. Traction on dry or wet streets is very good, and performance in snowy conditions is not bad as well. In addition, treadlife has shown to be longer lasting than some other models in this class.
The only real complaint with this tire would be the added noise as it wears out. To be fair, that's an issue with most all commercial class tires.
While other tires like the Goodyear Duratrac and Cooper ST Maxx remain at the top of this class, the Mastercraft HXT is not far from them. When you factor in the performance for the lower cost, this tire provides very good value for the money.
What Vehicles Will The Mastercraft HXT Fit?
Fits these vehicles and many others:
Chvrolet Silverado, Avalanche, S10, Suburban, K2500, Colorado, Blazer
Dodge Ram, Dakota
Ford Expedition, Ranger, Bronco, F-150, Explorer
GMC Yukon, Sierra, Canyon
Honda Element, CR-V, Ridgeline
Isuzu Trooper
Jeep Wrangler, Grand Cherokee, Liberty
Mazda B4000
Mercury Mountaineer
Mitsubishi Montero
Nissan Titan, Xterra, Frontier, Pathfinder
Toyota Tacoma, Tundra, FJ Cruiser, Sequoia, Land Cruiser, Highlander
Tire Sizes
15″
LT235/75R15 104\101R C BLK
16″
LT215/85R16 115\112R E BLK
LT235/85R16 120\116R E BLK
LT225/75R16 115\112R E BLK
LT245/75R16 120\116R E BLK
LT265/75R16 112\109R C BLK
LT265/75R16 123\120R E BLK
LT285/75R16 126\123R E BLK
17″
LT235/80R17 120\117R E BLK
LT225/75R17 116\113R E BLK
LT245/75R17 121\118S E BLK
LT245/70R17 119\116S E BLK
LT265/70R17 121\118S E BLK
LT285/70R17 121\118S E BLK
18″
LT275/70R18 125\122S E BLK
LT275/65R18 123\120S E BLK
20″
LT275/65R20 126\123S E BLK
Price Range
Mastercraft Courser HXT prices range from approximately $130 and up. You may also find occasional rebates, discount prices, coupons and special offers on this tire.
Warranty
Mastercraft provides a 50,000 mile tread warranty on the Courser HXT. Tire uniformity is guaranteed on all sizes for the first 2/32 inch of wear.
Materials and workmanship are warranted for 6-years and include free replacement during the first 2/32 inch of wear. A prorated amount is given down to the final 2/32 inch of tread depth. You also receive a 45-day road test guarantee that allows you to exchange the tires if you are not completely satisfied.
---