Mastercraft Courser AXT Tire Review & Rating
The Mastercraft Courser AXT all-terrain tire is built for drivers of all types of pickups, SUV's and other 4×4's. It's been designed with a robust list of features that provide traction for weekend off-road use, as well as the everyday driver for the highway.
A proprietary tread compound utilizes silica in its makeup that is intended to improve the tire's traction on wet or snow covered pavement, while also enhancing overall performance and treadlife.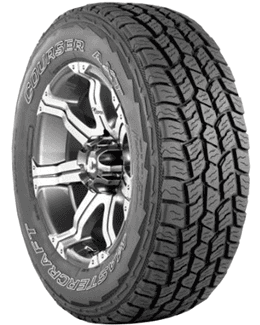 The tread pattern features a 5-rib design that has been molded with 12% more lateral grooves than the tire's predecessor, to further maximize grip on uncertain terrain.
Wide circumferential grooves around the tire feature a zig-zag pattern to improve traction on mud, dirt, sand and other soft surfaces, as well as on snow and light ice. Alternating scallops further increase performance off the beaten path.
The Mastercraft AXT is available in a wide variety of LT sizes that range from 15-20 inches. There's also a 50K mile tread life warranty included on all sizes.
Pros
Reliable on-road traction and handling on dry, wet or snow covered surfaces

Good performance in lighter off-road terrain

Priced lower than many comparable name brand models
Cons
A little extra road noise

Traction on rougher terrain could be improved
Overall Thoughts
Mastercraft, which is manufactured under the Cooper Tire umbrella, has produced a reasonably priced all-terrain tire that delivers pretty solid overall performance both on or off road. The tread design is similar to the Cooper AT3, which is a very good tire in itself.
The AXT is an ideal fit for drivers who plan to use the tire as a daily driver and as a weekend off the path in light terrain type of scenario. You'll find it rides well in light mud, sand, gravel, dirt and grass. It also does quite well in moderate to heavy snow. Don't expect great rock performance or even heavy mud use. It simply is not built for it.
While not up to the level of the top performers in the all-terrain class like the BFG T/A KO2, Firestone Destination A/T or Michelin LTX AT2 among others, the Mastercraft AXT does offer good traction and handling and may save you some money in the process. We give it a rank in the middle of this class.
What Vehicles Will The Mastercraft AXT Fit?
Mastercraft Avenger Touring LSR Tire Review
Chevrolet Silverado, Tahoe, Avalanche, S10, Suburban, K2500,




Colorado, Blazer

Dodge Ram, Durango, Dakota

Ford Expedition, Escape, Ranger, Bronco, F-150, Explorer

GMC Yukon, Sierra, Canyon

Honda Element, CR-V, Ridgeline

Isuzu Trooper

Jeep Wrangler, Grand Cherokee, Liberty

Mazda B4000

Mercury Mountaineer

Mitsubishi Montero

Nissan Titan, Xterra, Frontier

Toyota Tacoma, Tundra, FJ Cruiser, Sequoia, 4Runner, Land Cruiser, Highlander
Tire Sizes
15″
LT235/75R15 104101R C OWL
30X9.50R15LT 104R C OWL
31X10.50R15LT 109R C OWL
32X11.50R15LT 113R C OWL
33X12.50R15LT 108R C OWL
16″
LT215/85R16 115112R E BLK
LT235/85R16 120116R E BLK
LT225/75R16 115112R E BLK
LT245/75R16 108104R C OWL
LT245/75R16 120116R E OWL
LT265/75R16 112109R C OWL
LT265/75R16 123120R E OWL
LT285/75R16 126123R E OWL
LT315/75R16 127124R E OWL
LT265/70R16 121118R E OWL
LT305/70R16 124121R E OWL
17″
LT235/80R17 120117R E OWL
LT245/75R17 121118S E OWL
LT245/70R17 119116R E OWL
LT265/70R17 121118R E OWL
LT265/70R17 112109R C OWL
LT275/70R17 114110R C OWL
LT275/70R17 121118R E OWL
LT285/70R17 121118S E BLK
LT315/70R17 121118R D OWL
18″
LT265/70R18 124121S E OWL
LT275/70R18 125122S E OWL
LT275/65R18 113110S C OWL
LT275/65R18 123120S E OWL
LT285/65R18 125122S E OWL
20″
LT265/60R20 121118R E BLK
LT285/55R20 122119R E BLK
LT305/55R20 121118S E BLK
Price Range
Mastercraft Courser AXT prices range from approximately $103 and up. You may also find occasional rebates, discount prices, coupons and special offers on this tire.
Warranty
Mastercraft provides a 5-year or 50,000 mile tread life warranty on the Courser AXT. There is also a first 2/32 inch tire uniformity guarantee as well. Materials and workmanship are covered for 5-years and include free tire replacement during the first year or first 25% of tread wear. The amount is then prorated down to the final 2/32 inch of tread on the tire.
---