Mastercraft Avenger G/T Tire Review & Rating
With its old school design and raised white letters on select sizes, the Mastercraft Avenger G/T is ideally suited for older muscle cars or trucks.
Mastercraft has incorporated an all-season M+S rated tread compound with an attractive asymmetric tread pattern that delivers competent dry traction and handling. The tire's void ratio has been created to increase its tire-to-road contact for enhanced handling performance and a boost in treadwear.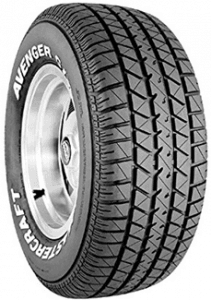 A solid center rib and refined tread elements not only quicken steering response, but further help with treadlife. The Avenger G/T's shoulder slots are designed to improve traction on both dry or wet pavement.
An optimized tread pitch sequence reduces road noise and increases ride comfort, which is a plus for this tire and one that is often mentioned in driver reviews on this tire.
Mastercraft offers a range of 14-16 inch sizes with S or T-speed ratings. A 50K mile tread warranty is also provided on this model.
Pros
Old school aggressive tread design
Dry traction and handling
Ride comfort
Cons
Overall Thoughts
While arguably not a high-performance tire like a Michelin Pilot Sport A/S3 Plus or Pirelli P Zero All Season Plus and many others in the truest sense of the word, this Avenger G/T from Mastercraft is ideally suited for drivers of older muscle cars and other types of older vehicles.
Raised white letters really sets this tire off and come as a nice touch from Mastercraft. Naturally, it goes without saying that this tire is not designed to drive in rough winter weather conditions. Handling and cornering are average, but if you're looking for a tire that holds like glue in the corners, this is not it. It's not what this tire was designed for.
Overall, the Mastercraft Avenger G/T offers similar performance to models like the Cooper Cobra GT or BFGoodrich Radial T/A, but at a slightly lower price. It's a lower-cost option that works well for normal everyday driving, running around town or simply dressing up that older muscle car.
What Vehicles Will The Mastercraft Avenger G/T Fit?
Fits these vehicles and many others:
Buick Regal
Chevrolet Camaro, Caprice, Nova, Cavalier, Aveo, S-10, Astro, Monte Carlo
Chrysler PT
Datsun 280Z
Dodge Charger, Demon
Ford Mustang, Ranger
GMC Jimmy, Sonoma
Honda Civic
Mazda Miata
Mercury Cougar
Nissan Frontier, 200SX
Oldsmobile Cutlass
Plymouth Duster
Pontiac Firebird, GTO, G3
Toyota MR2, Corolla
Subaru XT6, Outback
Volkswagen Beetle
Tire Sizes
14″
P215/70R14 96T RWL
P225/70R14 98T RWL
P185/60R14 82T BLK
P235/60R14 96T RWL
15″
P215/70R15 97T RWL
P225/70R15 100T RWL
P235/70R15 102T RWL
P255/70R15 108T RWL
P215/65R15 95T RWL
P235/60R15 98T RWL
P245/60R15 100T RWL
P255/60R15 102T RWL
P275/60R15 107T RWL
P295/50R15 105S RWL
16″
P235/55R16 96T BLK
Price Range
Mastercraft Avenger G/T prices range from approximately $71 and up. You may also find occasional rebates, discount prices, coupons and special offers on this tire.
Warranty
Mastercraft provides a 50,000 mile tread warranty on the Avenger GT with S or T-speed ratings. Tire uniformity is guaranteed on all sizes for the first 2/32 inch of wear.
Materials and workmanship are warranted for 6-years and include free replacement during the first 2/32 inch of wear. A prorated amount is given down to the final 2/32 inch of tread depth. You also receive a 45-day road test guarantee that allows you to exchange the tires if you are not completely satisfied.
---