Lexani LXHT-106 Tire Review & Rating
Lexani has built the LXHT-106 for drivers looking for a basic all-season tire for pickups and other light trucks. Designed with much of the latest in new tire technology, the LXHT-106 is budget-priced for those looking to save as much money as possible on a set of new tires.
Lexani combines their all-season tread compound with a symmetric tread pattern and advanced groove technology to deliver reliable traction on dry road surfaces. The addition of these grooves and slits around the tire and the zig-zag center rib further enhance steering response and handling.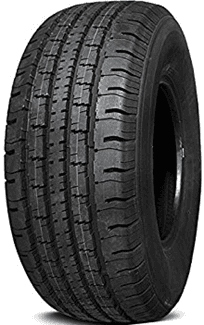 Four wide circumferential grooves and added sipes aid in evacuating water and reducing the risk of hydroplaning on wet pavement. However, we would like to see a boost in wet grip.
The tires' multi-pitch tread block placement helps to lower outside road noise, which is a plus on this particular model. A closed shoulder design allows the tread to wear more evenly for a longer lasting treadlife.
Lexani offers a range of 16-18 inch LT and P-metric sizes in the LXHT-106, and all P-metric sizes feature a T-speed rating. A limited tread warranty is also provided.
Pros
Dry traction and handling
Handling and stability
Softer ride without excessive road noise
Treadwear is decent for a lower costing tire
Cons
Needs a bump in wet and winter traction
Not for heavy off-road use
Overall Thoughts
We have mixed thoughts on this Lexani tire. On one hand, dry traction and handling is very good, the ride is smooth and quiet, and lower cost is certainly attractive.
On the other hand, we'd like to see an increase in traction on wet streets, especially at higher speeds. In addition, grip on deep snow, ice and hard-pack is not up to the performance levels of other top tires in this class.
Overall, the LXHT-106 is a middle of the pack performer. However, if budget is your major concern, this tire makes a decent option.
What Vehicles Will The Lexani LXHT-106 Fit?
(This is not a complete list of ALL vehicles this tire will fit)
Chevrolet Tahoe, Silverado, Trailblazer, Suburban
Dodge Durango, Dakota, Ram, Nitro
Ford F-Series, Expedition, Ranger
GMC Sierra, Envoy
Infiniti QX4 SUV
Jeep Wrangler, Grand Cherokee, Commander, Liberty
Nissan Titan, Frontier
Toyota 4-Runner, Sequoia, Tundra, Tacoma, Highlander
Volkswagen Touareg
Tire Sizes
15″
31*10.50R15LT 109Q BW
P215/75R15 100T BW
P235/75R15 105T BW
16″
LT215/85R16 115/112Q BW
LT225/75R16 115/112Q BW
LT235/85R16 120/116Q BW
LT245/75R16 120/116Q BW
LT265/75R16 123/120Q BW
P215/70R16 99T BW
P225/70R16 101T BW
P225/75R16 104T BW
P235/70R16 107T BW
P235/70R16 104T BW
P245/70R16 106T BW
P255/65R16 106T BW
P255/70R16 109T BW
P265/70R16 111T BW
17″
LT235/80R17 120/117Q BW
LT245/70R17 119/116Q BW
LT245/75R17 121/118Q BW
LT265/70R17 121/118Q BW
P225/65R17 102T BW
P235/60R17 100T BW
P235/65R17 103T BW
P245/65R17 105T BW
P265/65R17 110T BW
P265/70R17 113T BW
18″
P235/60R18 102T BW
P235/65R18 104T BW
Price Range
Lexani LXHT-106 prices range from approximately $82 and up. You may also find occasional rebates, discount prices, coupons and special offers on this tire.
Warranty
Lexani provides a limited tread warranty on the LXHT 106.
---