Laufenn X Fit AT Tire Review & Rating
The Laufenn X Fit AT is among several models recently launched in 2015. As a subsidiary of Hankook Tire, the Laufenn line is designed for drivers looking for reliable everyday performance at a substantially lower cost that you normally find with bigger name brand tires, which is precisely where the X Fit AT fills in a need.
A tougher all-season tread compound features a "rock block" sidewall tread block that works in preventing punctures and other damage to the sidewalls when driving off road. Laufenn also built in stepped groove lugs and rim protector to further guard against tearing up expensive wheels.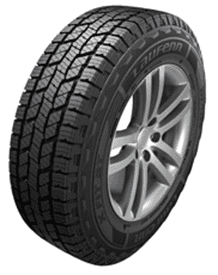 Full-depth sipes around the tread aid in traction on wet road surfaces, as well as enhanced grip on snow and ice. The tire's larger tread grooves are designed to clear away mud, slush, small rocks and other debris to provide some additional traction when you need it most.
A segmented center rib gives the Laufenn AT a little more stability and on-center feel when driving at highway speeds. It also delivers a boost in braking stability in all types of weather conditions.
Laufenn has a wide range of 15-18 inch sizes that come in both P-metric and LT sizes. A 45K mile tread warranty is also included on non-LT or flotation sizes.
Pros
Dependable dry and wet traction

Highway stability

Winter traction

Lower cost
Cons
Reduce road noise a bit

Increase off-road performance
Overall Thoughts
For drivers looking to save money on all-terrain tires, the Laufenn X Fit AT fills the gap nicely. While performance is not like you'll find on tires like the Michelin LTX A/T or Goodyear Wrangler All-Terrain Adventure to name just a few, it does a decent job for those weekend trips to your favorite campsite or fishing hole.
Traction on dry/wet pavement is pretty good for this tire, and braking is another plus. We would like to see a little reduction in highway road noise, but this is an AT tire, and a low cost one at that. Treadlife looks to be good at this point and the 45K mile warranty speaks well for a low cost tire.
Overall if money is a big factor for you and you only need a tire for light off-road duty, then this Laufenn all-terrain tire fills the bill quite nicely.
Click Here To Find Current Prices
What Vehicles Will The Laufenn X Fit AT Fit?
(This is not a complete list of ALL vehicles this tire will fit)
Chevy Silverado

Dodge Dakota

Ford F-150, Explorer, Expedition, Flex, Escape, E series, Ranger

GMC Savanna

Honda Pilot

Hyundai Santa Fe

Nissan Frontier, Pathfinder, Xterra

Mazda Tribute

Toyota Tundra, Tacoma
Tire Sizes
15″
31X10.50R15 C BW
235/75R15 109T BW
LT235/75R15 C BW
16″
LT225/75R16 E BW
LT235/85R16 E BW
235/70R16 106T BW
LT245/75R16 E BW
245/70R16 107T BW
245/75R16 111T BW
255/70R16 103T BW
265/70R16 112T BW
17″
LT235/80R17 E BW
245/70R17 110T BW
245/65R17 107T BW
LT245/70R17 E BW
LT245/75R17 E BW
255/70R17 112T BW
265/65R17 112T BW
265/70R17 115T BW
LT265/70R17 E BW
18″
275/65R18 116T BW
Price Range
Laufenn X Fit AT prices range from approximately $90 and up. You may also find occasional rebates, discount prices, coupons and special offers on this tire.
Click Here To Find The Current Prices On All Laufenn X Fit AT Sizes
Warranty
Laufenn provides a 5 year or 45,000 mile treadlife warranty on non-LT or flotation sizes of the X Fit AT. A one-year or first 2/32 inch of wear guarantee on tire uniformity is also included.
Materials and workmanship have a 5-year guarantee and come with free tire replacement during the first year or first 2/32 inch of wear. Laufenn will then prorate the amount down to 2/32 inch of tread depth.
---