Laufenn G Fit AS Tire Review & Rating
The Laufenn G Fit AS is an off-shoot of parent company Hankook Tires and was just released in early 2015. This basic all-season tire is built for a wide array of coupes, sedans, minivans and smaller crossovers for drivers looking for dependable wet and dry traction and acceptable ride comfort at an affordable budget-friendly price.
The G Fit A/S is engineered with an additional focus on comfort and fuel efficiency. As part of an entry-level lineup, Laufenn has still managed to include the latest in tire technology with features that give it additional value.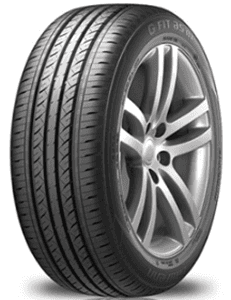 Using an all-season tread compound and asymmetric tread pattern, the tire's tread pattern incorporates the use of tie bars, which aid in reinforcing the shoulder tread. This helps prevent irregular or uneven wear, while enhancing cornering grip and stability, something this tire does pretty well.
Four large circumferential grooves help evacuate water from under the tire to increase traction on wet road surfaces. Additionally, the Laufenn G Fit has a tread kerf pattern which further assists with water drainage, while also improving handling in dry driving conditions. Finally, the center block is triangular, which delivers improved braking response.
Ride and noise comfort were a major focus in the development of the G Fit AS, and a smooth, quiet ride is provided by the inclusion of noise reducing rib blocks and chamfered groove edges.
Sizes are available ranging from 13 to 17 inches, and come with a T, H or V-speed rating. A 60K mile tread life warranty is also provided with this tire.
Pros
Reliable all-season traction and handling

Very good ride comfort and low in-vehicle noise levels

Fuel efficient design

Budget-friendly price
Cons
Rough winter weather conditions
Overall Thoughts
Hankook launched its Laufenn line of tires in early 2015 as an affordable entry-level line of new tires that are built to deliver good performance at a lower cost. While we think this model has a good range of benefits, it also comes with a few drawbacks as well.
Ride comfort, noise levels, and general reliability are good, but not great of course. This isn't a Michelin, Pirelli or Continental tire here. Handling is acceptable, although braking and tread life could be marginally improved. Driving on light snow is on-par with other similar all-season tires in its class.
Naturally, it is when you travel on deep snow and ice that you may find difficulty. That's pretty much the case with any basic all-season tire though.
Overall, the performance this tire delivers for the lower cost makes it a solid value and a good buy for basic everyday driving needs.
Click Here To Find Current Prices
What Vehicles Will The Laufenn G Fit AS Fit?
(This is not a complete list of ALL vehicles this tire will fit)
Buick Roadmaster

Chevrolet Cruze, Malibu, Colorado, Cavalier

Dodge Avenger, Intrepid

Ford Fusion, Focus

Honda Accord, Civic

Hyundai Sonata

Nissan Altima, Sentra

Toyota Camry, Corolla

Volkswagen Jetta
Tire Sizes
13″
155/80R13 79T BSW
165/65R13 77T BSW
165/70R13 79T BSW
175/65R13 80T BSW
175/70R13 82T BSW
14″
175/65R14 82T BSW
185/60R14 82H BSW
185/65R14 86H BSW
185/70R14 88T BSW
195/70R14 91T BSW
15″
185/60R15 84H BSW
185/65R15 88H BSW
195/60R15 88H BSW
195/65R15 91H BSW
205/60R15 91H BSW
205/65R15 94H BSW
205/70R15 96T BSW
215/60R15 94H BSW
215/65R15 96H BSW
215/70R15 98T BSW
16″
205/55R16 91V BSW
205/60R16 92H BSW
205/65R16 95H BSW
215/55R16 93V BSW
215/60R16 95H BSW
215/65R16 98H BSW
225/50R16 92V BSW
225/55R16 95V BSW
225/60R16 98H BSW
17″
215/65R17 99H BSW
Price Range
Laufenn G Fit AS prices range from approximately $50 and up. You may also find occasional rebates, discount prices, coupons and special offers on this tire.
Click Here To Find The Current Prices On All Laufenn G Fit AS Sizes
Warranty
Laufenn provides a 5 year or 60,000 mile treadlife warranty on the G Fit AS. A one-year or first 2/32 inch of wear guarantee on tire uniformity is also included.
Materials and workmanship have a 5 year guarantee and come with free tire replacement during the first year or first 2/32 inch of wear. Laufenn will then prorate the amount down to 2/32 inch of tread depth.
---