Kumho Solus TA71 Tire Review & Rating
The new Kumho Solus TA71 touring all-season tire was recently released in mid-2015 and aimed at drivers of all types of coupes, sedans, minivans and smaller crossovers. Kumho has designed this tire with a focus on quiet comfort and responsive handling in all weather conditions.
A technologically advanced nano-silica tread compound is built to enhance traction in colder conditions and extends tread life for better long term durability. The TA71 benefits from an asymmetrical tread pattern which helps provide a more precise steering response and better on-center feel, no matter what the weather.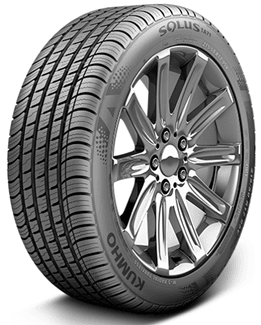 Kumho has also added four wide grooves to ensure that water is channeled away quickly and efficiently, which results in a reduced risk of hydroplaning. To increase traction in winter, sipes have been precisely angled to provide exceptional grip in snowy and icy conditions.
Inside the carcass you'll find twin steel belts which have been spirally wrapped with nylon in order to strengthen the tread structure and deliver increased stability at high speeds. To promote comfort, jointless bead bundles have been used to help isolate any vibration and bumps from rougher pavement surfaces. This will also result in a quieter ride as well.
The TA71 is available in 38 different sizes that fit 15-19 inch rims and come with speed ratings of either V or W depending on the tire size chosen. A 60,000 mile tread warranty is also included.
Pros
Dependable dry/wet traction

Smooth, quiet ride

Treadlife has shown to be very good so far
Cons
Braking/acceleration on ice covered roads
Overall Thoughts
Kumho has designed the TA71 to go up against competitor tires like the Michelin Premier A/S, Pirelli Cinturato P7 All Season Plus and the Bridgestone Turanza Serenity Plus. That's a tall order to be sure because those models have proven themselves to be among the best in class. Whether this Kumho tire belongs in that discussion is going to come down to who you ask. We believe the answer is both yes and no.
Reviews from other drivers have been mainly positive to this point. It is one of the few tires that actually appears to live up to its claims of better handling in both wet and dry conditions. Cornering grip and steering response are both very good on wet or dry pavement. The addition of sipes is also another plus that gives you a good level of confidence when driving on wet or snow covered roads. That said, ice can be a different story, which is a common problem for all-season tires.
One of its main selling points of the tire is that it offers a quiet and smooth ride, and to this end the tire provides just that. Compared to standard tires, this one does appear to offer a quieter experience, without compromising grip. Finally, the tire is priced lower than many other comparable models, making it a good value for the cost.
Overall, if you're looking for a tire that will perform well in most conditions, provide a comfortable ride and won't break the bank at the same time, the TA71 from Kumho is a worthy choice in new tires.
Click Here For Current Kumo Coupons
What Vehicles Will The Kumho Solus TA71 Fit?
(This is not a complete list of ALL vehicles this tire will fit)
Acura TL, CL, RL

Audi A4, A6

BMW 135i, 330i, 530i

Cadillac CTS

Chevrolet Cobalt, Malibu, Cruze, Impala, Sonic LTZ

Dodge Grand Caravan, Nitro, Avenger

Ford Focus, Mustang GT, Taurus, Fusion

Honda Civic, CR-V, Insight, Accord, Odyssey

Hyundai Genesis, Sonata, Elantra

Infiniti G35x, M37, G37

Kia Optima, Rondo

Lincoln MKZ

Mazda6, 929, Mazda3

Mercedes-Benz E320

Nissan Altima, Maxima, Versa, Leaf, Cube

Pontiac Vibe, Grand Am, Grand Prix, G5

Subaru Legacy, Impreza Outback

Toyota Camry, Prius, RAV4, Avalon, Solara, Sienna, Corolla

Volkswagen Jetta, Passat, Touareg
Tire Sizes
15″
195/60R15 88V BSW
195/65R15 91V BSW
205/65R15 94V BSW
16″
205/55R16 91V BSW
215/55R16 97V XL BSW
225/55R16 95V BSW
205/60R16 96V XL BSW
215/60R16 95V BSW
225/60R16 98V BSW
205/65R16 95V BSW
17″
245/40R17 91W BSW
255/40R17 94W BSW
225/45R17 91W BSW
235/45R17 97W XL BSW
245/45R17 99W XL BSW
205/50R17 93V XL BSW
215/50R17 95V XL BSW
225/50R17 98W XL BSW
235/50R17 96V BSW
245/50R17 99V BSW
215/55R17 94V BSW
225/55R17 101V XL BSW
235/55R17 103W XL BSW
18″
225/40R18 92V XL BSW
235/40R18 95W XL BSW
245/40R18 97W XL BSW
225/45R18 95W XL BSW
235/45R18 98V XL BSW
245/45R18 100W XL BSW
255/45R18 99W BSW
225/50R18 95W BSW
235/50R18 97W BSW
245/50R18 104V XL BSW
235/55R18 100V BSW
225/60R18 100V BSW
19″
245/40R19 98W XL BSW
255/40R19 100W XL BSW
245/45R19 102W XL BSW
Price Range
Kumho Solus TA71 prices range from approximately $76 and up. You may also find occasional rebates, discount prices, coupons and special offers on this tire.
Warranty
Kumho provides a 6-year or 60,000 mile tread warranty on the TA71. Tire uniformity is guaranteed for one-year or the first 2/32 inch of wear.
Materials and workmanship are warranted for 6-years and include free tire replacement during the first year or first 2/32 inch of wear. A prorated amount is given for the remaining time period or down to the final 2/32 inch of tread depth. Kumho also includes a one-year or first 2/32 inch of wear road hazard warranty.
---