Kumho Solus TA11 Tire Review & Rating
Designed as an eventual replacement to the older KR21, the new Kumho Solus TA11 is a basic all-season tire for drivers of all types of coupes, sedans, minivans and crossovers. It's built for budget-conscious drivers who are looking for increased traction in year round conditions, as well as longer tread wear.
Kumho has engineered a new dual silicone carbon tread compound into an asymmetric tread pattern that is designed to keep the tire cooler for longer treadwear and increased fuel efficiency. It also provides added grip on dry, wet or snow covered road surfaces.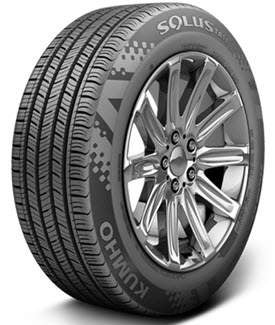 Four deep circumferential grooves and notched shoulders deliver solid traction on wet roads and highways, but this is not a strong point on this model. In addition, Kumho has added zigzag sipes around the tread that provide thousands of biting edges for better grip on snow and ice.
Ride comfort is enhanced through Kumho's unique ESCOT casing technology that softens the drive over potholes and other rough road surface imperfections. Another benefit to this technology is that you'll find a little quicker steering response and added on-center feel.
Inside the tire are two steel belts that spirally wrapped with nylon for added durability and strength. The Kumho TA11 comes with a T-speed rating, and includes a 75K mile tread warranty. A total of 44 different sizes are available that fit 13-18 rim diameters.
Pros
Good dry traction and handling

Smooth and quiet ride

Increased treadlife
Cons
Winter traction on ice

Bump up wet traction and handling
Overall Thoughts
Kumho's new TA11 is an excellent fit for anyone looking for a basic all-season back and forth to work type of tire that comes in at a lower price than many leading competitor tires. The pluses for this tire include solid performance on dry pavement. Road noise is very low, and the tire has responsive steering and good on-center feel to it. In addition, tread life has shown positive signs at this early stage.
There are really two problem areas that we see with new release. The first is a glaring weakness in wet traction. You will need to take it a bit easier for sure. This is especially true when taking corners at higher speeds or on/off ramps at highway speeds. The other area is a common issue for most all-season tires… winter traction. It does fairly well in light amounts of snow, but once you start getting deep snow and ice, expect some traction, braking and acceleration issues.
Overall, the Kumho TA11 is a middle of its class performing tire. It sports a lower price than many competitor tires, which makes it an attractive choice for budget-conscious drivers. Performance wise, we would recommend going with models like the General Altimax RT43 and Continental TrueContact among others, all of which offer higher levels of traction and handling, especially in winter weather conditions.
Click Here For Current Kumho Coupons
What Vehicles Will The Kumho TA11 Fit?
(This is not a complete list of ALL vehicles this tire will fit)
Chevrolet Malibu, Impala, Cobalt, Cruze

Chrysler 300C, PT Cruiser

Dodge Stratus

Ford Taurus, Crown Victoria

Honda Accord, Odyssey, Civic

Hyundai Sonata, Azera, Tucson, Genesis

Kia Amante, Soul, Optima, Elantra

Mazda 3, 6, 5

Mercury Milan

Nissan Altima, Sentra, Maxima

Pontiac Grand Prix, Vibe, Torrent

Saab 9-5, 9-3

Saturn Astra, LS200

Scion xB, tC

Subaru Outback, Legacy, Impreza, Forester

Toyota Avalon, Camry, Corolla, Solara

Volkswagen Rabbit, Passat, Jetta, Phaeton

Volvo V70, C30, XC70
Tire Sizes
13″
175/70R13 82T BSW
185/70R13 86T BSW
155/80R13 79T BSW
14″
175/65R14 82T BSW
185/65R14 86T BSW
185/70R14 88T BSW
195/70R14 91T BSW
215/70R14 96T BSW
195/75R14 92T BSW
205/75R14 95T BSW
15″
185/60R15 84T BSW
195/60R15 88T BSW
205/60R15 91T BSW
215/60R15 94T BSW
185/65R15 88T BSW
195/65R15 91T BSW
205/65R15 94T BSW
215/65R15 96T BSW
205/70R15 96T BSW
215/70R15 98T BSW
225/70R15 100T BSW
235/70R15 103T BSW
205/75R15 97T BSW
215/75R15 100T BSW
225/75R15 102T BSW
235/75R15 105T BSW
16″
205/55R16 91T BSW
205/60R16 92T BSW
215/60R16 95T BSW
225/60R16 98T BSW
235/60R16 100T BSW
215/65R16 98T BSW
225/65R16 100T BSW
235/65R16 103T BSW
215/70R16 100T BSW
225/70R16 103T BSW
235/70R16 106T BSW
17″
215/60R17 96T BSW
225/60R17 99T BSW
235/60R17 102T BSW
215/65R17 99T BSW
225/65R17 102T BSW
235/65R17 104T BSW
18″
235/65R18 106T BSW
Price Range
Kumho Solus TA11 prices range from approximately $52 and up. You may also find occasional rebates, discount prices, coupons and special offers on this tire.
Warranty
Kumho provides a 6-year or 75,000 mile tread warranty on the TA11. Mileage is reduced by half if different sizes used on back than in front. Tire uniformity is guaranteed for one-year or the first 2/32 inch of wear.
Materials and workmanship are warranted for 6-years and include free tire replacement during the first year or first 2/32 inch of wear. A prorated amount is given for the remaining time period or down to the final 2/32 inch of tread depth. Kumho also includes a one-year or first 2/32 inch of wear road hazard warranty.
---