Kumho Solus KR21 Tire Review & Rating
Designed to save you money on new tires, Kumho has created the Solus KR21, which combines a smooth quiet ride to go with confident all-season handling and traction. This touring all-season model is developed for all types of coupes, family sedans, minivans, SUV's and other vehicles.
The advanced carbon tread compound on the KR21 is engineered to provide enhanced traction on dry or wet surfaces, as well as a longer overall tread life. Cross-groove shoulders increase the tread area and add "biting edges" that are designed to improve snow traction and handling in all-weather conditions.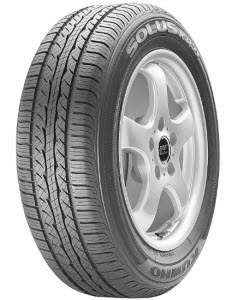 The tread pattern sports four circumferential grooves and deeper sipes to provide better grip and handling on wet road surfaces, while also reducing the risk of hydroplaning. The results are increased safety and added driving confidence.
Road noise is virtually eliminated through the use of notched intermediate ribs and the continuous center rib around the tread. We've heard from many drivers who say this is one of the most quiet tires they have driven on.
Inside the tire you will find two steel belts with nylon belt edge layers and a polyester cord body that give the KR21 more strength and stability at higher speeds. This is something generally found only in more expensive high performance tires. Kumho offers a wide range of 13-18 inch sizes, and all sizes carry an 85K mile tread warranty.

Pros
Dry traction and handling are above average

Steering response is impressive

Ride is very quiet and comfortable

Low cost offers great value
Cons
Some have mentioned shorter treadlife than 85,000 warranty

Increase in wet traction
Overall Thoughts
The KR21 is one of the lower costing all-season tires on the market today, making it a very popular choice for those looking to spend the least money possible on new tires. Beyond the cost savings though, you'll find a tire that is a pretty good overall performer on the road as well. Traction and handling on dry pavement is very good, and cornering grip and all-around stability is on par with better models in this class. You'll also find that the ride is quiet on the road.
Along with the positives, there are a few negatives that come with the KR21. Despite the fact that this tire sports a 640 UTQG rating, we have heard of some drivers mentioning a shorter treadlife. A few have spoken of getting only 40K miles out of the tread, which is less than half of the 85K mile warranty. To be fair though, we've also heard from a number of others who have spoken highly of the tread wear. The other area we would like to see improved is wet grip at higher speeds. For whatever reason it just doesn't seem to deliver the kind of confident feel at the limits that we like to find.
Overall, for the lower price, this model offers pretty good value for the money. We also like the fact that Kumho has built a large number of sizes in smaller fitments for those who drive older vehicles.

Click Here For Current Kumho Coupons
Click Here To Find Current Prices
What Vehicles Will The KR21 Fit?
(This is not a complete list of ALL vehicles this tire will fit)
Chevrolet Astro, S10, Malibu, Equinox

Dodge Grand Caravan

Ford Escape, Explorer, Focus, Taurus, Sport Trac

Honda Civic, Odyssey, Element, Pilot, Accord

Hyundai Santa Fe, Tucson

Ford Ranger, Windstar, Focus

Jeep Cherokee, Wrangler, Patriot

Kia Sedona, Spectra

Mazda Tribute

Nissan Murano, Quest, Rogue, Altima

Toyota Highlander, Previa, Camry, RAV4, Tacoma, Corolla, Sienna

Volkswagen Passat
Tire Sizes
13″
P175/70R13 82T BSW
P185/70R13 85T BSW
P155/80R13 79T BSW
14″
P185/60R14 82T BSW
P195/60R14 85T BSW
P175/65R14 81T BSW
P185/65R14 85T BSW
P195/65R14 88T BSW
P185/70R14 87T BSW
P195/70R14 90T BSW
P205/70R14 95T BSW
P215/70R14 96T BSW
P185/75R14 89T BSW
P195/75R14 92T BSW
P205/75R14 95T BSW
15″
P185/60R15 84T BSW
P195/60R15 87T BSW
P205/60R15 90T BSW
P215/60R15 93T BSW
P225/60R15 95T BSW
P185/65R15 86T BSW
P195/65R15 89T BSW
P205/65R15 92T BSW
P215/65R15 95T BSW
P205/70R15 95T BSW
P215/70R15 97T BSW
P225/70R15 100T BSW
P235/70R15 102T BSW
P205/75R15 97T BSW
P215/75R15 100T BSW
P225/75R15 102T BSW
P235/75R15 105T BSW
P235/75R15 108T XL BSW
16″
P205/55R16 89T BSW
P205/60R16 91T BSW
P215/60R16 94T BSW
P225/60R16 97T BSW
P235/60R16 99T BSW
P205/65R16 94T BSW
P215/65R16 96T BSW
P235/65R16 103T BSW
P215/70R16 99T BSW
P225/70R16 101T BSW
P235/70R16 104T BSW
17″
P225/60R17 98T BSW
P235/60R17 100T BSW
P235/65R17 103T BSW
18″
P235/65R18 104T BSW
Price Range
Prices on the KR21 range from approximately $57 and up. You may also find occasional rebates, discounts, coupons and special offers on this tire.
Click Here To Find The Current Prices On All Kumho Solus KR21 Sizes
Warranty
The KR21 is covered by Kumho's 6-year or 85,000 mile tread warranty. The mileage guarantee is cut in half if different sizes are put on the front or rear tires. Tire uniformity is warranted for the first year or first 2/32 inch of treadwear.
Materials and workmanship are guaranteed for 6-years and include free replacement during the first 2/32 inch of wear. A prorated amount is given for the remaining time period or until 2/32 inch of tread is left on the tire.
Kumho also includes 2 years of roadside service with this tire.
---