Kumho Road Venture MT KL71 Tire Review & Rating
Kumho has designed the Road Venture MT KL71 mud terrain tires for a mix of superior off-road performance, while maintaining milder street manners for on-road use. Engineered for drivers of 4×4's, pickups, jeeps and rugged SUV's, the KL71 comes in a wide array of sizes to fit nearly any application.
A durable and tough tread compound is engineered to provide enhanced cut and chip resistance. This new compound is matched up with a directional tread pattern that is built to withstand the rigors of rugged off-road use. In addition, Kumho has created a unique under-tread compound between the tread and the steel belt that is designed to provide added comfort and lower some of the tread noise. It does its job well as we've heard many drivers mention this in reviews and ratings of this model.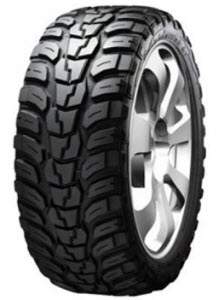 The toughness of this tire is in how it handles itself in the mud, as well as on rocks, dirt, deep snow and other terrain. With shoulder lugs that alternate around the tread and provide multiple biting edges, along with the packed center blocks, the KL71 is made to get you where you want to go. It simply goes through anything in its way.

Inside the tire you will find twin high tensile steel belts that are reinforced with a jointless nylon cap ply and polyester cord body to provide added strength and durability, while also reducing the noise. This is another area that many drivers have mentioned in reviews that this tire excels in.
Kumho offers a wide range of 15-24 inch sizes with load range ratings of C, D and E. This tire comes with a limited tread warranty.
Pros
Impressive handling in mud, gravel, snow and other elements

Ride comfort is much better than you might expect

Treadlife is above average
Cons
Traction on ice and packed snow could be better
Overall Thoughts
These Kumho KL71 mud tires sport aggressive good looks and very good performance in mud, dirt, sand, deep snow and other terrain. Yet at the same time they still display good road manners for everyday use on city streets or the highway. Ride comfort is quite good among other tires in this class.
One area though that we would like to see improvement in is better traction on ice and hard-packed snow. The deeper depth in the lugs prevent the sipes from biting into ice and hard-packed snow. The tire does do very well in fresh deep snow, but it's in the hard-packed junk that gives the tire a bit of a fight compared to a few of the other top tires in this class.
Overall, with it's solid performance and long lasting treadlife, we like this KL71 and recommend it as a good option for drivers wanting a mud tire that also drives well on the road. Kumho has priced this tire lower than other comparable models, so you may also find yourself saving some money as well.

Click Here For Current Kumho Coupons
Click Here To Find Current Prices
What Vehicles Will The Kumho KL71 Fit?
(This is not a complete list of ALL vehicles this tire will fit)
Chevrolet Silverado, K-Blazer, Suburban, Colorado, K1500, Trailblazer

Dodge Ram, Dakota, Durango

Ford F-150, F-350, Ranger, Excursion, Bronco

GMC Sierra

Hummer H3

Isuzu Rodeo

Jeep Wrangler, Grand Cherokee, Liberty

Land Rover

Mazda B-Series

Mitsubishi Montero

Nissan Titan, Xterra, Pathfinder

Toyota Tacoma, Tundra, 4Runner, RAV4, FJ Cruiser
Tire Sizes
15″
31X10.50R15 109Q C BSW
32X11.50R15 113Q C BSW
33X12.50R15 108Q C BSW
35X12.50R15 113Q C BSW
LT235/75R15 104/101Q C BSW
16″
LT305/70R16 121/124Q E BSW
LT225/75R16 110/107Q D BSW
LT245/75R16 120/116Q E BSW
LT265/75R16 120/116Q D BSW
LT265/75R16 123/120Q E BSW
LT285/75R16 126/123Q E BSW
LT315/75R16 127/124Q E BSW
205/80R16 104Q XL BSW
LT235/85R16 120/116Q E BSW
17″
35X12.50R17 121Q E BSW
LT265/70R17 121/118Q E BSW
LT315/70R17 121/118Q D BSW
18″
33X12.50R18 118Q E BSW
35X12.50R18 118Q D BSW
20″
33X12.50R20 114Q E BSW
35X12.50R20 121Q E BSW
37X13.50R20 127Q E BSW
38X15.50R20 125Q D BSW
22″
37X13.50R22 123Q E BSW
24″
38X14.00R24 118Q D BSW
Price Range
Prices on the Road Venture MT KL71 range from approximately $158 and up. You may also find occasional rebates, discounts, coupons and special offers on this tire.
Click Here To Find The Current Prices On All Kumho Road Venture MT KL71
Warranty
There is no mileage warranty on the KL71, however you will find a one-year or first 2/32 inch of wear guarantee on tire uniformity.
Materials and workmanship are covered for 6-years and include free tire replacement during the first 2/32 inch of wear. Kumho prorates the amount for the remaining time period or down to 2/32 inch of tread depth.
---