Kumho Road Venture AT51 Tire Review & Rating
Launched in June, 2015, the new Kumho Road Venture AT51 will eventually replace the older AT KL78 all-terrain model. Built for drivers of all types of light duty pickups, jeeps and SUV's, the AT51 offers a number of new features that are designed to deliver increased traction, especially in snow, as well as added ride comfort and longer treadlife.
Kumho utilizes a new dual silica tread compound that has been created to better withstand cuts, punctures and bruising from rough off-road terrain. Taking a look at the tread pattern may have you thinking it looks somewhat similar to the BFG All Terrain KO. We like how Kumho has integrated full-depth stepped circumferential grooves on the AT51 which helps with off-road traction on loose dirt and gravel.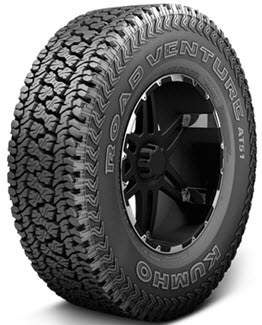 The tapered tread blocks give this tire better clean out capabilities, as well as enhanced traction in mud, slush and deeper snow. You'll find that the tread doesn't pack up as much as some all-terrain tires in this class. The Kumho AT51 features the mountain snowflake emblem and is a big step-up from the older KL78 when it comes to driving in rough winter weather conditions. It has the type of traction you would find in other top tires like the Yokohama Geolandar A/T-S, Cooper A/T3, Michelin LTX A/T 2 and BFGoodrich All-Terrain T/A KO2.
Kumho has paid considerable attention to creating an AT tire that is quiet and comfortable for highway driving, which is what the vast majority of drivers spend their time doing. The symmetric tread design is matched up with variable pitch tread blocks, jointless bead bundles and a two-ply polyester cord body that work to eliminate much of the road noise and harmonics you get from various road surfaces.
Inside the tread you'll find dual steel belts with spirally wrapped nylon for added strength and durability. The tread compound also helps reduce heat buildup and distortion. The result is more even treadwear and a longer tread life.
Kumho offers the AT51 in a variety of LT and non-LT 15-20 inch sizes, and includes a 55K mile tread warranty on P-Metric sizes. In total there are 43 different sizes available with more possibly becoming available down the road.
Pros
Very good off-road traction

Wet and winter performance are outstanding

Even treadwear

Value for the money is excellent
Cons
Deep mud traction

Small increase in ride comfort
Overall Thoughts
It's obvious that the engineer's from Kumho spent a lot of time on this new AT51 trying to get everything just right. For the most part, we have to say that they have succeeded. This model matches up well with the other top all-terrain tires in its class like the BFG T/A KO2 and Cooper Discoverer A/T3. You may also find yourself saving quite a bit of money as Kumho has priced it below many of these tires. Traction on all types of terrain is very good. Deep mud is a bit more problematic, but this tire isn't built and advertised as a serious mudder.
On the highway this is a tire that performs quite well. Although there is a little more noise from this tire than a Michelin AT2, it's not excessive in the least. In addition, wet traction and performance on snow and ice is right with the best tires in this class. We don't say that lightly… it's really that good. Treadlife looks to be pretty good to this point, and other drivers have mentioned the same.

Overall, we rank the AT51 in the upper half of the all-terrain category. If you do a lot of highway driving with weekend trips to the lake or out to your favorite hunting grounds, this tire is a good choice. Or if you are looking for a tough tire to navigate muddy job sites or travel on rural gravel roads, this is also an excellent choice in tires. Highly recommended.

Click Here For Current Kumho Coupons
Click Here To Find Current Prices
What Vehicles Will The Kumho AT51 Fit?
(This is not a complete list of ALL vehicles this tire will fit)
Acura RDX, MDX

Chevrolet Silverado, Express, Equinox, Trailblazer, Tahoe

Chrysler Pacifica

Dodge Ram, Durango

Ford Econoline, Escape, Explorer, F-150, Expedition, Ranger

GMC Yukon, Sierra, Envoy, Suburban

Honda Pilot, CR-V, Odyssey, Ridgeline

Hyundai Santa Fe

Hummer H2, H3

Jeep Grand Cherokee, Liberty, Wrangler

Mazda CX-7

Mercedes-Benz ML320, ML430

Mercury Mountaineer

Nissan Frontier, Murano, Titan

Land Rover LR3

Saturn Vue

Suzuki Grand Vitara

Toyota 4Runner, Highlander, RAV4, Tundra

Volvo XC90
Tire Sizes
15″
30X9.50R15LT 104R C BSW
31X10.5R15LT 109R C BSW
32X11.5R15LT 113R C BSW
33X12.5R15LT 108R C BSW
LT215/75R15 106/103R D BSW
LT235/75R15 104/101R C BSW
P235/75R15 108T XL BSW
16″
P235/70R16 104T BSW
P245/70R16 106T BSW
P255/70R16 109T BSW
P265/70R16 111T BSW
LT305/70R16 124/121R E BSW
LT225/75R16 115/112R E BSW
LT245/75R16 120/116R E BSW
P245/75R16 109T BSW
P265/75R16 114T BSW
LT265/75R16 123/120R E BSW
LT285/75R16 126/123R E BSW
LT315/75R16 121/118R D BSW
LT215/85R16 115/112R E BSW
LT235/85R16 120/116R E BSW
17″
235/65R17 104T BSW
P245/65R17 105T BSW
P265/65R17 110T BSW
P245/70R17 108T BSW
LT245/70R17 119/116R E BSW
P255/70R17 110T BSW
P265/70R17 113T BSW
LT265/70R17 121/118R E BSW
LT275/70R17 114/110R C BSW
LT285/70R17 121/118R E BSW
LT315/70R17 121/118R D BSW
LT245/75R17 121/118R E BSW
LT235/80R17 120/117R E BSW
18″
LT275/65R18 123/120R E BSW
P275/65R18 114T BSW
LT285/65R18 125/122R E BSW
P265/70R18 114T BSW
LT275/70R18 125/122R E BSW
20″
P275/55R20 111T BSW
LT285/55R20 122/119R E BSW
P275/60R20 114T BSW
LT275/65R20 126/123R E BSW
Price Range
Kumho Road Venture AT51 prices range from approximately $109 and up. You may also find occasional rebates, discount prices, coupons and special offers on this tire.
Click Here To Find The Current Prices On All Kumho Road Venture AT51 Sizes
Warranty
Kumho provides a 6-year or 55,000 mile tread warranty on P-Metric and Euro metric sizes only. Tire uniformity is guaranteed for one-year or the first 2/32 inch of wear.
Materials and workmanship are warranted for 6-years and include free tire replacement during the first year or first 2/32 inch of wear. A prorated amount is given for the remaining time period or down to the final 2/32 inch of tread depth.
A 30-day customer satisfaction guarantee is also included.
---