Kumho Road Venture APT KL51 Tire Review & Rating
The Kumho Road Venture APT KL51 is built to deliver confident all-season performance to drivers of pickups and SUV's. The KL51 is designed to also provide a smoother and comfortable ride, as well as a longer treadlife.
An all-season tread compound and optimized tread grooves provide increased traction on wet or dry road surfaces, while promoting a longer treadlife. The continuous center rib enhances steering response and stability, while also delivering a better on-center feeling behind the wheel.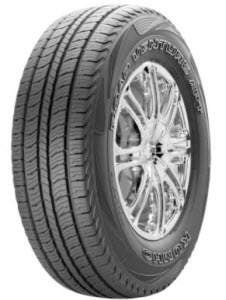 Four circumferential grooves and added lateral grooves give this model some added wet surface traction and handling. They also reduce the risk of hydroplaning. Interlocking sipes and independent tread blocks help with winter weather performance and increase bite in packed snow and ice.
Inside the tire you will find two steel belts that are spirally wrapped with nylon for added strength and durability. The tire's polyester cord body provide increased ride comfort. Kumho offers 15-20 inch sizes on the KL51, and up to a V-speed rating.
Pros
Outstanding dry and wet traction

Excellent cornering performance

Steering is crisp and responsive

Ride is comfortable and very quiet
Cons
Winter handling could be improved just a little bit

Treadlife
Overall Thoughts
Kumho has put together a good handling tire in the KL51 for truck and SUV owners. Dry traction and handling are excellent on this tire, and cornering performance is equally as impressive. The tire simply goes where you steer it, and provides you with good feedback throughout the speed range.
The areas where we could see adding improvements would be winter handling and treadlife. This tire holds its own in in lighter snow, but deep heavy snow and ice can create traction, braking and acceleration difficulty at times. That said, it is more than adequate for most areas of the country. Although not terrible, treadlife has been an issue for some drivers as well. That being said, we've also heard from many who have praised the treadwear on this tire.
The ride on this tire is very comfortable. It is on par with similar tires from Michelin and Cooper.
Overall, despite the fact it has a couple of flaws, the KL51 is one of the better all-season tires for trucks/SUV's, especially when you take into account the lower price.
Click Here For Current KumhoCoupons
What Vehicles Will The Kumho KL51 Fit?
(This is not a complete list of ALL vehicles this tire will fit)
Acura RDX, MDX

Chevrolet Silverado, Express, Equinox, Trailblazer, Tahoe

Chrysler Pacifica

Dodge Ram, Durango

Ford Econoline, Escape, Explorer, F-150, Expedition, Ranger

GMC Yukon, Sierra, Envoy, Suburban

Honda Pilot, CR-V, Odyssey, Ridgeline

Hyundai Santa Fe

Jeep Grand Cherokee, Liberty

Mazda CX-7

Mercedes-Benz ML320, ML430

Mercury Mountaineer

Nissan Frontier, Murano, Titan

Land Rover LR3

Saturn Vue

Suzuki Grand Vitara

Toyota 4Runner, Highlander, RAV4, Tundra

Volvo XC90
Tire Sizes
15″
255/70R15 108H BSW
265/70R15 112TBSW
LT235/75R15/C 104S OWL
P225/70R15 100T OWL
P225/75R15 102T OWL
P235/70R15 102T OWL
P235/75R15 105T OWL
16″
235/60R16 104H BSW
235/70R16 106T OWL
LT215/85R16/E 115S BSW
LT225/75R16/D 110S OWL
LT225/75R16/E 115S BSW
LT235/85R16/E 120S BSW
LT245/75R16/E 120S BSW
LT265/70R16/D 117Q BSW
LT265/75R16/E 123S OWL
LT265/75R16/C 112S OWL
P215/70R16 99T BSW
P215/75R16 101T BSW
P225/70R16 102T OWL
P225/75R16 104T OWL
P235/75R16 106T OWL
P245/70R16 107H OWL
P245/75R16 109T OWL
P255/65R16 109H BSW
P255/70R16 109T OWL
P265/70R16 112T OWL
P265/75R16 114T OWL
P275/70R16 114H BSW
17″
225/55R17 97H BSW
225/65R17 102H BLK
235/60R17 102V BSW
245/65R17 111T BSW
275/55R17 109H BSW
LT245/70R17/E 119S OWL
P235/65R17 104H BSW
P245/70R17 108T OWL
P255/65R17 108T OWL
P265/65R17 112H BSW
P265/70R17 113H OWL
P275/60R17 110H BSW
P275/65R17 113H BSW
18″
235/55R18 100V BSW
235/60R18 103V BSW
255/55R18 109V BSW
255/60R18 112V BSW
LT275/70R18/E 125S BSW
20″
P275/55R20 111T BSW
P275/60R20 114T BSW
Price Range
Prices on the Kumho APT KL51 range from approximately $89 and up. You may also find occasional rebates, discounts, coupons and special offers on this tire.
Warranty
Kumho provides a 6-year or 60,000 mile tread warranty on P-Metric and Euro metric sizes only. Tire uniformity is guaranteed for one-year or the first 2/32 inch of wear.
Materials and workmanship are warranted for 6-years and include free tire replacement during the first year or first 2/32 inch of wear. A prorated amount is given for the remaining time period or down to the final 2/32 inch of tread depth.
---