Kumho Ecsta SPT KU31 Tire Review & Rating
The Ecsta SPT KU31 from Kumho is designed to deliver ultra-high performance traction and handling for drivers of sports cars, coupes and sedans who not only want serious driving performance, but want it at a more budget-friendly cost.
A high dispersion silica tread compound is used in the SPT, which is developed to provide enhanced dry/wet grip along with increased tread wear. The directional tread pattern utilizes unique larger shoulder tread blocks that are tilted for maximum traction and handling on both dry and wet road surfaces. A continuous center rib adds more responsive steering and gives the tire better stability at higher speeds.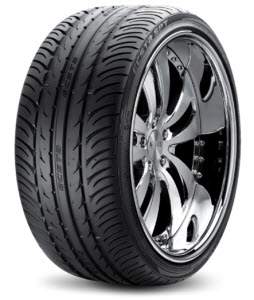 Four circumferential grooves and three center ribs work together in evacuating water from under the tire and reducing the risk of hydroplaning, which it does an excellent job at. (Due to this being a summer tire, it is not designed to be driven in winter weather.)
Kumho's triple-tread radius provides a more optimized footprint for even pressure distribution. You'll notice that outside road noise is lower on this tire than many others in this class due to the shoulder design. As the tire wears you won't find road noise becoming louder, which is a nice touch.
Inside the tire are two steel belts that are reinforced with a jointless nylon cap ply and Kumho's ESCOT carcass profile for added strength and durability. A polyester cord body further enhances ride quality. There is also an added rim protector to help in preventing damage to your expensive wheels. Sizes are available from 15-20 inches and select sizes feature extended run-flat technology.
Pros
Dry and wet traction is outstanding

Cornering grip is excellent

Responsive steering and very good stability at higher speeds

Minimal road noise

Tread life is among best in class
Cons
Ride comfort could be just a bit better
Overall Thoughts
Kumho has developed a winner in the SPT for high performance summer driving use. The traction on dry/wet pavement this tire provides is excellent. The same can be said for grip in the twisties. It's not easy to break this tire loose. Steering is crisp and responsive, while tire stability at high speeds is very good. The tire simply gives you a confident feeling behind the wheel.
Ride quality is good for the most part. Being a low profile tire can often mean bumps can be a bit harsh. While not the best in class for comfort, it is not the worse by any means. One thing you'll notice is the lower road noise from the tread. Kumho has done a nice job with the design and optimization of the tread to lower the noise.
Tread life is another area where this model receives good ratings. Many drivers have made mention of the same thing. Overall, this tire ranks in the upper half of its class. Although we rank other models such as the BFGoodrich Sport Comp 2 and the Bridgestone Potenza RE760 Sport a bit higher, this tire is still a nice choice.
Click Here For Current Kumho Coupons
Click Here To Find Current Prices
What Vehicles Will The Kumho KU31 Fit?
(This is not a complete list of ALL vehicles this tire will fit)
Acura Integra, Legend, NSX

Audi A4, RS4, TT Roadster, A6

BMW 328i, M5, 545i, 740i, M3, 330xi

Chevrolet Corvette, Camaro SS, Impala SS, Cobalt

Chrysler 300C

Dodge Magnum, Charger, Neon SRT4, Challenger

Ford Focus SVT, Mustang GT, Taurus SHO, Contour

Honda S2000, Accord, Civic, Element

Hyundai Equus

Infiniti Q45, M45, G35X

Lexus GS400, GS350

Mazda3, Mazda6, Mazda Miata, RX-7, RX-8

Mercedes Benz C32

Mini Cooper, Mini Cooper S

Nissan 240Z, 280Z, 350Z, 370Z, Sentra, Altima, Maxima

Pontiac Grand Prix, G6, GTO, G8

Porsche 911, Boxter, Porsche

Subaru WRX STI, Legacy, Forester S

Volkswagen Golf, Jetta, Passat, GTi, Rabbit
Tire Sizes
15″
205/50R15 86V BSW
16″
205/50R16 87W BSW
225/50R16 92W BSW
225/50R16 92V BSW
195/55R16 87V XRP BSW
205/55R16 91V XRP BSW
205/55R16 91W BSW
215/55R16 97W XL/RF BSW
225/55R16 99W XL/RF BSW
17″
215/40R17 87W BSW
245/40R17 95W BSW
245/40R17 95Y XL/RF BSW
245/40R17 91W XRP BSW
255/40R17 94W XRP BSW
255/40R17 94Y BSW
255/40R17 94W BSW
255/40R17 94W CSB BSW
255/40R17 94W CSY BSW
275/40R17 98W BSW
285/40R17 100W BSW
205/45R17 84V XRP BSW
215/45R17 87W XRP BSW
215/45R17 91W XL/RF BSW
225/45R17 94Y XL/RF BSW
225/45R17 91W XRP BSW
235/45R17 97W XL/RF BSW
245/45R17 95W BSW
245/45R17 95W XRP BSW
255/45R17 98W BSW
205/50R17 93W XL/RF BSW
205/50R17 93W XRP BSW
215/50R17 95W XL/RF BSW
225/50R17 98W XL/RF BSW
225/50R17 94W XRP BSW
235/50R17 96Y BSW
255/50R17 101W BSW
235/55R17 103W XL/RF BSW
18″
295/30R18 98Y XL/RF BSW
215/35R18 84Y XL/RF BSW
255/35R18 90W XRP BSW
255/35R18 94W BSW
265/35R18 97Y XL/RF BSW
275/35R18 95Y BSW
275/35R18 95Y XRP BSW
215/40R18 89Y XL/RF BSW
225/40R18 92Y XL/RF BSW
225/40R18 88W XRP BSW
235/40R18 95Y XL/RF BSW
235/40R18 95W BSW
245/40R18 97Y XL/RF BSW
245/40R18 93Y XRP BSW
275/40R18 99W BSW
215/45R18 89Y XL/RF BSW
225/45R18 91Y BSW
235/45R18 98W XL/RF BSW
245/45R18 100Y XL/RF BSW
235/50R18 101Y XL/RF BSW
245/50R18 100W BSW
245/50R18 100W XRP BSW
19″
255/30R19 91Y XL/RF BSW
265/30R19 93Y XL/RF BSW
265/30R19 93W BSW
275/30R19 96Y XL/RF BSW
215/35R19 85Y XL/RF BSW
225/35R19 88Y XL/RF BSW
235/35R19 91Y XL/RF BSW
245/35R19 93Y XL/RF BSW
255/35R19 96Y XL/RF BSW
275/35R19 100Y XL/RF BSW
285/35R19 99Y BSW
225/40R19 93Y XL/RF BSW
245/40R19 98Y XL/RF BSW
255/40R19 100Y XL/RF BSW
275/40R19 105Y XL/RF BSW
245/45R19 102Y XL/RF BSW
20″
225/30R20 85Y XL/RF BSW
235/30R20 88Y XL/RF BSW
275/30R20 97Y XL/RF BSW
285/30R20 99Y BSW
225/35R20 89Y XL/RF BSW
235/35R20 90Y XL/RF BSW
245/35R20 95Y XL/RF BSW
255/35R20 97Y XL/RF BSW
275/35R20 98Y XL/RF BSW
245/40R20 95Y XL BSW
245/45R20 99Y BSW
21″
375/20R21 103Y XL BSW
22″
295/25R22 97Y XL BSW
235/30R22 90Y XL/RF BSW
265/30R22 93Y XL/RF BSW
285/35R22 102Y BSW
Price Range
Kumho Ecsta SPT prices range from approximately $91 and up. You may also find occasional rebates, discount prices, coupons and special offers on this tire.
Click Here To Find The Current Prices On All Kumho Ecsta SPT KU31 Sizes
Warranty
Kumho provides a limited tread warranty on the SPT. Tire uniformity is guaranteed for one-year or the first 2/32 inch of wear.
Materials and workmanship are warranted for 6-years and include free replacement during the first 2/32 inch of wear. A prorated amount is given for the remaining time period or down to the final 2/32 inch of tread depth. A first 2/32 inch of wear road hazard warranty is also included with the tire.
---