Kumho Ecsta PS91 Tire Review & Rating
New for mid-2016, the Kumho Ecsta PS91 max performance summer tire is the latest addition to the company's tire lineup. Designed for use on all types of high-performance sports cars and luxury sedans, the Kumho PS91 sports F3 racing tire technology and is considered by Kumho to be their "most advanced tire it has ever produced".
Kumho uses a new carbon black and silica tread compound that contains Max Grip Performance Resin and matches it up with an asymmetric tread pattern to deliver exceptional dry and wet handling to go with maximum cornering grip. It's a strength for this tire and we've heard the same things from numerous driver reviews as well.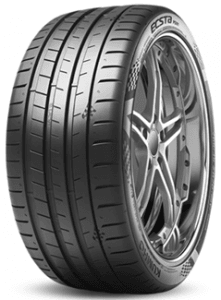 +
The tire's notched continuous center rib and stiffer tread blocks quicken steering response and give the tire added responsiveness and high speed stability. Kumho's unique 3D Dimple Design minimizes heat buildup in the tread blocks. The dimples absorb the excessive heat and helps to increase tread life, durability and performance.
With its four wide circumferential grooves and slanted lateral grooves, the Ecsta PS91 effectively channels away water for enhanced traction on wet pavement. Although arguably not among the best in class for wet grip, it performs quite well.
Inside the tire are two high-tensile steel belts with a rayon cord casing and two nylon cap plies. Together it gives the tire added strength and increased durability. Kumho offers a wide range of 18-20 inch sizes. All PS91 sizes come with a Y-speed rating.
Pros
Dry and wet traction among best in class
Excellent cornering grip and stability
Quiet ride for a UHP tire
Value and performance for the money is outstanding
Cons
Would like to see 16 and 17 inch sizes available
Too early to know how well the tread will last (We will update later)
Overall Thoughts
We've reviewed hundreds of tires on this site and it often becomes difficult to come across a new tire that really stands out on its own, but that is exactly what you'll find with this new Kumho PS91.
There's not much that we can add without it sounding like we work for Kumho, but this is simply one of the better performance tires to hit the market in recent years. It was definitely built to deliver extreme dry and wet traction, handling and performance on the street or at the track.
Point this tire in the direction you want to go and hold on. Cornering grip is on par with that of the Michelin PS2, Continental DW and other top tires in this class. It holds the road like glue and we don't say that lightly.
If you're in the market for max performance summer tires that nearly rival the likes of the Michelin Pilot Super Sport and other models, but at a cost that is far less, then the new Kumho PS91 makes an excellent choice. Dollar for dollar, it's hard to find a better performing summer tire.
Click Here For Current Kumho Coupons
What Vehicles Will The Kumho Ecsta PS91 Fit?
(This is not a complete list of ALL vehicles this tire will fit)
Audi R8, A8, RS7
BMW M6, M3, 535i, 740i
Chevrolet Corvette, Camaro
Dodge Challenger Hellcat, Charger
Ferrari F430
Ford Mustang GT
Nissan 370Z, Maxima
Porsche 911
Tire Sizes
18″
225/40ZR18 92Y XL BSW
225/45ZR18 95Y XL BSW
235/40ZR18 95Y XL BSW
245/35ZR18 92Y XL BSW
245/40ZR18 97Y XL BSW
245/45ZR18 100Y XL BSW
255/35ZR18 94Y XL BSW
255/40ZR18 99Y XL BSW
265/35ZR18 97Y XL BSW
265/40ZR18 101Y XL BSW
275/35ZR18 99Y XL BSW
275/40ZR18 103Y XL BSW
19″
225/35ZR19 88Y XL BSW
225/40ZR19 93Y XL BSW
235/35ZR19 91Y XL BSW
245/35ZR19 93Y XL BSW
245/40ZR19 98Y XL BSW
245/45ZR19 102Y XL BSW
255/30ZR19 91Y XL BSW
255/35ZR19 96Y XL BSW
255/40ZR19 100Y XL BSW
255/45ZR19 104Y XL BSW
265/30ZR19 93Y XL BSW
265/35ZR19 98Y XL BSW
275/30ZR19 96Y XL BSW
275/35ZR19 100Y XL BSW
275/40ZR19 105Y XL BSW
285/30ZR19 98Y XL BSW
285/35ZR19 103Y XL BSW
285/40ZR19 107Y XL BSW
295/30ZR19 100Y XL BSW
305/30ZR19 102Y XL BSW
20″
2176023 102Y XL BSW
235/35ZR20 92Y XL BSW
245/35ZR20 95Y XL BSW
245/45ZR20 103Y XL BSW
255/35ZR20 97Y XL BSW
255/40ZR20 101Y XL BSW
265/35ZR20 99Y XL BSW
275/35ZR20 102Y XL BSW
275/40ZR20 106Y XL BSW
285/35ZR20 104Y XL BSW
295/30ZR20 101Y XL BSW
295/35ZR20 105Y XL BSW
Price Range
Kumho Ecsta PS91 prices range from approximately $156 and up. You may also find occasional rebates, discount prices, coupons and special offers on this tire.
Warranty
Kumho provides a limited tread warranty on the PS91. Tire uniformity is guaranteed for one-year or the first 2/32 inch of wear. Materials and workmanship are warranted for 6-years and include free replacement during the first 2/32 inch of wear. A prorated amount is given for the remaining time period or down to the final 2/32 inch of tread depth. A first 2/32 inch of wear road hazard warranty is also included with the tire.
---