Kumho Ecsta PS31 Tire Review & Rating
The new for 2016 Kumho Ecsta PS31 ultra-high performance summer tire is designed to provide impressive handling, as well as reliable dry and wet traction. Built for all types of sport coupes and sedans, the Kumho PS31 also features a lower price that is appealing to budget-minded drivers.
To increase cornering stability, traction and performance, Kumho has incorporated a high-tech summer tread compound which that sports a high dispersible micro-silica which gives the tire more contact area on the pavement with a high grip resin giving the tire added traction and grip.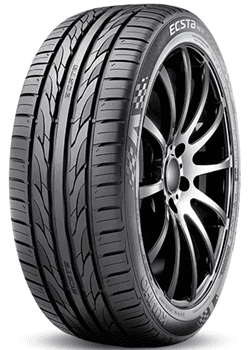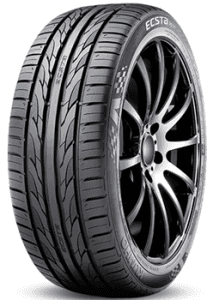 The Ecsta PS31 has a directional tread pattern with a continuous center rib and stylish lateral grooves that add to stability in high speed driving, while also increasing block stiffness and enhancing wet braking capabilities.
A unique 3D dimple design is created to minimize the buildup of heat in the tread blocks. This is an area that plagues many high-speed tires. Another benefit to this design is a longer treadlife due to the heat reduction.
Wet traction is increased through the tire's optimized wide lateral groove angles and four wide circumferential grooves around the tread. The grooves reduce the risk of hydroplaning, while diagonal sipe micro-grooves further improve wet grip and overall handling, particularly during harder cornering.
Inside the tire are two steel belts with a two-ply polyester casing beneath them. Two full layer nylon cap plies increase impact resistance, high-speed handling and durability.
Kumho currently offers a range of 14-18 inch sizes, and all sizes feature either a V or W-speed rating. A limited tread warranty is also part of the package.
Pros
Very good dry and wet traction
3D dimple design reduces heat buildup and furthers treadlife
Handles and corners with some of the better tires in this class
Value priced
Cons
Noise may be an issue for some as tire wears down
Overall Thoughts
The Ecsta PS31 sidewall's racing-inspired design and the stylish tread pattern speak volumes in looks alone on this UHP capabilities of this tire. Where this tire excels would be in its dry and wet traction, as well as cornering grip and stability. In addition, the steering is responsive and delivers good feedback at higher speeds.
Potential problem areas would include a little extra road noise as the tire starts to wear down. That said, it's nothing so excessive that it would prevent us from running this tire. Naturally, this is a summer UHP tire and is not designed for winter driving or on freezing pavement.
Overall, Kumho has released a very good high-performance tire in the Ecsta PS31. With its lower price point it delivers solid value without breaking the bank. We rank it in the mid to upper half of the summer tire UHP class.
Click Here For Current Kumho Coupons
What Vehicles Will The Kumho Ecsta PS31 Fit?
(This is not a complete list of ALL vehicles this tire will fit)
Acura TL, RL, RSX
Audi A6, A4, A8L, TT
BMW 135i, 545i, 550i, 750Li, M5, M3, 330i
Buick Regal, Lucerne
Chevrolet Corvette, Impala, Monte Carlo SS, Camaro, Cobalt, Cruze, Malibu
Chrysler 200
Dodge Charger, Avenger, Challenger
Ford Mustang GT, Fusion, Focus, Explorer, Contour
Honda Civic, CRZ
Hyundai Sonata, Veloster
Lexus GS350, GS430, IS300, LS460L
Lincoln LS
Mazda3, RX-8, Miata, Mazda3
Mercedes-Benz E550, SL55, SL500, SLK320, CLK430
Mini Cooper
Nissan 370Z, Maxima
Pontiac GTO, G8, G6, Grand Prix, Trans Am
Scion tC
Subaru Legacy, Outback, Impreza, BRZ
Volkswagen Jetta, CC Sport, Passat, GTi
Tire Sizes
14″
165/55R14 76V XL BSW
15″
185/55R15 82V BSW
195/50R15 82V BSW
195/55R15 85V BSW
205/50R15 86V BSW
205/55R15 88V BSW
16″
205/45ZR16 87W XL BSW
205/50ZR16 87W BSW
205/55ZR16 91W BSW
215/55ZR16 97W XL BSW
225/50ZR16 92W BSW
225/55ZR16 95W BSW
17″
205/40ZR17 84W XL BSW
205/45ZR17 88W XL BSW
205/50ZR17 93W XL BSW
215/40ZR17 87W XL BSW
215/45ZR17 91W XL BSW
215/50ZR17 95W XL BSW
215/55ZR17 94W BSW
225/45ZR17 94W XL BSW
225/50ZR17 98W XL BSW
225/55ZR17 101W XL BSW
235/45ZR17 94W BSW
235/50ZR17 100W XL BSW
235/55ZR17 103W XL BSW
245/40ZR17 91W BSW
245/45ZR17 95W BSW
255/40ZR17 94W BSW
275/40ZR17 98W BSW
18″
215/40ZR18 89W XL BSW
215/45ZR18 93W XL BSW
225/40ZR18 92W XL BSW
225/45ZR18 91W BSW
225/50ZR18 95W BSW
235/40ZR18 95W XL BSW
235/45ZR18 98W XL BSW
235/50ZR18 101W XL BSW
245/40ZR18 97W XL BSW
245/45ZR18 100W XL BSW
245/50ZR18 100W BSW
255/35ZR18 94W XL BSW
255/45ZR18 99W BSW
265/35ZR18 97W XL BSW
275/35ZR18 99W XL BSW
275/40ZR18 99W BSW
Price Range
Kumho Ecsta PS31 prices range from approximately $81 and up. You may also find occasional rebates, discount prices, coupons and special offers on this tire.
Warranty
Kumho provides a limited tread warranty on the PS31. Tire uniformity is guaranteed for the first year or first 2/32 inch of wear. Materials and workmanship are warranted for 6-years and include free replacement during the first 2/32 inch of wear. A prorated amount is given for the remaining time period or down to the final 2/32 inch of tread depth.
---