Kumho Ecsta LX Platinum Tire Review & Rating
The Ecsta LX Platinum from Kumho delivers touring all-season performance for drivers of all types of coupes, sedans, minivans, crossovers and smaller sport utility vehicles. Featuring enhanced traction and handling, the LX also sports luxurious ride comfort and a longer lasting tread life.
An advanced tread compound and asymmetric tread pattern are optimized for all-season traction. Kumho uses a unique 3-sipe design on this model which increases lateral grip and improves braking on dry pavement, adds additional traction on wet pavement, and provides added bite in winter weather road conditions.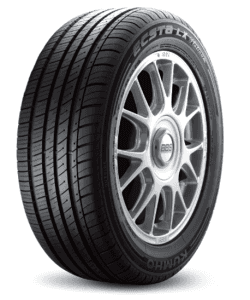 Four circumferential grooves evacuate water from under the tread and increase traction in wet conditions. They also reduce the risk of hydroplaning, which is an area this tire excels in. Treadlife is longer lasting on the LX, which may surprise some, but we would expect that with a UTQG tread rating of 600.
Inside the tire you will find two steel belts that are reinforced with a wrapped nylon cord for added strength and durability at higher speeds. Ride comfort is enhanced through the use of a polyester cord body and Jointless nylon cap construction. Kumho offers sizes ranging from 15-19 inches, and includes a 60,000 mile tread warranty.
Pros
Dry and wet traction are excellent

Exceptional handling and stability

Ride is quiet and very comfortable

Long lasting tread life
Cons
Winter performance could be better
Overall Thoughts
The LX Platinum is Kumho's best touring all-season tire in their lineup at the moment. It delivers one of the most comfortable rides among any tire in this class, as well as excellent traction on dry and wet pavement. Winter handling is ok, but we would like to see a bit of improvement. That said, it does an adequate job in light amounts of snow, but you certainly will not mistake this for a winter tire.
Cornering grip is very good, and tire stability is outstanding at higher speeds. In addition, the treadlife is excellent on this model.
Overall, this model ranks in the upper half of this class and is highly recommended.
Click Here For Current Kumho Coupons
What Vehicles Will The LX Platinum Fit?
(This is not a complete list of ALL vehicles this tire will fit)
Acura TL, 3.0CL

Audi A4, A6

BMW 740i, 530i

Cadillac STS, CTS

Chevrolet Impala

Honda Civic, Accord, Odyssey, CR-V, Fit

Hyundai Elantra, Genesis, Sonota, Azera

Infiniti M35, G35, Q45

Lexus GS430, LS400, ES330, IS250

Lincoln LS, Town Car, MKZ

Mazda 3, RX-8, Mazda 6

Mercedes-Benz C300

Mitsubishi Diamante

Nissan Versa, 350Z, Maxima

Pontiac G8

Subaru Outback, Forester, Legacy, Imprezza

Toyota Camry, Sienna, Corolla, Avalon

Volkswagen GTi, CC Sport, Jetta
Tire Sizes
15″
195/55R15 85V BSW
195/60R15 88V BSW
205/60R15 91V BSW
215/60R15 94V BSW
225/60R15 96V BSW
185/65R15 88V BSW
195/65R15 91V BSW
205/65R15 95V BSW
16″
205/55ZR16 91W BSW
215/55ZR16 97W XL/RF BSW
225/55ZR16 95W BSW
205/60R16 96V XL/RF BSW
215/60R16 95V BSW
225/60ZR16 98W BSW
235/60ZR16 100W BSW
205/65R16 95V BSW
17″
225/45ZR17 91W BSW
235/45ZR17 97W XL/RF BSW
205/50ZR17 93W XL/RF BSW
215/50ZR17 95W XL/RF BSW
225/50ZR17 98W XL/RF BSW
235/50ZR17 96W BSW
245/50ZR17 99W BSW
215/55ZR17 94W BSW
225/55ZR17 101W XL/RF BSW
235/55ZR17 103W XL/RF BSW
235/55R17 99V XRP BSW
225/60R17 98V XRP BSW
18″
225/40ZR18 92W XL/RF BSW
235/40ZR18 95W XL/RF BSW
245/40ZR18 97W XL/RF BSW
255/40ZR18 99W XL/RF BSW
225/45ZR18 95W XL/RF BSW
245/45ZR18 100W XL/RF BSW
255/45ZR18 99W BSW
225/50ZR18 95W BSW
235/50ZR18 98W BSW
245/50ZR18 104W XL/RF BSW
19″
245/40ZR19 98W XL/RF BSW
225/45ZR19 96W XL/RF BSW
Price Range
Kumho Ecsta LX Platinum prices range from approximately $88 and up. You may also find occasional rebates, discount prices, coupons and special offers on this tire.
Warranty
Kumho provides a 6-year or 60,000 mile tread warranty on the LX Platinum. The mileage is reduced by half if different sizes are used on rear than in front. Tire uniformity is guaranteed for the first year or first 2/32 inch of wear.
Materials and workmanship are warranted for 6-years and include free replacement for the first 2/32 inch of wear. A prorated amount is given for the remaining time period or down to the final 2/32 inch of tread depth. A one-year or first 2/32 inch of wear road hazard warranty is also included with this tire.
---