Kumho Ecsta 4XII Tire Review & Rating
The new Kumho Ecsta 4X II is built to replace the original Ecsta 4X (KU22) in the company's ultra-high performance tire lineup. Designed for all types of sports cars, coupes and sedans, this second-generation model is built to increase year-round traction and deliver a longer lasting treadlife at a lower price than many other tires in the UHP all-season class.
The Ecsta 4XII features a new polymer blended tread compound that is created to enhance grip on all types of pavement and weather conditions. Kumho has also concentrated on winter weather traction by adding silica and other new resins that add noticeable improvement in this area.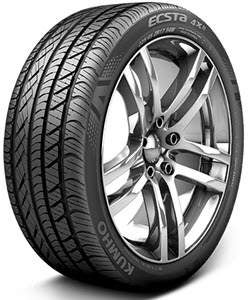 An symmetric tread pattern and larger shoulder blocks give the 4X II increased handling and cornering grip. You'll notice the steering is quicker and more responsive than on the older version due in part to the tire's optimized contact patch, continuous center rib and stiffer tread block design.
The addition of noise-canceling technology in the tread helps to reduce unwanted road noise and increase the overall ride comfort. It works well on this tire as you'l find there isn't much in the way of excessive noise on most all road surfaces.
Inside the tire are dual high-tensile steel belts that are reinforced with spirally wrapped nylon for added strength and durability. The Ecsta 4X II comes in a variety of V and W speed rated sizes, and a 40,000 mile tread warranty is also included.
Pros
Very good dry and wet traction

Cornering grip and stability

Quiet and smooth ride

Treadlife looks to be increased
Cons
Traction in deep snow and braking on ice
Overall Thoughts
Kumho has really come up with a winning tire with their new 4X II. We liked the older version for the solid performance and lower price, and this newly updated model has only furthered the performance levels.
One of the few issues with the original tire was its treadwear. Kumho has addressed this with their new compound, which carries a 420 UTQG rating, and initial results look to be very good. What you'll find on this updated version is that traction and handling are noticeably higher, while the ride is more quiet and smooth than it was on the previous tire. The only area we would like to see improved on would be traction on snow and ice, but it's really no worse than what you find on most other tires in this class.
Kumho has stated that the main competition for their new 4X II will be the Continental ExtremeContact DWS06, Michelin Pilot Sport A/S3 Plus and a few other top models in the ultra-high performance class. While that may be a stretch for this tire we can safely say that for the much lower cost, the new 4X II delivers substantial performance for the buck and is a nice addition in this category.
Click Here For Current Kumho Coupons
Click Here To Find Current Prices
What Vehicles Will The Kumho 4X II Fit?
(This is not a complete list of ALL vehicles this tire will fit)
Acura TL, Integra, TSX

Audi A4, A6, TT

BMW 328i, Z4, 330xi, 528i, M3

Cadillac CTS

Chevrolet Cruze, Camaro, Aveo

Ford Mustang, Focus, Fusion, Taurus

Honda Civic, Accord, Fit

Hyundai Sonata, Genesis

Kia Optima

Mazda3, Mazda6, Miata, Protege

Mini Cooper S

Nissan Maxima, Altima

Nissan 370Z

Scion FR-S

Subaru Impreza WRX, Outback

Toyota Solara, RAV4, Avalon, Celica GTS

Volkswagen Passat, Jetta, CC Sport, Golf, GTi

Volvo S60, 850, S40
Tire Sizes
15″
185/55R15 82V BSW
195/55R15 85V BSW
205/55R15 88V BSW
16″
195/50ZR16 84V BSW
205/50ZR16 87W BSW
225/50ZR16 92W BSW
195/55R16 87V BSW
205/55ZR16 91W BSW
215/55ZR16 93W BSW
225/55ZR16 95W BSW
17″
205/40ZR17 84W XL/RF BSW
245/40ZR17 91W BSW
255/40ZR17 94W BSW
275/40ZR17 98W BSW
205/45ZR17 88W XL/RF BSW
215/45ZR17 91W XL/RF BSW
225/45ZR17 94W XL/RF BSW
235/45ZR17 97W XL/RF BSW
245/45ZR17 95W BSW
205/50ZR17 93W XL/RF BSW
215/50ZR17 95W XL/RF BSW
225/50ZR17 98W XL/RF BSW
235/50ZR17 96W BSW
245/50ZR17 99W BSW
215/55R17 94V BSW
225/55ZR17 97W BSW
235/55ZR17 99W BSW
18″
255/35ZR18 94W XL/RF BSW
265/35ZR18 97W XL/RF BSW
275/35ZR18 95W BSW
215/40ZR18 89W XL/RF BSW
225/40ZR18 92W XL/RF BSW
235/40ZR18 95W XL/RF BSW
245/40ZR18 97W XL/RF BSW
255/40ZR18 99W XL/RF BSW
215/45ZR18 93W XL/RF BSW
225/45ZR18 95W XL/RF BSW
235/45ZR18 98W XL/RF BSW
245/45ZR18 100W XL/RF BSW
255/45ZR18 103W XL/RF BSW
225/50ZR18 95W BSW
235/50ZR18 97W BSW
245/50ZR18 100W BSW
19″
255/35ZR19 96W XL/RF BSW
225/40ZR19 93W XL/RF BSW
245/40ZR19 98W BSW
255/40ZR19 100W XL/RF BSW
275/40ZR19 105W XL/RF BSW
245/45ZR19 102W XL/RF BSW
20″
245/35ZR20 95W XL/RF BSW
255/35ZR20 97W XL/RF BSW
245/45ZR20 99W BSW
255/45ZR20 105W XL/RF BSW
Price Range
Kumho Ecsta 4X II prices range from approximately $81 and up. You may also find occasional rebates, discount prices, coupons and special offers on this tire.
Click Here To Find The Current Prices On All Kumho Ecsta 4XII Sizes
Warranty
Kumho provides a 6-year or 40,000 mile tread warranty on the 4X II. The mileage is reduced by half if different sizes are used on rear than in front. Tire uniformity is guaranteed for the first year or first 2/32 inch of wear.
Materials and workmanship are warranted for 6-years and include free replacement for the first 2/32 inch of wear. A prorated amount is given for the remaining time period or down to the final 2/32 inch of tread depth. A one-year or first 2/32 inch of wear road hazard warranty is also included with this tire. A one-year or first 2/32 inch of wear road hazard warranty is also provided.
---