Kumho Crugen Premium KL33 Tire Review Tire Review & Rating
Kumho Crugen Premium KL33 tires were originally developed for use as original equipment on the Hyundai Santa Fe crossover. However, these crossover/SUV All-Season light truck tires are now being offered in a wide array of sizes and for application on a wider range of various crossovers, SUVS, and pickups.
As is typically customary for Kumho tires, the Crugen Premium KL33 tires combine a sophisticated low-profile look with a large rim diameter designed to enhance your vehicles overall appearance.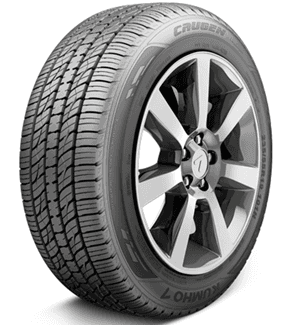 The tires are more than just pretty, though. The Crugen Premium sports Kumho's all-season tread compound that is designed to provide enhanced traction, tread life, and a drastically reduced rolling resistance. This compound is molded into a symmetric variable pitch tread pattern that has been created to reduce road noise and provide you a quieter ride, something this model does pretty at.
Constructed with independent tread blocks and wide circumferential grooves, the KL33 delivers well-balanced handling around town and on the highway at higher speeds. Another benefit to this tread makeup is in wet traction, although we feel it could be a touch better on wet pavement than it is.
The internal structure of the tire is built with twin steel belts reinforced by spirally wrapped nylon. This construction procedure allows for added durability and strength while a polyester cord reinforced casing gives you enhanced ride comfort. Kumho offers sizes ranging from 16-20 inches and includes a 60K mile warranty.
Pros
Attractive low profile look

Dry traction and handling/cornering grip

Comfortable ride
Cons
More than light snow could create major traction issues

Needs a boost in wet grip
Overall Thoughts
It was only a matter of time before Kumho released the Crugen Premium KL33 to a wider market rather than simply supplying them as an O.E. tire on the Hyundai Santa Fe. Feedback on the tires from other drivers has been mixed at this point, which is how we feel as well.
The tire offers very good dry performance when it comes to traction, cornering and overall response. In addition, the ride is comfortable for the most part and noise is not a major factor on the highway.

Where this tire falters in our opinion is in the area of winter traction. We don't feel it delivers the type of traction you expect in anything over a dusting of snow. We've heard reviews from many drivers who have said that this tire has poor braking/acceleration on heavier snow and ice. In fairness, some have not had the same issues.
Grip on wet pavement is adequate, but not up to the likes of other tires such as the Michelin Premier LTX or Pirelli Scorpion Verde All Season Plus.
Overall, we rate the Crugen Premium in the lower half of its class. While not a terrible tire by any means, for the cost there are better options available in new all-season tires.
Click Here For Current Kumho Coupons
Click Here To Find Current Lowest Prices
What Vehicles Will The Kumho KL33 Fit?
Fits these vehicles and many others:
Chevrolet Silverado, Tahoe, Avalanche, S10, Suburban, K2500,

Colorado, Blazer

Dodge Ram, Durango, Dakota

Ford Expedition, Escape, Ranger, Bronco, F-150, Excursion, Explorer

GMC Yukon, Sierra, Canyon

Honda Element, CR-V

Hummer H3, H2

Hyundai Santa Fe

Isuzu Trooper

Jeep Wrangler, Grand Cherokee, Liberty

Kia Sedona, Sorento

Land Rover Discovery

Lexus GX470

Mazda B4000

Mercury Mountaineer

Mitsubishi Montero

Nissan Titan, Xterra, Frontier, Armada, Pathfinder

Toyota Tacoma, Tundra, FJ Cruiser, Sequoia, 4Runner, Land Cruiser, Highlander
Tire Sizes
16″
215/70R16 100H BSW
225/70R16 103H BSW
235/70R16 109H XL BSW
17″
225/60R17 99V BSW
235/60R17 102V BSW
225/65R17 102V BSW
235/65R17 104V BSW
245/65R17 107V BSW
18″
225/55R18 98H BSW
235/55R18 104V XL BSW
255/55R18 109V XL BSW
235/60R18 103H BSW
245/60R18 105V BSW
235/65R18 110V XL BSW
P255/65R18 109T BSW
P275/65R18 114T BSW
19″
235/50R19 103V XL BSW
255/50R19 107V XL BSW
235/55R19 101H BSW
245/55R19 103H BSW
255/55R19 111V XL BSW
275/55R19 111V BSW
P255/60R19 108H BSW
20″
P245/50R20 102V BSW
255/50R20 109V XL BSW
265/50R20 111V XL BSW
P255/55R20 107H BSW
22″
P285/45R22 110H BSW
Price Range
Kumho Crugen Premium KL33 prices range from approximately $105 and up. You may also find occasional rebates, discount prices, coupons and special offers on this tire.
Click Here To Find The Current Prices On All Kumho Crugen Premium KL33 Sizes
Warranty
Kumho provides a 6-year or 60,000 mile tread warranty on the Crugen Premium. (Mileage is reduced by half if front and rear sizes are different.) Tire uniformity is guaranteed for the first year or first 2/32 inch of wear.
Materials and workmanship are warranted for 6-years and include free replacement during the first year or first 2/32 inch of wear. A prorated amount is given for the remaining time period or down to the final 2/32 inch of tread depth.
---