Kenda Vezda UHP A/S Tire Review & Rating
Set to debut in March 2017, the Kenda Vezda UHP A/S KR400 ultra-high performance tire features a wide array of cutting-edge tire technology to go with a value-price. Built for use on all types of sports cars, coupes and high-powered sedans, the Vezda UHP has been designed to deliver true year-round traction and handling.
Kenda uses a unique silica-based tread compound that is matched up to a computer-optimized asymmetric tread pattern. The goal is to provide summer tire like handling performance while also increasing traction capabilities on snow and ice.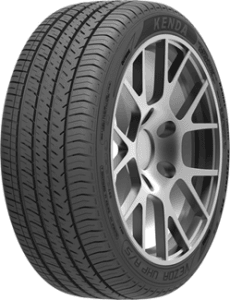 The tire's lower voids on the outer tread portion help in delivering more precise handling on dry pavement, while a higher void on the inside tread assists in providing better grip on wet road surfaces.
The Kenda Vezda UHP AS also features 3-D sipes around the tread for enhanced traction on wet, slush and snowy pavement. Four wide circumferential grooves are designed to further add to handling and traction on wet streets and reduce the risk of hydroplaning.
A built-in rim protector is included that helps prevent expensive wheel damage from curbs and other obstructions. Kenda will offer a large number of 16-20 inch sizes in the Vezda UHP, with all sizes being Z speed rated. A 50K mile tread warranty is provided on all sizes, which is rare for a value-priced model.
What Vehicles Will The Kenda Vezda UHP A/S Fit?
Fits these vehicles and many others:
Acura TSX, TL, RL
Audi A8L, S5, Allroad, A3, A4
BMW 325i, 530i, 335i, 328i, 525
Buick LaCrosse, Lucerne, Regal
Cadillac CTS
Chevrolet Camaro, HHR, Impala, Malibu, Cruze, Volt
Dodge Journey, Charger, Stratus, Challenger
Ford Thunderbird, Fusion, Escape, Taurus, Mustang, Focus
Honda Accord, Civic, Odyssey, Fit, CR-V
Hyundai Elantra, Tucson, Sonata, Genesis
Infiniti G35, M35, EX35, G37
Jaguar XJ8, X-Type
Kia Optima
Lexus ES300, SC300
Mazda3, Protege, Mazda5, CX-5, Mazda6
Mercedes-Benz C280, S320, CLK320, E-class
Mini Cooper
Mitsubishi Eclipse
Nissan Altima, Juke, Maxima, Sentra, Rogue
Saab 9-3
Scion xD, tC
Subaru Outback, Impreza, Legacy
Suzuki SX4
Toyota Camry, Avalon, Matrix, Prius, Sienna, Corolla
Volkswagen Jetta, Golf, Passat, CC Sport, GTi
Volvo S80, V70
Tire Sizes
16″
195/55ZR16
205/55ZR16
225/50ZR16
225/55ZR16
17″
205/50ZR17
215/45ZR17
215/50ZR17
215/55ZR17
225/45ZR17
225/50ZR17
225/55ZR17
235/45ZR17
235/50ZR17
235/55ZR17
245/40ZR17
245/45ZR17
245/50ZR17
255/40ZR17
18″
225/40ZR18
225/45ZR18
225/50ZR18
235/40ZR18
235/45ZR18
235/50ZR18
235/55ZR18
245/40ZR18
245/45ZR18
255/35ZR18
255/40ZR18
255/45ZR18
19″
225/40ZR19
225/45ZR19
235/35ZR19
245/40ZR19
245/45ZR19
255/35ZR19
255/40ZR19
20″
275/40ZR20
225/35ZR20
245/35ZR20
245/45ZR20
255/35ZR20
255/45ZR20
Price Range
Kenda Vezda UHP A/S prices range from approximately $82 and up. You may also find occasional rebates, discount prices, coupons and special offers on this tire.
Warranty
Kenda provides a 50,000 mile tread warranty on the Vezda UHP A/S. Materials and workmanship are warranted for 4-years and include free replacement during the first 10% of wear. A prorated amount is given for the remaining time period or down to the final 2/32 inch of tread depth.
---