Kenda Klever AT KR28 Tire Review & Rating
The Kenda Klever A/T KR28 is built to deliver all-terrain performance while also focusing on providing drivers with a tire that is comfortable on the highway. While including a host of features you would expect from an AT tread design, the Klever A/T has been created for use in a variety of different driving scenarios.
An aggressive symmetrical tread pattern features deep sipes throughout the tread and biting edges to improve overall grip, cornering, and braking on wet or snow covered road surfaces. It also helps the tire deliver confident off-road traction in all types of terrain such as dirt, mud, gravel, sand, grass and more.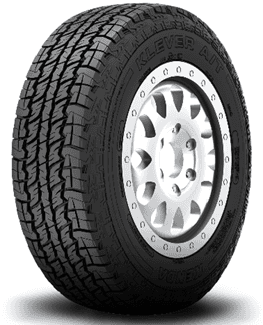 Internally, the tire has dual steel belts to improve tread life and promote even tread wear. The 3-ply sidewall found in select sizes has been reinforced by a tough fabric to stiffen the tire while also reducing the possibility of punctures. Finally, a protective rubber has been added to the outside layer of the tire to improve air retention and maintain tire pressure.
The Klever KR28 is available in sizes ranging from 14-18 inches in both LT and non-LT models. There's also a 60K mile tread life warranty.
Pros
Excellent traction in dry, wet and snowy driving conditions

Good traction in moderate off-road terrain

Very reasonably priced for an all-terrain tire
Cons
In-vehicle road noise not as quiet as advertised

Tread may wear faster than you expect
Overall Thoughts
The Kenda AT is the type of tire that can jump out and surprise you with its nice performance in certain areas. If you only look at the lower price compared to other big name models, you might easily dismiss it as just another cheap A/T tire. In this case you may be making a mistake.
We like this all-terrain tire for several reasons, which includes its more than capable off-road traction. Unless you are wanting to do some serious rock climbing or plan to drive in deep gooey mud, this tire is going to get you through just about any other terrain. Highway traction is very good in both wet and dry driving conditions, and the tire holds up in an area where some all-terrain tires fall short… traction in the snow.

That said, there are a few areas we would like to see improved. Expect to hear a little added noise on the highway, but nothing that is too excessive. The biggest issue you might find deals with the tread life. Depending on your driving style it may fall short of what you would expect.

Overall, we give this model a rank in the middle to lower half of the all-terrain class. While it's not on the level of a BFG T/A KO2 or Cooper AT3 among other best in class tires, it is reasonably priced and delivers dependable performance on and off-road.
What Vehicles Will The Kenda AT KR28 Fit?
(This is not a complete list of ALL vehicles this tire will fit)
Chevrolet Silverado, Avalanche, Tahoe, Colorado, Suburban

Dodge Ram, Durango, Dakota

Ford F-150, F-250, F-350, Expedition, Explorer, Ranger

GMC Canyon, Yukon, Sierra, Jimmy

Honda Ridgeline, Pilot

Hummer H3

Jeep Grand Cherokee, Wrangler

Land Rover Range Rover

Mercury Mountaineer

Mitsubishi Montero

Nissan Frontier, Pathfinder, Titan

Suzuki Equator

Toyota Sequoia, 4Runner, FJ Cruiser, Tundra, Land Cruiser, Tacoma
Tire Sizes
14″
27*8.50R14LT C 95Q OWL
15″
30*9.50R15LT C 104Q OWL
31*10.50R15LT C 109Q OWL
33*12.50R15LT C 108S OWL
P215/75R15 100S BSW
P225/75R15 102S BSW
LT235/75R15 C 104/101S OWL
16″
LT215/85R16 E 115/112Q OWL
LT235/85R16 E 120/116Q OWL
LT225/75R16 E 115Q OWL
LT245/75R16 C 108/104Q OWL
P245/75R16 111S BSW
LT245/75R16 E 120/116Q OWL
LT245/75R16 E 120/116Q OWL
P265/75R16 116S BSW
LT265/75R16 C 112/109Q OWL
LT265/75R16 C 112/109Q OWL
LT265/75R16 E 123/120Q OWL
LT285/75R16 E 126/123R OWL
P215/70R16 100S OWL
P235/70R16 106S OWL
P245/70R16 107S BSW
P255/70R16 111S BSW
P265/70R16 112S BSW
17″
LT235/8017 E 120/117R OWL
P235/75R17 108S OWL
LT245/75R17 E 121/118Q OWL
P245/70R17 110S BSW
P265/70R17 115S BSW
LT265/70R17 E 121/118Q OWL
P285/70R17 117S BSW
LT285/70R17 E 121/118R OWL
LT315/70R17 E 121Q OWL
P235/65R17 104S BSW
P255/65R17 110S BSW
P265/65R17 112S BSW
18″
LT275/70R18 E 125/122Q OWL
P275/65R18 116S BSW
LT275/65R18 E 123/120Q OWL
P235/60R18 103H OWL
Price Range
Kenda Klever AT prices range from approximately $115 and up. You may also find occasional rebates, discount prices, coupons and special offers on this tire.
Warranty
Kenda provides a limited tread warranty on the Klever AT KR28. Materials and workmanship are warranted for 4-years and include free replacement during the first 10% of wear. A prorated amount is given for the remaining time period or down to the final 2/32 inch of tread depth.
---