Kenda Kenetica KR17 Tire Review & Rating
The Kenda Kenetica KR17 is an affordable, all-season tire that is designed to give a wide range of car, minivan, crossover and SUV owners dependable year-round traction with a comfortable ride quality. Built with reliability and safety in mind, the Kenda Kenetica KR17 tire features a lower budget-friendly price for car owners who looking for a value-based option.
Due in part to Kenda's advanced NMA technology, the KR17's tread compound is made to last longer, while delivering solid dry and wet traction. The asymmetric tread pattern and notched center rib enhance steering feel and helps to increase braking performance on dry pavement. Larger outer shoulder blocks further increase cornering grip and stability throughout the speed range.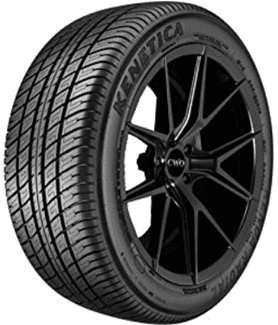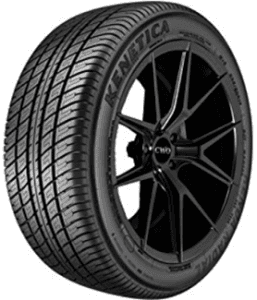 Kenda has added four circumferential grooves and numerous lateral grooves that aid in wet traction and reduce the risk of hydroplaning. Despite being M+S rated, grip on anything more than light snow may be problematic.
When it comes to ride quality, Kenda uses a high modulus low shrinking carcass that gives vehicle owners a more comfortable ride. Its tread design also decreases the amount of noise that comes from this tire when you're traveling on the highway.
The Kenda Kenetica KR17 tire comes in 13-18 inch sizes, with S, T and H-speed ratings. Kenda also includes a 50K mile tread warranty on this model.
Pros
Low cost
Good dry traction, grip and handling
Cornering stability
Low road noise
Cons
Struggles in winter driving conditions
Overall Thoughts
The Kenda Kenetica KR17 tire is an average, value-based all-season tire that provides good traction in dry conditions. Cornering, steering responsiveness and comfort are all acceptable and the noise levels from this tire are quite low.
On the other hand, this is a tire that struggles on ice, hard pack and deeper amounts of snowfall. It's an all-season model and not one built for dedicated winter use. In addition, we've heard mixed responses when it comes to tread life. Some owners have stated that it has a long tread life, while others have reported that the tread wears quicker than expected. These conflicting views may be down to driving behavior, the type of vehicle the tires are fitted on and whether or not these tires are balanced or aligned properly.
Overall, if you're looking for a budget-priced all-season tire that performs adequately in most conditions, the Kenda Kenetica KR17 is not a bad option, so long as you are aware of its limitations.
What Vehicles Will The Kenda Kenetica KR17 Fit?
(This is not a complete list of ALL vehicles this tire will fit)
Acura ILX, CL, CSX, TL, RSX
Audi A4, A6, TT, A8, RS
BMW 3-Series, Z4, 5-Series, Z3
Buick Verano, Regal, Lacrosse, Park Avenue, LeSabre
Chevrolet Cobalt, Sonic, Aveo, Impala, Monte Carlo, Cruze, Volt, Malibu
Chrysler 300, PT Cruiser, Sebring, Town and Country, 200
Dodge Avenger, Challenger, Dart, Stratus, Intrepid, Grand Caravan, Magnum
Ford Focus, Taurus, Crown Victoria, Fusion
Honda Civic, Accord, Prelude, Insight, Odyssey
Hyundai Genesis, Azera, Sonata, Elantra
Kia Amanti, Optima, Soul
Mazda 626, Mazda5, Mazda6, Mazda3
Nissan Altima, Sentra, Leaf, Maxima
Scion xA, xB, xD, FR-S
Subaru Impreza, Forester, Outback, Legacy
Toyota Corolla, Camry, Solara, Avalon, Sienna, Prius
Volkswagen Jetta, Beetle, Passat, Touareg
Volvo S40, S70, V40, V70, C70, XC70
Tire Sizes
13″
175/70R13 82T BW
185/70R13 86T BW
14″
185/70R14 88T BW
195/70R14 91T BW
205/70R14 95T BW
175/65R14 82T BW
185/65R14 86T BW
185/65R14 86H BW
185/60R14 82H BW
195/60R14 86H BW
15″
235/75R15 105S BW
205/70R15 96T BW
215/70R15 98T BW
185/65R15 88H BW
195/65R15 91T BW
195/65R15 91H BW
205/65R15 94T BW
205/65R15 94H BW
185/60R15 84T BW
195/60R15 88H BW
205/60R15 91H BW
215/60R15 94H BW
16″
205/65R16 94H BW
215/65R16 98H BW
235/65R16 103T BW
205/60R16 91H BW
215/60R16 95H BW
225/60R16 98H BW
235/60R16 99H BW
205/55R16 91H BW
17″
215/65R17 98T BW
215/60R17 95T BW
215/55R17 94T BW
225/55R17 95T BW
235/55R17 99T BW
215/50R17 91T BW
225/50R17 94T BW
18″
235/65R18 106H BW
Price Range
Kenda Kenetica KR17 prices range from approximately $55 and up. You may also find occasional rebates, discount prices, coupons and special offers on this tire.
Warranty
Kenda provides a 50,000 mile tread warranty on the Kenetica KR17. Materials and workmanship are warranted for 4-years and include free replacement during the first 10% of wear. A prorated amount is given for the remaining time period or down to the final 2/32 inch of tread depth.
---