Kelly Safari TSR Tire Review & Rating
The Kelly Safari TSR is designed to provide predictable on-road drivability to go with high performance off-road traction and grip. Engineered for drivers of all types of pickups and SUV's, the TSR features increased ride quality and a longer lasting treadlife.
A tougher all-terrain tread compound sports a patented rock-patterned tread design that enhances traction on and off-road. Multi-directional sipes increase grip on wet pavement, as well as provide biting edges for increased traction on snow and ice. Kelly has also included the ability to add #16 metal studs for even greater grip on snow and ice if you need it.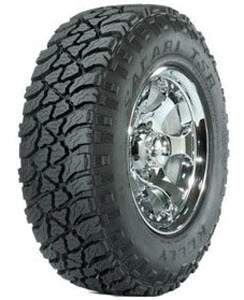 Off-road performance is increased due to the tire's staggered shoulder block design and deeper, self-cleaning tread elements. They combine to increase traction in mud, sand and on gravel, dirt and rock. Ride quality, and specifically reduced road noise on road, is improved due to free-form interlocking tread blocks and the non-symmetric design. This is an area that many drivers have mentioned as a real plus.
Inside the tire you will find two steel belts with a nylon reinforcement for added strength and durability on and off road. A polyester cord body adds to ride comfort. Kelly has also included a built-in rim protector to protect your wheels from damage. Sizes are available from 15-18 inches along with load ratings up to an E.
Pros
Tires go through just about any terrain

Ride on the highway is smoother than expected

Very good handling capabilities

Outstanding tread life

Performance and value for the money is excellent
Cons
A little extra noise

Tread may pick up rocks at times
Overall Thoughts
It would be hard for anyone NOT to like this Kelly TSR tire… and if you look at all the reviews and ratings from other drivers you will see they mostly all agree. You can expect to find excellent performance on dry, wet or snow covered road surfaces. Even better is the traction and performance off-road. The bottom line is that Kelly has a tire that will go through just about any terrain you want to throw its way.
Yes, you will find a little extra road noise from the tread, but this is an MT tire after all. The only other issue we could find is that sometimes you will get smaller rocks in the tread that do not clean out as well. We're talking about 3/4 inch sized rocks. It doesn't happen all the time, so it is not a huge issue but one we want to mention anyway. Ride quality is very good on this tire, as is the treadlife.
Overall, the performance and value for the money that this Kelly TSR provides is outstanding. Sure, it falls short of the top tires in this class, but it still does not disappoint, especially when you factor in the lower cost over bigger name brand mud tires.
What Vehicles Will The Kelly TSR Fit?
(This is not a complete list of ALL vehicles this tire will fit)
Chevrolet Silverado, Colorado, K1500, Avalanche, S10, C2500, Blazer, Tahoe

Dodge Ram, Dakota, Nitro, 2500 Van, Durango

Ford F-150, F-250, F-350, Ranger, Bronco, Econoline Series, Expedition

GMC Sierra, Canyon, Envoy, Yukon, Jimmy, Suburban

Honda Passport

Hummer H3

Isuzu Trooper, Hombre5, Rodeo, Amigo S

Mitsubishi Montero

Nissan Crew Cab, Titan, Pathfinder

Jeep Wrangler, Cherokee, Grand Cherokee, Liberty, CJ5, CJ7

Land Rover Range Rover

Suzuki Sidekick, Equator

Toyota FJ Cruiser, 4Runner, Tacoma, Tundra, Sequoia
Tire Sizes
15″
31X10.50R15LT C 109Q OWL
LT235/75R15 C 104Q OWL
16″
LT225/75R16 E 115Q BSL
LT245/75R16 E 120Q BSL
LT265/75R16 C 112Q OWL
LT265/75R16 E 123Q BSL
LT285/75R16 E 126P BSL
LT315/75R16 E 127Q BSL
LT235/85R16 E 120Q BSL
17″
LT245/70R17 E 119Q BSL
LT265/70R17 E 121Q BSL
LT265/70R17 C 112Q OWL
LT285/70R17 D 121Q OWL
LT315/70R17 D 121Q BSL
LT245/75R17 E 121Q OWL
18″
LT275/65R18 E 123Q BSL
LT275/70R18 E 125Q BSL
Price Range
Kelly Safari TSR prices range from approximately $162 and up. You may also find occasional rebates, discount prices, coupons and special offers on this tire.
Warranty
Kelly provides a limited tread warranty on the Safari TSR. Tire uniformity is guaranteed for the first 2/32 inch of wear. Materials and workmanship are warranted for 6-years and include free replacement during the first year or first 2/32 inch of wear. A prorated amount is given for the remaining time period or down to the final 2/32 inch of tread depth.
---