Kelly Explorer Plus Tire Review & Rating
The Explorer Plus from Kelly Tires is designed to provide dependable all-season traction with a smoother and more refined ride quality. Built for drivers of coupes, sedans, minivans and smaller sport utility vehicles, the Explorer Plus features black serrated lettering for a more attractive tread appearance.
An all-season tread compound and symmetric tread design combine with independent tread elements to give the tire enhanced dry and wet traction. Larger outside shoulder blocks increase cornering grip, while also adding more responsive steering. You'll also notice less road noise while driving on this tire compared to other tires in this class.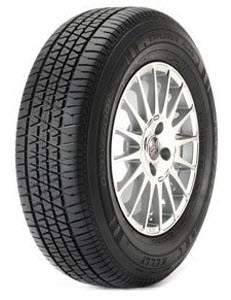 Four circumferential grooves and deeper lateral grooves increase wet handling and reduce the risk of hydroplaning on wet road surfaces. The tread is designed to provide very good winter weather grip when the snow starts falling as well. Good winter handling is an area often mentioned in other driver reviews and ratings on this model.
Inside the tire you will find two steel belts that are nylon reinforced for added strength and durability at higher speeds. A polyester radial cord body increases ride comfort and provides a smoother ride quality. Kelly offers sizes from 13-16 inches, and there is a 40,000 mile tread guarantee as well.
Pros
Dry, wet and winter traction are excellent

Cornering grip is very good

Tire rides comfortably

Good value for the money and performance
Cons
Would like to see just a bit more steering response
Overall Thoughts
The Explorer Plus is one of those tires that seem to fly under the radar when it comes to new tire buying. A lot of people simply don't know that much about them, but once you find out how well they perform you will be sold.
Dry and wet traction are impressive on this tire, as is its performance in the snow. In fact, it sits up there with the better models in the all-season class. Cornering grip and overall stability are very good as well. The ride is comfortable and pretty quiet for a basic AS tire.
Steering is responsive for the most part, but we always look for areas that could be improved on. Treadlife is good, but a few drivers have mentioned it was shorter than they liked. This is possibly due to driving habits because most drivers have said treadlife is ok.
Overall, we can definitely recommend this tire for those looking at a basic all-season tire that sells for a lower price than some of the bigger name brands. It's not perfect by any means, but it delivers pretty good overall performance.
What Vehicles Will The Kelly Explorer Plus Fit?
(This is not a complete list of ALL vehicles this tire will fit)
Buick LaSabre, Riviera

Chevrolet Impala, Monte Carlo, Malibu

Chrysler Voyager

Daewoo Nubira

Dodge Grand Caravan

Ford Taurus

Honda Civic, CR-V

Hyundai Accent

Jeep Grand Cherokee

Mercury Sable

Nissan Maxima, Altima, Sentra

Pontiac Grand Prix, Grand Am

Saturn L200

Subaru Legacy

Toyota Corolla, Camry
Tire Sizes
13″
P175/70R13 82S VSB
14″
P175/65R14 81S VSB
P185/65R14 85S VSB
P185/70R14 87S VSB
P195/70R14 90S SBL
P195/75R14 92S VSB
P205/75R14 95S VSB
15″
185/60R15 84T SBL
195/60R15 88T SBL
205/60R15 91T SBL
P215/60R15 93T SBL
185/65R15 88T SBL
P195/65R15 89S VSB
P205/65R15 92S SBL
215/65R15 96T SBL
P205/70R15 95S VSB
P215/70R15 97S SBL
16″
205/55R16 91T SBL
P215/60R16 94T SBL
225/60R16 98T SBL
215/65R16 98T SBL
Price Range
Kelly Explorer Plus prices range from approximately $59 and up. You may also find occasional rebates, discount prices, coupons and special offers on this tire.
Warranty
Kelly provides a 40,000 mile tread warranty on the Explorer Plus. Tire uniformity is guaranteed for 6-months or the first 2/32 inch of wear.
Materials and workmanship are warranted for 6-years and include free replacement during the first year or first 2/32 inch of wear. A prorated amount is given for the remaining time period or down to the final 2/32 inch of tread depth.
---