Kelly Edge AT Tire Review & Rating
The all-new Kelly Edge A/T is the company's latest addition to their truck tire lineup. Kelly, which is a subsidiary of Goodyear, released the Edge A/T in early 2015. This light truck all-terrain tire features a reasonable price, longer tread life, and design elements which aid in both off road and highway traction.
Utilizing a unique cut and chip resistant tread compound, Kelly is seeking to add more toughness and durability to the tread that is similar in performance to other Goodyear A/T tires such as the All-Terrain Adventure. This tread compound and pattern found on the Edge AT is also intended to provide enhanced traction on the highway or in off-road situations.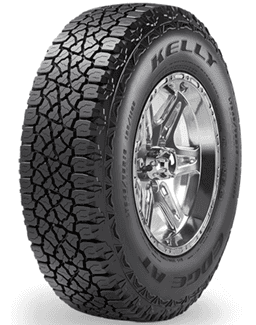 For off road use, the tire has flared tread block edges, which help push loose dirt, mud, and gravel away from the tread. On the road, these edges allow the tire to channel rain water, slush, and light snow away from the tread to enhance traction and prevent hydroplaning. Ride comfort and in-vehicle noise are both also improved by these sturdy tread blocks.
The Kelly Edge A/T is available in a wide range of LT and non-LT sizes ranging from 15-18 inches and in E load range ratings. Kelly Tires also provides a 50K mile warranty on tread wear.
Pros
Solid traction on and off road

High level of attention to detail in tread design

Available in a wide range of sizes
Cons
No features or design elements that stand out above the competition
Overall Thoughts
The Kelly Edge A/T is a reasonably priced light duty all-terrain tire from a manufacturer with a long history of developing reliable products. While the feature set isn't as extensive as some other all-terrain tires in its class, the Edge A/T does provide you with a well-balanced driving experience.
While it can be difficult for many all-terrain tires to perform as well as dedicated winter tires in severe winter weather conditions, this model holds its own in light-to-moderate snow, slush, and rain, which we've heard other drivers saying the same things in reviews.
The one thing that sticks out to us is that while there are no real glaring weaknesses with this tire, there are also no features or design elements which really make it stand out from the competition. Having said that, if you're looking for a well-balanced, reasonably priced light-duty all-terrain tire, this model is not a bad choice by any means.
What Vehicles Will The Kelly Edge A/T Fit?
(This is not a complete list of ALL vehicles this tire will fit)
Chevrolet Silverado, Tahoe, Avalanche, S10, Suburban, K2500,

Colorado, Blazer

Dodge Ram, Durango, Dakota

Ford Expedition, Escape, Ranger, Bronco, F-150, Explorer

GMC Yukon, Sierra, Canyon

Honda Element, CR-V, Ridgeline

Isuzu Trooper

Jeep Wrangler, Grand Cherokee, Liberty

Mazda B4000

Mercury Mountaineer

Mitsubishi Montero

Nissan Titan, Xterra, Frontier

Toyota Tacoma, Tundra, FJ Cruiser, Sequoia, 4Runner, Land Cruiser, Highlander
Tire Sizes
15″
225/75R15 102S OWL
235/75R15 105S OWL
31X10.50R15LT 109R C OWL
16″
235/70R16 106T OWL
245/70R16 107T OWL
255/70R16 111S OWL
265/70R16 112T OWL
225/75R16 104S OWL
235/75R16 112S XL OWL
245/75R16 111S OWL
265/75R16 116T OWL
LT225/75R16 115R E BSL
LT245/75R16 120S E BSL
LT265/75R16 123R E OWL
LT285/75R16 126R E OWL
LT215/85R16 115R E BSL
LT235/85R16 120R E BSL
17″
255/65R17 110S OWL
265/65R17 112T OWL
235/70R17 109S XL BSL
245/70R17 110S BSL
255/70R17 112S OWL
265/70R17 115T OWL
LT245/70R17 119S E BSL
LT265/70R17 121S E BSL
LT285/70R17 121R E OWL
LT245/75R17 121S E BSL
LT235/80R17 120R E BSL
18″
265/60R18 110S OWL
265/65R18 114S OWL
275/65R18 116T OWL
LT275/65R18 123S E OWL
LT275/70R18 125R E OWL
20″
275/55R20 113S BSL
275/60R20 115S BSL
LT275/65R20 126S E OWL
Price Range
Kelly Edge A/T prices range from approximately $110 and up. You may also find occasional rebates, discount prices, coupons and special offers on this tire.
Warranty
Kelly provides a 50,000 mile treadlife warranty on the Edge AT. Tire uniformity is guaranteed for the first 2/32 inch of wear.
Materials and workmanship are warranted for 6-years and include free replacement during the first year or first 2/32 inch of wear. A prorated amount is given for the remaining time period or down to the final 2/32 inch of tread depth.
---