Kelly Edge A/S Tire Review & Rating
The new Kelly Edge A/S tire is specially designed as an economical touring all-season tire for drivers of all types of coupes, sedans, minivans, crossovers and smaller SUV's. Kelly Tire has stated that this new line will eventually replace the Charger GT, Safari Signature and Explorer Plus models.
The Edge AS features a new all-season tread compound and tread block design that is built to enhance traction on dry and wet road surfaces. You'll find confident grip on dry pavement with solid braking performance as well. For an economy based tire, it does a good overall job in this area.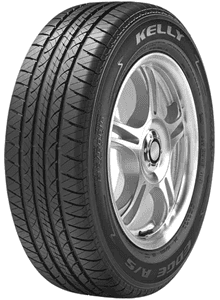 Wider circumferential grooves around the tread help channel away water and slush for added grip when driving on wet pavement. With biting edges, traction on snow should be adequate for most drivers.
Dual steel belts along with an enhanced tread footprint help lengthen treadlife. With a 500 UTQG rating you should see 50K miles or more out of the tread. Goodyear, who is the parent company to Kelly, warrants this tire for 55,000 miles. You'll find sizes available that range from 14-17 inches, and come with either a T, H or V-speed rating.
Pros
Dry and wet traction

Handling and braking

Budget-friendly price

Treadlife looks to be good at this point
Cons
Soften the ride just a bit

Winter performance
Overall Thoughts
The market for budget-friendly new tires includes some very good models today, and this Kelly Edge tire further adds to the list. Being under the Goodyear umbrella, Kelly is positioned as a trusted name in tires. We like the all-around performance on dry and wet streets, as well its ride quality. Simply stated, it gives you a confident feeling behind the wheel.

You may notice a little extra road noise and the ride may not be as soft as you would find on a premium Michelin touring tire, but that's not surprising since it's a basic all-season model. That said, it still delivers a decent ride quality.
The other area you might have some concern with is the tire's winter performance. It's fine in light snow, but keep in mind this is not a winter tire and traction in heavier amounts of snow or on ice is likely to be a little more problematic.
What this tire does best is deliver reliable and dependable everyday performance at a price that fits just about any budget. It's a good choice for drivers who don't want to pay a lot of money for new tires. We can certainly recommend this model and feel that it is one of better tires in the budget all-season class.
Buy Used for 40 – 50% Less than Retail
What Vehicles Will The Kelly Edge AS Fit?
(This is not a complete list of ALL vehicles this tire will fit)
Acura TL, CL

BMW 135i, 330i

Chevrolet Cobalt, Malibu, Cruze, Impala, Sonic LTZ

Dodge Neon, Grand Caravan, Nitro

Ford Focus, Mustang, Taurus, Fusion

Honda Civic, CR-V, Insight, Accord

Hyundai Accent

Kia Optima, Rondo, Rio

Mazda6, 929, Mazda3

Nissan Altima, Maxima, Versa, Leaf, Cube

Pontiac Vibe, Grand Am, Grand Prix, G5

Subaru Legacy, Impreza WRX, Outback

Suzuki SX4

Toyota Camry, Prius, RAV4, Avalon, Solara, Sienna

Volkswagen Jetta, Passat, Touareg
Tire Sizes
14″
185/65R14 86H VSB
185/70R14 88T VSB
195/70R14 91T VSB
15″
185/60R15 84T VSB
195/60R15 88H VSB
205/60R15 91H VSB
215/60R15 94H VSB
185/65R15 88H VSB
195/65R15 91H VSB
205/65R15 94H VSB
205/70R15 96T VSB
215/70R15 98T VSB
16″
195/50R16 84V VSB
205/50R16 87H VSB
205/55R16 91H VSB
215/55R16 93H VSB
205/60R16 92V VSB
215/60R16 95H VSB
225/60R16 98H VSB
235/60R16 100H VSB
205/65R16 95H VSB
215/65R16 98T VSB
225/65R16 100T VSB
235/65R16 103T VSB
215/70R16 100H VSB
225/70R16 103T VSB
235/70R16 106T VSB
245/70R16 107T VSB
17″
215/45R17 87V VSB
225/45R17 91V VSB
205/50R17 89V VSB
215/50R17 91V VSB
225/50R17 94V VSB
215/55R17 94V VSB
225/55R17 97V VSB
235/55R17 99H VSB
215/60R17 96T VSB
225/60R17 99H VSB
235/60R17 102T VSB
215/65R17 99T VSB
225/65R17 102H VSB
235/65R17 104H VSB
245/65R17 107T VSB
265/65R17 112T VSB
18″
225/45R18 91V VSB
225/55R18 98H VSB
235/55R18 100H VSB
235/60R18 103H VSB
245/60R18 105H VSB
235/65R18 106T VSB
255/65R18 111T VSB
Price Range
Kelly Edge A/S prices range from approximately $53 and up. You may also find occasional rebates, discount prices, coupons and special offers on this tire.
Warranty
Kelly provides a 55,000 mile tread warranty on the Edge A/S. Tire uniformity is guaranteed for 6-months or the first 2/32 inch of wear.
Materials and workmanship are warranted for 6-years and include free replacement during the first year or first 2/32 inch of wear. A prorated amount is given for the remaining time period or down to the final 2/32 inch of tread depth.
---