Kelly Edge A/S Performance Tire Review & Rating
The Kelly Edge A/S Performance tire is a high performance all-season model from Goodyear-owned Kelly Tires. It has a feature set similar to the Kelly Edge A/S, but is designed for sportier vehicles. This tire offers drivers a series of high end performance benefits in both dry and wet driving conditions.
The Edge A/S Performance uses Kelly's proprietary all-season tread compound and asymmetric tread pattern for increased dry traction, braking and handling capabilities. The tread pattern also features biting block edges along the tread that are created to improve traction in both wet and dry conditions as well as in snow, slush, and ice.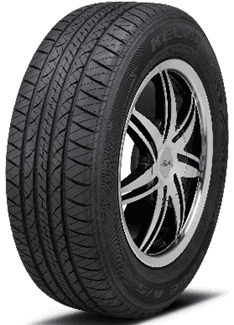 Broad circumferential tread grooves aid in the evacuating water for extra grip and reduced hydroplaning on wet road surfaces, as well as in slush. The tread blocks are built with strength in mind to help with handling and cornering performance, something this tire does pretty well. These design elements also help to improve ride comfort and in-vehicle noise while on the highway.
The Kelly A/S Performance is available in sizes ranging from 205/55R16 to 235/55R17, and all sizes have an H-speed rating (it is worth noting that the standard Kelly Edge A/S is available in over 50 sizes). The tire is offered with a 55K mile tread life warranty.
Pros
All-season traction at a reasonable price

Capable handling and cornering grip

Long tread life
Cons
A little more winter traction

Increase the number of sizes available
Overall Thoughts
The standard Kelly Edge A/S has shown to be a reliable offering, and this new Edge AS Performance offers the same benefits to drivers of high-performance vehicles, but with fewer size offerings. Hopefully the company will be adding more choices in the near future.
If you drive a sport coupe or high powered sedan, odds are you want a set of tires to match that performance. Compared to similar tires in its class, this model manages to present a reasonable price alongside a decent set of features and reliability for an HP all-season tire. No, it's not on the line of some of the higher end offerings like the BFGoodrich Comp-2 A/S, Continental DWS06 among others, but it does a solid job for the most part.
As is the case with most every all-season tire, winter traction and handling is often the major lagging feature. It's no different here. It tackles light snow about average for its class, but if you need a tire to handle more severe winter weather then you should consider installing a set of dedicated winter tires.
Overall, Edge A/S Performance ranks in the middle of its class. For drivers looking at lower cost alternatives, this model is a nice option in new tires.
Tire Sizes
16″
205/55R16 91H VSB
215/55R16 93H VSB
17″
235/55R17 99H VSB
Price Range
Kelly Edge A/S Performance prices range from approximately $85 and up. You may also find occasional rebates, discount prices, coupons and special offers on this tire.
Warranty
Kelly provides a 55,000 mile tread warranty on the Edge A/S Performance. Tire uniformity is guaranteed for 6-months or the first 2/32 inch of wear.
Materials and workmanship are warranted for 6-years and include free replacement during the first year or first 2/32 inch of wear. A prorated amount is given for the remaining time period or down to the final 2/32 inch of tread depth.
---