Ironman iMove Gen2 A/S: Tire Review & Rating
Overview
The Ironman iMove Gen2 A/S is a reasonably priced entry-level ultra-high performance (UHP) tire that is designed for passenger cars. It's an all-season tire that delivers long-lasting performance thanks to the wear-resistant compound used in manufacturing it.
The tire features asymmetric tread design that allows for firm road grip as well as better traction and handling of your car. It uses an advanced pressure distribution model to evenly distribute tire pressure to prevent uneven wear on the tire, which would otherwise reduce its life.
Uneven wear can be detrimental to the tire and the car itself that would cause unnecessary wear of other car parts, such as the suspension, and result in an overall rougher ride. The steering alignment would also be compromised in such a case, too. But the Ironman iMove Gen2 A/S takes care of that by providing you with an even wearing tire.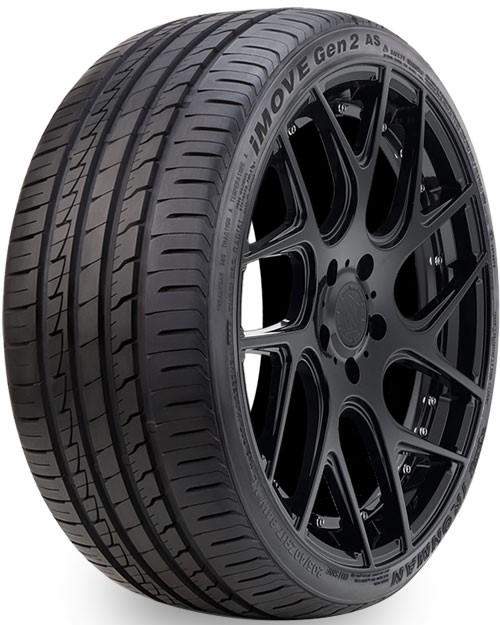 The Ironman iMove Gen2 A/S is also M + S rated, which means that it can do well in wet and dry road conditions, thanks to the way it's designed. The circumferential and longitudinal grooves, as well as the asymmetric pattern, allow the tire to eject more water out on wet roads so that your car handles well. This means you also get hydroplaning resistance when driving on wet roads.
The Ironman iMove Gen2 A/S adds responsive handling to your car with the help of siped edges and the asymmetric tread design. It even allows for a quieter ride. The siped edges will enable you to maintain grip while cornering so you don't slide off the road.
The improved tread block design allows you to have a firm grip on the road at high speeds, making your car stable while you cruise down the highway. All of this helps you have a smoother experience on the way. The tires come in 4 different speed variants, W, V, H, and T.
The Ironman iMove Gen2 A/S is available in several sizes ranging from 14" to 22."
Pros
Wear Resistant compound for durability

Long-lasting

Asymmetric tread pattern for better handling

Even wear through improved contact pressure distribution
Cons
Winter traction is comparatively less
Overall Thoughts
The Ironman iMove Gen2 A/S is a competitive tire that holds traction in most weather from dry to wet. The grooves that go around the circumference of the tire help evacuate water and reduce the hydroplaning risk to your car.
The asymmetric tread pattern allows the tire to maintain a firm grip on the road at high speeds in dry weather, depending on the speed rating of the tire, of course.
The Ironman iMove Gen2 A/S delivers on its "Wear-resistant, Wherever It Goes" promise, thanks to the even pressure distribution technology and wear-resistant compound. That's really important if you travel on highways often; you need a tire to hold its own at high speed. This tire does the job pretty well.
You will have a pretty smooth ride that's quiet when you need it to be when you put on the Ironman iMove Gen2 A/S tires. If you're concerned about longevity and road noise, the Ironman iMove Gen2 A/S will last longer, owing to the pressure distribution technology used in the tire.
You also want a tire that makes your car look beautiful, too. The Ironman iMove Gen2 A/S will look stunning on your vehicle with an appropriate set of rims. Given the price point, you're getting your money's worth when it comes to looks and performance.
The only downside may be winter traction. Although it's an all-season tire, winter traction may be an issue. If you like to take your car out on a snow day for fun, you might find that your vehicle isn't gripping the road that well. If you're looking for a snow tire explicitly made for fun in the snow, you may want to opt for the more expensive but reliable Michelin Pilot Alpin 5 SUV.
What Vehicles Will The Ironman iMove Gen2 Fit?
The following list entails some of the vehicles that the Ironman iMove Gen2 A/S will fit:
Ford Fiesta Hatchback ST

Ford Crown Victoria

Mazda MX-5 Miata Grand Touring

Chevrolet Camaro

Daihatsu Altis

Dodge Caravan 1997

Ford Taurus 2007

Ford Fusion

Honda Accord

Lexus GS

Mazda MPV
Please note that this is not a complete list. There are more vehicles that the Ironman iMove Gen 2 A/S will fit. 
Tire Sizes
14"
185/60R14

185/65R14

185/70R14

195/70R14
15"
185/55R15

185/65R15

195/50R15

195/55R15

195/60R15

195/65R15

205/60R15

205/65R15

205/70R15

215/70R15
16"
205/45ZR16XL

205/50ZR16XL

205/55R16

205/60R16

215/55ZR16XL

215/60R16

215/65R16

225/50R16XL

225/55R16XL

225/60R16
17"
205/40ZR17XL

205/45ZR17XL

205/50ZR 17XL

215/45ZR17XL

215/50ZR17XL

215/55R17

225/45ZR17XL

225/50R17

225/55R17

235/45ZR17XL

235/50ZR17

235/55R17XL

245/40ZR17XL

245/45ZR17XL
18"
225/40ZR18XL

225/45ZR18

225/50ZR18

225/60R18

235/40ZR18XL

235/45ZR18

235/50ZR18

235/55R18

245/40ZR18XL

245/45ZR18XL

245/50ZR18

255/35ZR18XL
19"
225/35ZR19XL

235/35ZR19XL

235/50R19XL

235/55R19XL

245/40ZR19XL

245/45ZR19XL

255/35ZR19XL

265/30ZR19XL

275/30ZR19XL
20"
225/35ZR20XL

245/35ZR20XL

245/40ZR20XL

245/45ZR20XL

245/50R20

255/35ZR20XL

255/45ZR20XL
22"
Price Range
You can get the Ironman iMove Gen2 A/S for as low as $53. Naturally, the prices for the tires will increase with an increase in size or if you buy the whole set. The tires are competitively priced and designed for a market that needs the best bang for their buck.
There are different suppliers as well as authorized dealers that offer discounts on the Ironman iMove Gen2 A/S tires. But you should preferably buy from authorized dealers to get the full extent of the warranty on the tires.
Warranty
The Ironman iMove Gen2 A/S tires come with a limited 60-month protection policy that covers any defects in the material used to manufacture the tires. It also includes any faults in the quality of workmanship.
The Ironman iMove Gen2 A/S tires are also covered under the industry-leading Road Hazard Protection Program that lets owners replace them after up to two years or the first 50% of tread life.
These two warranties help make sure that the Ironman iMove Gen2 A/S fulfills its promise of providing value to the customer. Both warranties are valid only in the US and Canada.