Hercules Terra Trac AT II Tire Review & Rating
In replacing the original popular all-terrain tire, the Hercules Terra Trac AT II has managed to up the performance both on and off-road, while keeping the price lower for budget-minded drivers. Built for all types of light trucks, SUV's, jeeps and other 4×4's, the Hercules AT II sports a number of impressive features that are designed to deliver the type of year round performance that today's drivers have come to expect.
Hercules starts by using an exclusive AT-C tread compound, which is engineered with added silica and created to increase all-weather and all-road surface traction, as well as provide better treadwear. The tire's tread design has attempted to provide a mix between being a more durable and rugged off-road performer, while also delivering mild-mannered highway handling and comfort. It's a difficult balance for any tire to achieve, but the Terra Trac AT II does a good job for the most part.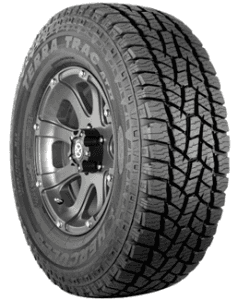 The added silica content and lateral grooves, which are much more dense in comparison to the original A/T, certainly helps with increasing wet traction, as well as grip on snow and ice. An optimized tread pitch sequence lowers annoying outside road noise, and the tread profile has an added benefit of providing good stability and response at higher speeds.
Hercules has incorporated an aggressive buttress design that combines with alternating scallops on the shoulders of the tread for increased traction on dirt, sand, rock, gravel and mud. Tapered steps, stone ejector ribs and the tire's uniquely placed angles in the groove walls work in tandem to reduce stone retention and improve performance.
Sizes are available ranging from 15-20 inches, and come in both LT and non-LT models. You'll also find a 60K mile tread warranty as part of the package.
Pros
Aggressive tread pattern
Surprisingly well-mannered on the street and highway
Handles dirt, mud, sand and gravel very well
Budget-friendly price
Cons
Shorter treadlife for some
Overall Thoughts
Hercules has done a nice job with their newer AT II. It checks the right boxes for the most part when it comes to on and off road traction. Sure, it doesn't match up toe-to-toe with the likes of a BFG T/A KO2, but it does hold its own to be sure.
Traction in all types of terrain is really quite good. The aggressive tread design digs in and gets you through most any type of terrain. On the highway you'll find there is not a lot of loud noise coming from these tires, which is a plus for lower costing AT tire.
Our biggest area of concern would be with treadlife. It's a common problem for budget AT tires. Performance can be solid, but it comes at the expense of treadwear, and that's the case here. So it's not a big surprise.
Overall, one thing that is for sure, this tire performs well and carries a much lower price. If budget is a major issue in your decision making in getting a new set of all-terrain tires, you'll save a good amount with these. The value for the money is pretty good. As a low-priced option we highly recommend this tire.
What Vehicles Will The Hercules Terra Trac AT II Fit?
Fits these vehicles and many others:
Acura MDX
Chevrolet Silverado, Tahoe, Avalanche, S10, Suburban, K2500,
Colorado, Blazer
Dodge Ram, Durango, Dakota
Ford Expedition, Escape, Ranger, Edge, Bronco, F-150, Excursion, Explorer
GMC Yukon, Sierra, Canyon, Envoy
Honda Element, CR-V, Pilot
Hummer H3, H2
Isuzu Trooper
Jeep Wrangler, Grand Cherokee, Liberty, Commander
Land Rover Discovery
Lexus GX470
Mazda B4000
Mercury Mountaineer, Mariner
Mitsubishi Montero
Nissan Titan, Xterra, Frontier, Armada, Pathfinder, Murano
Toyota Tacoma, Tundra, FJ Cruiser, Sequoia, 4Runner, Land Cruiser, Highlander
Tire Sizes
15″
235/75R15 105T OWL
LT235/75R15 104/101R C6 OWL
235/75R15 XL 109S OWL
30X9.50R15LT 104R C6 OWL
31X10.50R15LT 109R C6 OWL
16″
LT215/85R16 115/112R E10 BLK
215/70R16 100T OWL
225/70R16 103T OWL
LT225/75R16 115/112R E10 BLK
225/75R16 104T OWL
235/75R16 108T OWL
235/70R16 106T OWL
LT235/85R16 120/116R E10 BLK
LT245/75R16 120/116R E10 OWL
LT245/75R16 108/104R C6 OWL
245/70R16 107T OWL
245/75R16 111T OWL
255/70R16 111T OWL
265/70R16 112T OWL
265/75R16 116T OWL
LT265/75R16 123/120R E10 OWL
LT265/75R16 112/109R C6 OWL
LT285/75R16 126/123R E10 OWL
LT305/70R16 124/121R E10 OWL
LT315/75R16 127/124R E10 OWL
17″
LT235/80R17 120/117R E10 OWL
235/70R17 XL 111T BLK
235/65R17 104T OWL
LT245/70R17 119/116R E10 OWL
245/70R17 110T OWL
245/65R17 107T OWL
LT245/75R17 121/118S E10 OWL
255/70R17 112T OWL
255/65R17 110T OWL
265/65R17 112T OWL
265/70R17 115T OWL
LT265/70R17 121/118R E10 OWL
LT265/70R17 112/109R C6 OWL
LT275/70R17 114/110R C6 OWL
P285/70R17 OWL 117T
LT285/70R17 121/118S E10 BLK
LT315/70R17 121/118R D8 OWL
18″
265/70R18 116T OWL
265/65R18 114T OWL
265/60R18 110T OWL
275/65R18 116T OWL
LT275/65R18 123/120S E10 OWL
LT275/70R18 125/122S E10 OWL
LT285/65R18 125/122S E10 OWL
20″
LT275/65R20 126/123S E10 BLK
275/60R20 115T BLK
275/55R20 RE 117T BLK
LT285/55R20 122/119R E10 BLK
305/50R20 XL 120S BLK
LT305/55R20 121/118S E10 BLK
Price Range
Hercules Terra Trac AT II prices range from approximately $124 and up. You may also find occasional rebates, discount prices, coupons and special offers on this tire.
Warranty
Hercules provides a 60,000 mile tread warranty on the Terra Trac AT 2. There is a first 1/32 inch of wear guarantee on tire uniformity. Materials and workmanship are warranted for 6-years.
---