Hercules Strong Guard HTL: Review & Rating
For over 60 years, Hercules has reigned over the North American tire market due to their premium quality offerings and innovative business culture.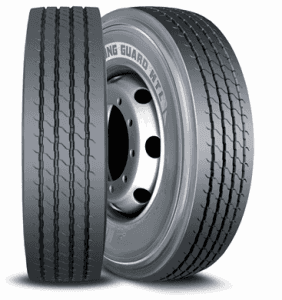 The Hercules Tire and Rubber Company has its headquarters in Findlay, Ohio – which is the same as its manufacturer, Copper Tire. Hercules has established itself as the leading marketer of replacement tires in the United States of America, and Canada, while their operations expanding over 90 countries globally.
The tire giant recently rolled out its latest product, the Strong Guard HTL, and predominantly caters to the tire selection of light trucks, medium weight trucks, SUVs, OTR and trailer tires. Hercules Strong Guard HTL compliments and improves the experience provided by the existing medium-truck tires by Hercules; namely the Strong Guard HRA and the Strong Guard HRD all-position.
Features and Characteristics
Hercules prides itself to be one of the only two all-American-owned tire manufacturing companies in the world and understands the needs of trailer drivers in the region.
Hercules Strong Guard HTL is designed and manufactured to provide an affordable solution for trailer drivers across the world, with a specific focus on drivers in the United States.
The company's 'Strong' series is a commercial product line that is wholly dedicated to providing premium medium truck and trailer tires.The series' manufacturing process features sophisticated materials and makes use of advanced technology through its integration into the design and construction, which has led to impressive coverage in the industry.
Keeping up with their tradition of ensuring maximum customer satisfaction, Hercules Strong Guard tires carry a seven-year guaranteed protection policy. This policy includes a free tire replacement option during the first half of the tread's usable life – specifically if and when the tire is found unserviceable due to manufacturing defects.
In addition to that, their Strong Guard HTL tires also carry a casing enabling the owner to reuse the tire for up to three retreads. Hercules' consistent need to improve and innovate has bolstered them into producing the next-generation of trailer tires.By providing unmatched value they have further enhanced their brand value.
Hercules Strong Guard HTL is SmartWay verified – meaning that the tires are more fuel efficient and have a reduced rolling resistance. The extended life is optimized for both regional and long-haul tracks and trailer positions.
Hercules' Strong Guard HTL, as with other products in the Strong Guard line, is designed to offer a seamless driving experience through their unique mix of enhanced tread compounds, proprietary designs,and advanced technology. One example of such innovation is the incorporation of EcoFT technology in their tire series.
EcoFT is EPA-verified technology designed to make the tire more efficient and effective on the road. This enables Hercules to offer the Strong Guard HTL tire to long distance trailers in the highway service; in 14 and 16-ply.
Hercules made significant additions to the design of the Strong Guard HTL tire to improve its performance. The tire features uniform wear lateral stability that prolongs its lifespan ensuring it's durability and the customer's maximum utility.
In addition, the Strong Guard HTL tire also has a reduced tread squirm, which is made possible by a wide shoulder five-rib tread design. A reduced tread squirm minimizes the amount of heat produced due to friction which hampers the tire's durability and reduces control– directly impacting the steering. The low heat capture allows a longer life and better steering capabilities.
The tread pattern is designed keeping rough tracks and stone-affected routes in mind. Hercules' Strong Guard HTL consists of an optimal 142/32-inch tread depth which is further enhanced with stone ejectors that guard the belt package and the its casing against any early damage that may be caused by stones drilling into the tire.
Stair-step indicators have also been incorporated into the tires to detect any irregular or unusual wear and tear that occurs around the tire shoulder. Indicators are very helpful in alerting the driver of any unforeseen mishap and allow the driver to take the relevant corrective action required to ensure the tire is saved from further damage.
Hercules' Strong Guard HTL is manufactured with a focus on high-tech integrated systems in creating a next-generation tire that is efficient, durable and cost-effective. In the process, a new generation of active silica tread compound has been produced, which has been used in the manufacturing of Hercules Strong Guard HTL.
The new silica tread helps the tire deliver an increased lifespan and reduces wear and tear. Coupled with improved rolling resistance, Hercules' Strong Guard HTL costs lower per mile than rival products, while also lasting longer.
Additionally, trailers also face the wrath of wet surfaces when traveling through different climates and weather conditions. Wet surfaces pose a real threat to the vehicle's handling,and drive's ability to steer efficiently as the wet surface causes the tires to lose traction and skid across the surface. Braking also becomes dangerous as tires slip across wet surfaces when there is no opposing force.
Hercules Strong Guard HTL ensures drivers do not face such issues while driving over wet and slippery surfaces. The new Strong Guard HTL is laced with micro-sipes on the groove edges of its circumference that aids in increasing the wet traction as well as improve even-wear across the tire.
Available Sizes:
Hercules Strong Guard HTL has been manufactured in multiple sizes to accommodate various medium-sized trucks and trailers.
The new tire succeeds tires that have a deep, all position design and HTL is no different. Hercules' Strong Guard HTL is optimized to deliver powerful traction for high scrub applications.
• 11R22.5/14
• 11R22.5/16
• 11R24.5/14
• 11R24.5/16
• 285/75R24.5/14
• 295/75R22.5/14
• 295/75R22.5/16
Conclusion
Hercules is a trusted and renowned name in the North American tire market,and the new Hercules Strong Guard HTL shows precisely why they have managed to sustain their success for over six decades.
The tire incorporates several technological and compound material advancements to provide a tire that lasts long without losing out on the performance promised.
With the upgraded tread pattern, new silica tread, and the SmartWay verified EcoFT environment-friendly technology – Hercules' Strong Guard HTL provides a very feasible option for medium truck and trailer drivers.