Hercules Avalanche RT: Review & Rating
The Hercules Tire and Rubber Company was founded in 1952 and is currently owned by American Tire Distributors, Inc. Hercules Tire Co.is renowned for making affordable OEM replacement tires, SUV, truck, and winter tires.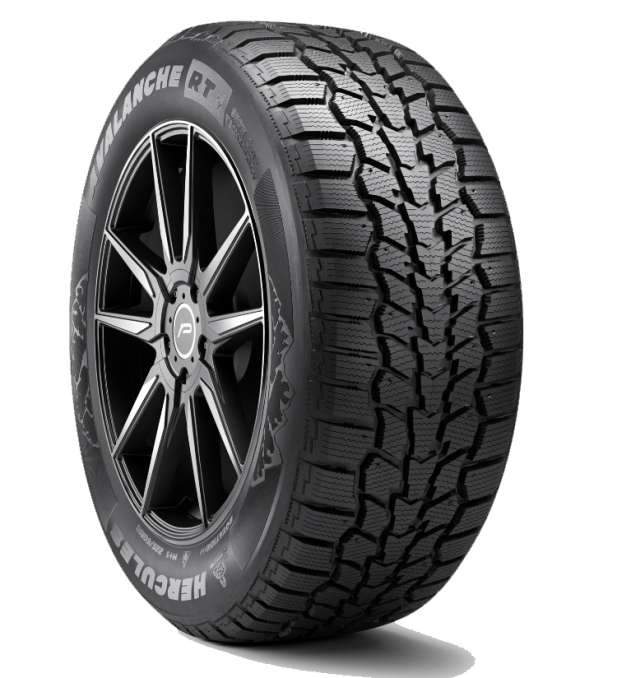 Its latest product is the Hercules Avalanche RT, a specialty winter tire made for passenger cars, minivans, and CUVs,and successor to the Avalanche X-Treme winter tires. The new tire carries the legacy of its predecessor by incorporating newer technologies, making the rendition of the Avalanche better performing and safer in extreme winter conditions.
The tire is designed specifically to provide optimum performance in the snow. It can handle extreme winter conditions without loss of traction, keeping the driver in control of the vehicle at all times.The tire comes with some serious technology including a saw tooth tread design, Hercules' exclusive Snow Grip technology, and a triple polymer compound.
The combined technologies packaged inside one feature rich winter tire helps make it achieve strong cold weather capabilities. The company's internal performance testing shows the tire stops 10 feet shorter than its predecessor on snow. The Avalanche RT also stopped almost 7 inches shorter on ice.
This in itself is a huge gain in performance thanks to the company's strong R&D and the advanced technologies used in the final product. These tests makes this tire a strong contender amongst the best winter tires in the market right now.
Tests like these reinforce the product's capabilities to the potential customer. The tire is marketed as a well thought out, safe tire even for extreme winter driving. The Avalanche RT has earned favorable reviews from dealers all across the US and Canada where it has been tested in extreme snowy conditions.
CONSTRUCTION
The Avalanche RT comes with a stud ready pattern and is equipped with Hercules' Exclusive Snow Grip technology. This is basically a package of features that makes the tire capable of performing brilliantly in icy and snowy conditions. The tire is made up of a triple polymer, cold weather compound which optimizes the overall traction of the tire in deep snow conditions.
This construction helps provide optimal handling, steering and braking in harsh weather conditions. It also helps the tire get up to temperature pretty fast and maintain that during contact with snow and ice. As a rule of thumb, a snow tire will start losing performance as soon as it stops holding the optimal temperature for operation. Under lower tire temperatures, the surface will become hard and inflexible, causing loss of traction and grip.
Thin gauge sipes on each corner of the tire provide increased flexibility and tarmac grabbing edges for maximum vehicle control. These sipes make the tire bite the tarmac harder, making the vehicle handle just as good as on dry pavement. This ensures a safer, drama free ride in the snow.
When talking about tread, this tire comes with a unique saw tooth shaped snow grabber tread that grabs snow and holds it inside the grooves for the ultimate on snow traction. The friction between the snow on the road and the snow trapped inside the tread provides extra grip and makes the tire lose minimum traction. The pattern on the tread is a multi-pitched, directional tread pattern with 65% more sipes than its predecessor. Some cons of this tire are shorter tread life, a not-so-stellar ride quality and mediocre dry weather handling.
Due to the aggressive tread pattern and materials better suited for soft, mushy snowy conditions, running this tire solely in dry pavement will drastically reduce its service life. This tire should only be used in winters and never in summers. The hot pavement and winter centric tread will make it wear a lot faster than a conventional all season tire.
The tires are also known to be loud. Because of the triple polymer build and stiffer ribs, that ride quality is compromised. Also as this is a purpose built winter tire, it performs marginally in dry road conditions. If used in the summer, this will wear out faster with poor ride quality and performance.
Look past these minor drawbacks and take this tire for what it is, a superior quality winter tire, and you will not be disappointed in its performance and safety features in snow and icy conditions. And due to these extreme features, this tire has earned the three peak mountain snowflake marking. The tire is available in a whopping 41 sizes ranging from 14", 15", 16", 17" and 18" sizes. These sizes cover most passenger cars and CUVs. Width range from 175 all the way to 235 in 17 and 18 inches.
PROS
A number of great warranties
Strong Construction and Hercules'Exclusive Snow Grip technology
Excellent traction in snow and icy conditions
Brilliant saw tooth tread pattern
Snow to snow traction
Cheap price
Good value for money
CONS
Shorter service life
Average ride quality
Noisy on in dry conditions
Average performer on dry tarmac
WARRANTY
These tires come with the company's Road Hazard warranty where they will be replaced free of cost during the first two years of use or 50% of tread whichever comes first. The avalanche RT also come with a 30 day satisfaction warranty where you can replace a tire within 30 days of purchase if you are not satisfied with the workmanship or materials used.
CONCLUSION
As winters are just around the corner, you're probably looking for a dependable winter tire for your daily or winter driver. The Hercules Avalanche RT is an excellent candidate with a powerful market presence due to its excellent reviews and features. The tires come in a boatload of sizes making this compatible with just about any car or CUV on the road right now.
If you require more traction and if your car maker recommends, get studs installed on these and you will have yourself a set of indestructible winter tires that will not lose grip no matter how deep the snow is. With a pretty good on road warranty, this tire is a winner for extreme winter commuting.