Hankook Ventus V12 Evo2 K120 Tire Review & Rating
The Hankook Ventus V12 Evo2 K120 is the company's latest offering in the summer high performance class. Built specifically for sports cars, sporty coupes as well as high performance sedans, theV12 Evo2 features new technology designed to give this tire consistent performance in dry and wet conditions.
A lower rolling resistance and enhanced fuel efficiency is achieved with the high-grip silica tread compound that also has a styrene polymer. The tires grip dry roads expertly with the directional tread design, notched shoulders and 3D intermediate ribs. A continuous center rib increases tire stability and quickens steering response, which this tire does well.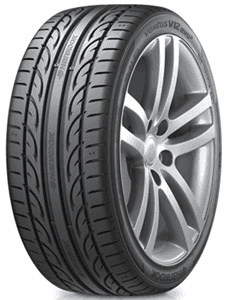 For driving in wet conditions the circumferential and aqua jet lateral grooves dispel water and allow the tires to grip slippery road surfaces during the summer months, which is another area often mentioned as a plus in driver reviews of this model.
Finally, stealth technology along with a 5 pitch tread sequence reduces road noise and contributes to a quieter ride. Inside the tire are two steel belts reinforced by two plies of spirally wrapped joint-less nylon to increase durability. Sizes are available ranging from 16 to 21 inches, and you'll find speed ratings of W and Y.
Pros
Consistent performance in dry and wet conditions

Quick steering response

Very quiet tire among others in its class
Cons
Overall Thoughts
Hankook has produced a very good summer performance tire in the V12 Evo2. Although the tire may feel a little soft in the corners for some drivers, it's deceptive because it does the job so well. It may surprise you with its good road manners and consistent performance. On wet road surfaces this tire is outstanding. We feel it exceeds the likes of the Michelin PS2 and Bridgestone Potenza S-04 among others, especially with its exceptional braking capabilities.
You'll find that the Hankook Evo2 is one of the more quiet high performance tires due in part to the stealth technology and wing tip design. That said, this is not a perfect tire by any means. The major issue for us is the shorter than expected treadlife. We've heard several drivers speak of this as well.

Overall, this new model is an excellent choice for driving enthusiasts and pleasant improvement over the earlier K110 version. Despite what you may find with treadwear, its consistent performance and lower price makes for a pretty good value. We rank it in the upper half of the class.

Click Here For Current Hankook Coupons
Click Here To Find Current Price
What Vehicles Will The Hankook Ventus V12 Evo2 K120 Fit?
(This is not a complete list of ALL vehicles this tire will fit)
Acura TSX, TL

BMW M Coupe, 325i, 328Xi

Cadillac STS

Chevrolet Camaro, Corvette, Monte Carlo

Dodge Stratus R/T, Charger

Ford Mustang, Fusion

Honda S2000, Civic, Accord

Lexus LS430, IS300, SC430

Lincoln MKZ

Mazda 6, Mazda 3

Mini Cooper S

Nissan Sentra, Maxima

Pontiac Vibe, GTO

Porsche 911 Carrera

Toyota Avalon

Volkswagen Jetta, Golf

Volvo S70 T5
Tire Sizes
16″
205/55R16XL 94W BSW
17″
205/45R17XL 88W BSW
205/50R17XL 93Y BSW
215/45R17XL 91Y BSW
215/50R17XL 95W BSW
225/45R17XL 94Y BSW
225/50R17XL 98Y BSW
235/45R17XL 97Y BSW
245/40R17XL 95Y BSW
245/45R17XL 99Y BSW
255/40R17XL 98Y BSW
18″
215/40R18XL 89Y BSW
215/45R18XL 93Y BSW
225/40R18XL 92Y BSW
225/45R18XL 95Y BSW
235/40R18XL 95Y BSW
235/50R18XL 101Y BSW
245/35R18XL 92Y BSW
245/40R18XL 97Y BSW
245/45R18XL 100Y BSW
255/35R18XL 94Y BSW
255/40R18XL 99Y BSW
255/45R18XL 103Y BSW
265/35R18XL 97Y BSW
265/40R18XL 101Y BSW
275/35R18XL 99Y BSW
275/40R18XL 103Y BSW
285/35R18XL 101Y BSW
19″
225/35R19XL 88Y BSW
225/40R19XL 93Y BSW
225/45R19XL 96Y BSW
235/35R19XL 91Y BSW
245/35R19XL 93Y BSW
245/40R19XL 98Y BSW
245/45R19XL 102Y BSW
255/30R19XL 91Y BSW
255/35R19XL 96Y BSW
255/40R19XL 100Y BSW
255/45R19XL 104Y BSW
265/30R19XL 93Y BSW
265/35R19XL 98Y BSW
275/30R19XL 96Y BSW
275/35R19XL 100Y BSW
275/40R19XL 105Y BSW
285/30R19XL 98Y BSW
285/35R19XL 103Y BSW
295/30R19XL 100Y BSW
305/30R19XL 102Y BSW
325/30R19XL 105Y BSW
20″
245/30R20XL 90Y BSW
245/35R20XL 95Y BSW
245/40R20XL 99Y BSW
245/45R20XL 103Y BSW
255/30R20XL 92Y BSW
255/35R20XL 97Y BSW
255/45R20XL 105Y BSW
275/30R20XL 97Y BSW
275/35R20XL 102Y BSW
285/30R20XL 99Y BSW
305/25R20XL 97Y BSW
21″
245/35R21XL 96Y BSW
275/30R21XL 98Y BSW
Price Range
Hankook Ventus V12 Evo2 K120 prices range from approximately $102 and up. You may also find occasional rebates, discount prices, coupons and special offers on this tire.
Click Here To Find Current Prices On All Hankook Ventus V12 Evo2 K120 Tire Sizes
Warranty
Hankook provides a limited tread warranty on the Ventus V12 Evo2. Tire uniformity is guaranteed for the first year of first 2/32 inch of wear. Materials and workmanship are warranted for 5-years and includes free replacement during the first year or first 2/32 inch of wear. A prorated amount is given for the remaining time period or down to the final 2/32 inch of tread depth. There is also a one-year or first 2/32 inch of wear road hazard warranty included on this model.
---