Hankook Ventus V12 Evo K110 Tire Review & Rating
Combining high performance traction and handling with quality ride comfort is what the Ventus V12 Evo K110 from Hankook Tires is designed to do best. Engineered for drivers of sport coupes and sedans, this high performance summer tire offers the latest in tire technology at a good value.
Hankook Combines their unique High Tg Polymer & Specific Resin into a silica enhanced tread compound to give the Evo K110 better performance handling on both dry or wet road surfaces. The directional tread pattern sports independent tread blocks and notched shoulder ribs to increase cornering power and braking abilities.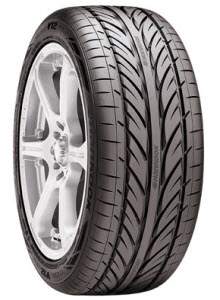 A continuous center rib enhances steering response and stability. Wet grip performance is improved through the tire's circumferential grooves and Hankook's Y shaped lateral grooves. They combine to evacuate more water away from the tire, as well as reduce the risk of hydroplaning for added safety on wet pavement.
Inside the tire you will find two steel belts with spirally wrapped jointless nylon that add more strength and stability to the tire at higher speeds, and a better overall ride quality. Hankook has also added hard rubber in the sidewall to give the V12 better distortion resistance during hard cornering or when driving at much higher speeds.
Dry and wet traction are very good

 

Above average cornering grip

 

Ride comfort is among best in its class

 

Excellent value for the price

 
Cons
Tires may get a bit noisier as they wear down

 
Overall Thoughts
As maximum performance tires, these Hankook K110 tires are fun to drive on. They provide more than adequate traction on dry or wet surfaces, as well as in the corners. Ride quality is surprisingly good on this tire. In fact it is among the leaders in its class for comfort.
The only downside, if you really want to call it that because this is the case with most all summer tires, is that it tends to get a bit noisier as it wears down. For the price, this tire is an excellent value.
Click Here For Current Hankook Coupons
What Vehicles Will The Hankook K110 Fit?
(This is not a complete list of ALL vehicles this tire will fit)
BMW 335i, M3, Z4, 325i, 525i, M5

 

Cadillac CTS

 

Chevrolet Camaro, Corvette, Cobalt

 

Dodge Charger, Magnum, Challenger

 

Ford Mustang, Taurus, Focus

 

Honda Civic, S2000

 

Hyundai Sonata, Genesis

 

Infiniti G35, M45, G37

 

Lexus IS350, SC400, IS250, GS430

 

Mazda5, Mazda3, RX-8

 

Mercedes-Benz C63 AMG, S55, CL600

 

Mini Cooper

 

Nissan 350Z, 370Z, 240SX

 

Jaguar XF, XK

 

Pontiac Vibe, Firebird, G8, Solstice

 

Porsche 911, Boxter

 

Scion xB

 

Subaru Impreza WRX

 

Volkswagen Jetta

 
Tire Sizes
16″
205/55ZR16XL 94W VSB
225/50ZR16XL 96W VSB
17″
205/45R-17XL 88W VSB
205/50R-17XL 93Y VSB
215/45R-17XL 91W VSB
215/50R-17XL 95W VSB
225/45R-17XL 94Y VSB
225/50ZR17XL 98Y VSB
235/45R-17XL 97Y VSB
245/40R17XL 95Y VSB
245/45R-17XL 99Y VSB
255/40R17XL 98Y VSB
18″
215/40R18XL 89Y VSB
215/45R-18XL 93Y VSB
225/40R18XL 92Y VSB
225/45R-18XL 95Y VSB
235/40R18XL 95Y VSB
245/35R18XL 92Y SBL
245/40R18XL 97Y VSB
245/45R18XL 100Y VSB
255/35R18XL 94Y SBL
255/40R18XL 99Y VSB
255/45R18XL 103Y VSB
265/35R18XL 97Y SBL
265/40R18XL 101Y VSB
275/35R18XL 99Y SBL
275/40R18XL 103Y VSB
285/30R18XL 97Y SBL
285/35R18XL 101Y SBL
19″
215/35R-19XL 85Y SBL
225/35R19XL 88Y SBL
225/40R19XL 93Y VSB
225/45R-19XL 96Y VSB
235/35R19XL 91Y SBL
245/35R19XL 93Y SBL
245/40R19XL 98Y VSB
245/45R19XL 102Y VSB
255/35R19XL 96Y SBL
255/40R19XL 100Y VSB
265/30R19XL 93Y SBL
275/30R19XL 96Y SBL
275/35R19XL 100Y SBL
275/40R19XL 105Y VSB
285/30R19XL 98Y SBL
285/35R19 99Y SBL
295/30R19XL 100Y SBL
305/30R19XL 102Y SBL
20″
225/30R20XL 85Y SBL
245/30R20XL 90Y SBL
245/35R20XL 95Y SBL
245/40R20XL 99Y VSB
245/45R20XL 103Y VSB
255/30R20XL 92Y SBL
255/35R20XL 97Y SBL
255/45R20XL 105Y VSB
275/30R20XL 97Y SBL
275/35R20XL 102Y SBL
285/30R20XL 99Y SBL
305/25R20XL 97Y SBL
21″
245/35R21XL 96Y SBL
285/30R21XL 100Y SBL
Price Range
Prices on the Ventus Evo K110 range from approximately $101 and up. You may also find occasional rebates, discounts, coupons and special offers on this tire.
Warranty
Hankook provides a limited tread warranty on the K110. Tire uniformity is guaranteed for the first year or first 2/32 inch of wear.
Materials and workmanship are warranted for 5-years and include free replacement during the first year or first 2/32 inch of wear. A prorated amount is then given for the remaining time period or down to the last 2/32 inch of tread depth.
Hankook also provides a one-year or first 2/32 inch of wear road hazard warranty with this tire as well.
---