Hankook Ventus S1 evo2 SUV K117A Tire Review & Rating
Built to deliver well-rounded summer performance, the Hankook Ventus S1 evo2 SUV K117A is designed for today's luxury SUV's, crossovers and sport trucks. Hankook has engineered the S1 Evo2 with the latest in tire technology to give this tire enhanced traction, braking and cornering grip to go with a refined ride quality.
A unique high-grip silica tread compound contains a high styrene polymer that is created to increase braking performance on dry or wet pavement. An asymmetric tread pattern features a continuous center rib and notched outer shoulder blocks that combine to add quicker steering response and increased cornering grip and stability, which is an area this tire does quite well.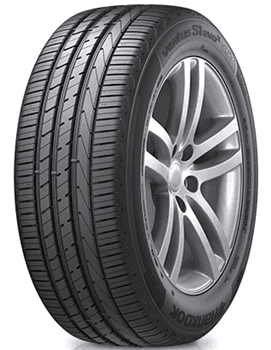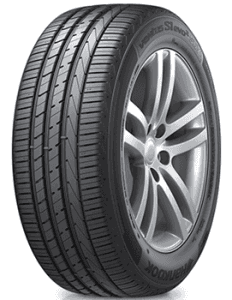 Hankook utilizes four wide circumferential grooves and numerous lateral grooves to help evacuate water away from the tire for improved traction on wet road surfaces. These grooves also aid in reducing the risk of hydroplaning.
Inside the tire are two steel belts that are spirally wrapped with nylon to go with a polyester carcass. The result is added durability and more even treadwear. A high stiffness bead filler and single strand bead wire optimize tire uniformity and provide some additional handling benefits.
Hankook offers sizes ranging from 17-22 inches, and in V, W or Y-speed ratings. A limited tread warranty is also part of the package.
Pros
Dry and wet traction
Cornering grip and stability
Ride quality
Cons
Treadlife could be better
Overall Thoughts
For a summer high-performance tire built specifically for SUV's and crossovers, the Hankook K117A delivers very good performance for the most part. Expect to find confident dry and wet traction throughout the speed range. Cornering performance is very good, with this tire providing responsive steering and better than average feel.
The ride on this tire is comfortable for a higher performing tire. While the ride is a bit stiffer than a touring tire, it is not uncomfortable in the least. Our biggest complaint with this model is its shorter than expected treadlife. We've heard several drivers speak of not getting the miles out of the tread that they expected. Naturally, some of this can be due to harder driving habits, but this is still an area that could improvement.
Overall, we like this tire for what it does best… and that is flat-out perform well on the street. While not the best in class by any stretch, this Hankook tire ranks in the upper half of the class and the lower price makes it an attractive option for drivers looking to save a little extra money.
Click Here For Current Hankook Coupons
Click Here To Find Current Prices
What Vehicles Will The Hankook K117A Fit?
(This is not a complete list of ALL vehicles this tire will fit)
Acura ZDX, MDX
Audi Q7, Q5
BMW X5, X6
Chevy Equinox
Ford Explorer, Flex
GMC Terrain
Hyundai Santa Fe
Jeep Grand Cherokee
Kia Sorento
Land Rover Range Rover Sport, Discovery Sport
Lexus RX350, RX450h
Lincoln MKT
Mazda CX-7
Mercedes-Benz ML350, GL350, GL550, R350
Porsche Cayenne, Macan
Volkswagen Touareg
Volvo XC60, XC90
Tire Sizes
17″
235/55R17 99V BW
235/65R17 108V BW
255/60R17 106V BW
18″
225/55R18 98V BW
235/50R18 97V BW
235/60R18 103W BW
255/55R18 105W BW
255/55R18 109V BW
255/55R18 109W BW
255/55ZR18 109Y BW
19″
235/55R19 101Y BW
235/55ZR19 101W BW
255/50R19 103Y BW
255/50ZR19 107Y BW
255/55R19 111V BW
275/45ZR19 108Y BW
275/55R19 111V BW
285/45ZR19 111W BW
20″
235/45ZR20 100W BW
245/45ZR20 103W BW
255/40ZR20 101W BW
255/45ZR20 105W BW
255/50ZR20 109Y BW
265/45ZR20 108Y BW
275/40ZR20 106Y BW
275/45ZR20 110Y BW
275/50ZR20 109W BW
315/35ZR20 110Y BW
21″
265/40ZR21 105Y BW
295/35ZR21 107Y BW
295/40ZR21 111W BW
22″
265/35ZR22 102Y BW
295/30ZR22 103Y BW
295/35ZR22 108Y BW
Price Range
Hankook Ventus S1 evo2 SUV K117A prices range from approximately $166 and up. You may also find occasional rebates, discount prices, coupons and special offers on this tire.
Click Here To Find The Current Prices On All Hankook Ventus S1 evo2 SUV K117A Sizes
Warranty
Hankook provides a limited warranty on the Ventus S1 Evo2 SUV K117A. Tire uniformity is covered for one-year or the first 2/32 inch of wear.
Materials and workmanship are warranted for 5-years and provide for free tire replacement during the first year or first 2/32 inch of wear. A prorated amount is given for the remaining time period or down to the final 2/32 inch of tread depth.
---