Hankook Ventus R-S3 Tire Review & Rating
Hankook has created the Ventus R-S3 for drivers of high end sports cars who are seeking an extreme performance summer tire that provides race car like traction on the street or for use at the track in autocross, drifting and other competitions.
The R-S3 uses Hankook's racing technology by incorporating Racing Carbon Black Silica Compound in the tread to give the tire enhanced grip and traction. A directional tread pattern combined with a wider center rib, larger outside shoulder blocks and notched intermediate ribs provide a larger contact patch and better overall contact with the road surface.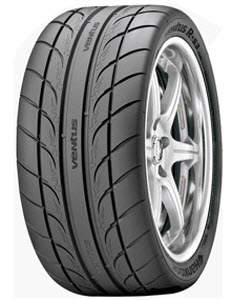 For those looking at competition use on this tire, heat cycling is available as an option. Of course, the major advantage with doing so is that the tread compound will provide you with better grip and the tire will last longer. All competition tire manufacturers recommend a heat cycling service.
Wet surface traction and handling is enhanced through multiple lateral grooves, wider circumferential grooves and unique outboard grooves on the tire.
Inside the tire you will find two steel belts that are nylon reinforced to go with two ply polyester sidewalls. This combines to give the tire added strength and stability for driving at high speeds. The polyester sidewalls provide better overall lateral deflection for increased cornering stability.
Pros
Cornering grip is awesome

 

Precise steering response

 

Excellent on the street or in competition at the track

 
Cons
Ride comfort

 

Would like to see more sizes made available

 
Overall Thoughts
There is no denying that the R-S3 is full of pavement eating grip and high performance on the track. In fact, this is one of our top picks in competition tires that can also be used on the street. If you plan on using this as a daily driver on the street, expect to get around 10-12K miles from it.
While it doesn't provide luxurious comfort or touring tire minimal noise levels, who cares, that's not why you buy a tire like this. What you will get is a tire that will give you all you can handle and provide you with seat of your pants performance.
Click Here For Current Hankook Coupons
What Vehicles Will The R-S3 Fit?
(This is not a complete list of ALL vehicles this tire will fit)
Acura Integra

 

Audi S4, A3, TTS, A4

 

BMW 330Ci, Z4, M3, M6

 

Chevrolet Corvette, Camaro, Cobalt

 

Dodge Neon

 

Ford Mustang, Escort ZX2, Fusion

 

Honda S2000, Civic, Prelude

 

Mazda RX-7, Miata, RX-8, Mazda3

 

Mercedes-Benz E55, E63

 

Mitsubishi Lancer

 

Porsche 911, Boxter, Cayman

 

Scion FR-S

 

Subaru Forester, Impreza WRX

 

Toyota MR2, Celica

 

Volkswagen GTi, R32, Jetta, Passat, Rabbit

 
Tire Sizes
15″
225/45ZR15 87W RBL
16″
205/55ZR16 91W RBL
225/50ZR16 92W RBL
17″
215/45ZR17 87W RBL
225/45ZR17 94W RBL
235/45ZR17 94W RBL
245/40ZR17 91W RBL
255/40ZR17 98W RBL
18″
225/40ZR18 88W RBL
235/40ZR18 91W RBL
235/45ZR18 94W RBL
245/40ZR18 97W RBL
255/35ZR18 90W RBL
265/35ZR18 97W RBL
265/40ZR18 97W RBL
275/35ZR18 95W RBL
285/35ZR18 101W RBL
19″
225/40ZR19 89W RBL
235/35ZR19 87W RBL
245/40ZR19 94W RBL
275/35ZR19 96W RBL
305/30ZR19 102W RBL
20″
255/40ZR20 97W RBL
285/35ZR20 100W RBL
Price Range
Prices on the Hankook R-S3 range from approximately $123 and up. You may also find occasional rebates, discounts, coupons and special offers on this tire.
Warranty
Hankook does not provide a treadlife mileage warranty on this model. You will find a one-year or first 2/32 inch of wear guarantee on the tire's uniformity. This is voided if the tires are shaven.
Materials and workmanship are warranted for 5-years and include free replacement during the first year of first 2/32 inch of tread wear. The amount is then prorated for the remaining time period or until the last 2/32 inch of tread depth on the tire.
---