Hankook Optimo H426 Tire Review & Rating
Used mainly as original equipment on a wide array of Hyundai vehicles, the Hankook Optimo H426 is built to provide all-season performance and handling for all types of coupes and sedans as well.
An all-season tread compound combined with a symmetric tread design and independent tread blocks enhance dry traction and cornering performance. It is also created to increase steering response and provide added feel.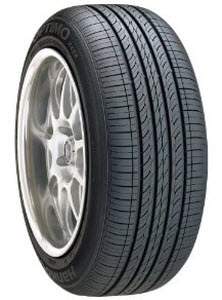 Four circumferential grooves and lateral curved grooves should aid wet traction and handling. This tire is also designed to improve handling in light snow, which you can read more about in our overall thoughts on this model.
Inside the tire there are two steel belts with a nylon reinforcement that help with durability. A polyester cord body enhances ride comfort. Hankook includes a 60,000 mile tread guarantee on this model.
Pros
Good dry handling and grip

Value priced and has a 60,000 mile warranty
Cons
Treadlife could be better

Winter traction and handling

Tire is noisy for many drivers
Overall Thoughts
We will say that the Optimo H426 does have good dry traction and handling, and the price is lower than many other comparable tires. There's also a 60K mile tread warranty. Unfortunately, that's where the good things end.
Traction on wet pavement needs a big improvement. You simply have to slow down and really take things easy when the rain falls. In addition, winter performance is nearly non-existent. As some have said, you may be better off just leaving your vehicle parked at home if you're faced with trying to drive in deep snow or ice. Beyond that, expect to find more road noise than normal, and treadwear has been a major issue for way too many drivers.
Overall, we can't recommend this tire and suggest going for the Optimo H727 as a better option.
Click Here For Current Hankook Coupons
Click Here To Find Lowest Price
What Vehicles Will The Hankook H426 Fit?
Fits these vehicles and many others:
Chevrolet Impala

Dodge Charger, Intrepid

Ford Fiesta, Explorer, Flex

Honda Civic

Hyundai Sonata, Elantra, Accent, Tiburon GT

Kia Rio5, Forte, Soul, Sportage, Optima

Lincoln MKT

Mazda RX-7

Pontiac G6

Volkswagen Passat, Jetta
Tire Sizes
14″
175/65R14 82H BSW
185/60R14 82H BSW
185/65R14 85H BSW
195/60R14 85H BSW
15″
175/65R15 84H BSW
185/60R15 84H BSW
185/65R15 88H BSW
195/55R15 84V BSW
195/60R15 87H BSW
195/65R15 89T BSW
195/65R15 89T BSW
195/65R15 89S BSW
195/65R15 91H BSW
205/60R15 90H BSW
205/65R15 92H BSW
215/60R15 93H BSW
16″
195/50R16 84H BSW
195/55R16 86T BSW
195/60R16 89H BSW
205/50R16 86H BSW
205/55R16 89H BSW
205/55R16 89H BSW
205/55R16 89H BSW
205/60R16 91V BSW
205/65R16 94H BSW
215/55R16 97H BSW
215/60R16 95V BSW
225/50R16 92V BSW
225/55R16 95H BSW
225/60R16 98H BSW
17″
205/45R17 84V BSW
215/45R17 87H BSW
215/45R17 91V BSW
215/50R17 95V BSW
215/55R17 94H BSW
215/55R17 93V BSW
225/50R17 94V BSW
225/50R17 93H BSW
225/55R17 95V BSW
235/55R17 99H BSW
245/50R17 98V BSW
18″
225/45R18 91V BSW
225/55R18 97H BSW
225/60R18 99H BSW
235/45R18 94V BSW
235/45R18 94H BSW
235/55R18 100H BSW
245/45R18 96V BSW
19″
245/40R19 94V BSW
20″
255/45R20 101V BSW
255/50R20 104H BSW
Price Range
Prices on the H426 range from approximately $60 and up. You may also find occasional rebates, discounts, coupons and special offers on this tire.
Click Here To Find The Current Lowest Price On All Hankook Optimo H426 Tire Sizes
Warranty
The H426 comes with a 5-year or 60,000 mile treadlife warranty. There is also a one-year or first 2/32 inch of wear guarantee on the tire's uniformity.
Materials and workmanship are covered for 5-years and include free first year replacement. A prorated amount is given for the remaining time period or down to the final 2/32 inch of tread depth.
Hankook also provides a one-year or first 2/32 inch of wear road hazard warranty on this model as well.
---