Hankook I*Pike RW11 Tire Review & Rating
Built for today's SUV's, crossovers and light trucks, the I*Pike RW11 from Hankook Tires is designed to power you through even the worst winter weather conditions. Featuring a studdable tread design and the latest in winter tire technology, the RW11 is engineered to provide consistent performance.
An eco-friendly tread compound sports a wider contact patch for increased traction and handling on dry road surfaces. Hankook's unique Stiffness Control Contour Theory technology stiffens the sidewall and adds higher cornering performance, which is an area that many winter tires lack.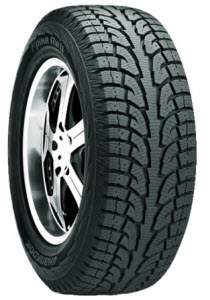 Optimized block stiffness and the added kerf center block maximizes traction on snow packed road surfaces, as well as on icy streets. If you find yourself needing to add studs to the tire you'll have 6 pin rows for optimal winter traction. The tire is built to run more quietly through a special tread blockpitch and unique groove angles which work together to lower road noise.
Inside the tire you will find twin steel belts with nylon wrapped reinforcement for enhanced strength and durability. They also promote more even tire wear and increase overall tread life. Hankook has sizes available in 15-20 inches, and in both PLT and LT models.
Pros
Excellent traction and control on snow, ice and other winter elements

Dry and wet road grip is outstanding

Above average ride comfort

Longer treadlife
Cons
Tires to get a bit more road noise as they wear down
Overall Thoughts
We really like the Hankook RW11 for its handling and traction on all types of winter road conditions. It goes through the snow and ice confidently, leaving you feeling more in control despite the weather. You have the option of installing studs if you find yourself needing them, and Hankook provides 6 stud rows as well. Sure, there is a little tire noise as the tread wears down, but that can be expected with virtually any studdable winter tire. Beyond that, tread life is excellent and the ride is comfortable. Overall, this is asolid choice in winter tires.
Click Here For Current Hankook Coupons
Click Here To Find Lowest Price
What Vehicles Will The Hankook RW11 Fit?
Fits these vehicles and many others:
Cadillac Escalade

Chevrolet Equinox, Silverado, Tahoe, Avalanche

Dodge Durango, Ram

Ford F-Series, Expedition, Explorerer

GMC Sierra

Honda Ridgeline

Jeep Grand Cherokee

Lexus RX350, RX400H

Nissan Murano, Titan

Subaru Outback

Toyota 4Runner, Tacoma, Tundra
Tire Sizes
15″
LT235/75R15C1 104Q B
16″
215/70R16 100T VSB
225/65R16 100T VSB
225/70R16 103T VSB
LT225/75R16E1 115Q B
225/75R16 104T VSB
235/65R16 103T VSB
235/70R16XL 109T VSB
235/75R16 108T VSB
LT235/85R16E1 120Q B
245/70R16 107T VSB
LT245/75R16E1 120Q B
245/75R16 111T VSB
255/70R16 111T VSB
265/70R16 112T VSB
LT265/75R16E1 123Q B
265/75R16 116T VSB
17″
225/65R17 102T VSB
235/65R17XL 104T VSB
LT235/80R17E1 120Q B
245/65R17 107T VSB
LT245/70R17E1 119Q B
245/70R17 110T VSB
LT245/75R17E1 121Q B
255/65R17 110T VSB
265/65R17 112T VSB
LT265/70R17E1 121Q B
265/70R17 115T VSB
275/65R17 115T VSB
18″
225/55R18 98T VSB
235/55R18 100T VSB
235/60R18XL 107T DSB
P245/60R18 104T VSB
255/55R18XL 109T VSB
P255/65R18 109T DSB
P255/70R18 112T DSB
265/60R-18 110T DSB
P265/65R18 112T DSB
P265/70R18 114T DSB
P275/65R18 114T DSB
19″
255/50R19 103T VSB
255/60R19 109T VSB
20″
P265/50R20 106T DSB
P275/55R20 111T DSB
P275/60R20 114T DSB
LT275/65R20E1 126Q B
Price Range
Prices on the Hankook RW11 range from approximately $113 and up. You may also find occasional rebates, discounts, coupons and special offers on this tire.
Click Here To Find The Current Lowest Prices On All Hankook I*Pike RW11 Tire Sizes
Warranty
The RW11 is covered by Hankook's limited tread warranty.
---