Hankook DynaPro MT RT03 Tire Review & Rating
The Hankook DynaPro MT RT03 has been developed for off-road drivers who want the most performance on all types of terrain, while still maintaining some decent highway manners when taking things back on-road. Designed for drivers of pickups and other rugged SUV's and 4×4's, the RT03 sports some of the latest in Hankook tire technology for increased traction and handling.
Large V-shaped tread blocks enhance traction in mud, sand, dirt, gravel and other terrain, while the large voids keep the mud and other debris from packing the tread. Based on other driver reviews as well, this tire does a good job at self-cleaning itself. Along with increased sidewall rubber, they also prevent impact damage.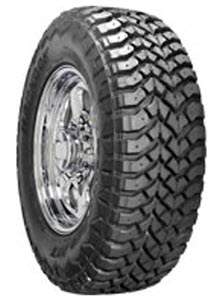 The snow traction and grip on this tire is equally as impressive. Despite the absence of sipes around the tread, this tire plows through even the heaviest of snow to get you where you want to be. Wet or ice covered roads are another story, and that is the biggest weakness with this model. The tread design is studdable for those who see a lot of packed snow and ice.
Noise levels are much lower due to the unique tread design with the tire. Inside the tread you will find two steel belts that are reinforced with nylon for added strength and durability. Many reviews from other drivers mention this tire maintains a better overall treadlife. This model is available in a black sidewall or raised white letters, depending on the size selected.
Excellent traction on all terrains and in snow

Tires are very good at self-cleaning

Long lasting tread life

Value for the money is best in class
Cons
Wet traction has been an issue for some
Overall Thoughts
There's a reason why these Hankook MT RT03 tires are so popular, because they not only provide excellent performance on a variety of terrains, but also because the lower price and longer tread life make them an excellent value. This tire goes through just about anything and the tread design prevents debris from packing up. The only area we would like to see improvement would have to be traction on wet surfaces and on ice. That said, the upside to this tire far outweighs the negatives.
The ride is very good, and tread noise is much lower than you might expect. Better still is the longer tread life you can expect from this model. Just keep them rotated to get the most out of them.
Overall, while perhaps not up to the levels of the best in this class, this model maintains solid performance. If you're looking for a good M/T tire with a budget-friendly price, these Hankook RT03 tires make a great option.
Click Here For Current Hankook Coupons
Click Here To Find Current Price
What Vehicles Will The Hankook RT03 Fit?
(This is not a complete list of ALL vehicles this tire will fit)
Chevrolet Silverado, K-Blazer, Suburban, Colorado, K1500, Trailblazer

Dodge Ram, Dakota, Durango

Ford F-150, F-350, Ranger, Excursion, Bronco

GMC Sierra, C1500

Hummer H3

Isuzu Rodeo

Jeep Wrangler, Grand Cherokee, Liberty

Land Rover

Mazda B-Series

Mitsubishi Montero

Nissan Titan, Xterra, Pathfinder

Toyota Tacoma, Tundra, 4Runner, RAV4, FJ Cruiser
Tire Sizes
15″
LT215/75R15C1 101Q W
LT235/75R15C1 104Q W
30X950R15/C1 104Q OW
31X1050R15C1 109Q OW
32X1150R15C1 113Q OW
33X1250R15C2 108Q OW
35X1250R15C2 113Q OW
16″
LT215/85R16E1 115Q B
LT225/75R16E1 107Q B
LT235/85R16E1 120Q B
LT245/75R16E1 120Q B
LT265/75R16E1 123Q W
LT285/75R16E1 126Q W
LT295/75R16D1 123Q W
LT305/70R16D2 118Q W
LT315/75R16E2 127Q W
17″
LT255/75R17E1 121Q B
LT265/70R17E1 121Q B
LT285/70R17D1 121Q B
LT315/70R17D2 121Q B
35X1250R17E2 121Q B
35X1250R17E2 124Q SB
37X1250R17D2 124Q B
37X1250R17E2 129Q SB
18″
LT275/65R18E1 123Q B
LT325/60R18E2 124Q B
LT325/65R18E2 127Q B
35X1250R18E2 123Q SB
37X1250R18D2 123Q SB
38X1550R18D2 128Q SB
20″
35X1250R20D2 121Q SB
37X1350R20E2 127Q SB
38X1550R20D2 125Q SB
22″
37X1350R22E2 123Q SB
Price Range
Prices on the Hankook MT RT03 range from approximately $130 and up. You may also find occasional rebates, discounts, coupons and special offers on this tire.
Click Here To Find The Current Prices On All Hankook DynaPro MT RT03 Tire Sizes
Warranty
Hankook provides a limited warranty on the RT03. Tire uniformity is covered for one-year or the first 2/32 inch of wear.
Materials and workmanship are warranted for 5-years and provide for free tire replacement during the first year or first 2/32 inch of wear. A prorated amount is given for the remaining time period or down to the final 2/32 inch of tread depth.
---