Hankook DynaPro HT RH12 Tire Review & Rating
For drivers of all types of SUV's, pickups and vans, the Hankook DynaPro HT RH12 is engineered to provide all-season traction, a lower rolling resistance and a more comfortable ride.
A premium all-season tread compound is molded into a symmetrical computer generated tread design that is created to maximize traction and grip, while also reducing road noise, which are areas in which this tire excels. Steering response is enhanced through the tire's high stiffness continuous center rib.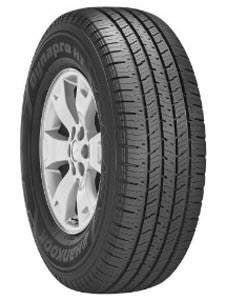 Four circumferential grooves and zig-zag sipes around the tread increase wet road traction and grip, and evacuate water from under the tire. This not only reduces the risk of hydroplaning, but also adds more confidence when driving in rough conditions, which has been mentioned as a real plus by other drivers in reviews. The sipes biting edges enhance grip on snow or ice covered streets as well.
Inside the tire you will find two steel belts that are reinforced with spirally wrapped nylon for added strength and durability. They also promote more even tread wear and a longer tread life. Hankook backs this model up with a 70,000 mile tread guarantee. Sizes from 15-20 inches are available in both P-metric and LT models.
Pros
Excellent all-season traction on dry, wet and light snow covered roads

Crisp steering response

Comfortable and quiet ride
Cons
Would like to see a little longer tread life

Handling is a bit soft
Overall Thoughts
The Hankook RH12 provides mixed results it seems. While it does do more than a few things very well, it certainly has its faults to go along with it. You can expect to find solid traction on dry, wet and snowy roads for the most part, as well as very good steering response. The ride is comfortable on the highway and Hankook does include a 70K mile warranty on them.
Where we see problems is with the softer handling when cornering or changing lanes on the highway. The tire feels a bit mushy for our liking and we would like to see some added strength in the sidewalls. The other area that we feel could use some improvement in would be a bit longer tread wear. While not bad, we've heard a few drivers complain about it.
Overall, we rank the HT in lower middle of this category. Although this tire does not have any single glaring issue, we feel that there are a number of other tires that will give you much better year-round performance for your pickup, van or SUV.
Click Here For Current Hankook Coupons
Click Here To Find Current Prices
What Vehicles Will The Hankook RH12 Fit?
(This is not a complete list of ALL vehicles this tire will fit)
BMW X5

Buick Rendezvous

Chevrolet Silverado, Trailblazer, Suburban, Tahoe, Tracker

Dodge Dakota, Durango, Ram

Ford F-150, Expedition, Explorer, Escape, Excursion

GMC Sierra, Canyon

Honda Pilot, Element, Ridgeline

Hyundai Santa Fe

Infiniti FX35, QX56

Jeep Grand Cherokee, Liberty

Kia Sorento, Sedona

Land Rover Discovery

Lincoln Navigator

Mercedes-Benz ML430, GL320, ML500

Mitsubishi Endeavor, Montero

Nissan Pathfinder, Titan, Xterra, Murano, Rogue

Saturn Vue

Toyota Land Cruiser, 4Runner, Tundra, Sequoia, Highlander, RAV4

Volkswagen Touareg
Tire Sizes
15″
LT235/75R15 101S
P235/75R15 108T
16″
195/75R16 105R
235/65R16 119R
LT215/85R16 112Q
LT225/75R16 112S
LT235/85R16 116Q
LT245/75R16 116S
LT265/75R16 120S
P215/70R16 99T
P225/70R16 101T
P225/75R16 104T
P235/70R16 107T
P235/75R16 109T
P245/70R16 106T
P245/75R16 109S
P245/75R16 109T
P255/70R16 109T
P265/70R16 111T
P265/75R16 114T
17″
225/65R17 102H
LT235/80R17 117R
LT245/70R17 116S
LT245/75R17 118S
LT265/70R17 118S
P235/70R17 108T
P245/65R17 105T
P245/70R17 108T
P255/65R17 108T
P255/70R17 110T
P265/65R17 110T
P265/70R17 113T
18″
265/60R18 110T
P255/70R18 112T
P265/60R18 109T
P265/65R18 112T
P265/70R18 114T
P275/65R18 114T
20″
275/55R20 113T
P275/55R20 111H
P275/60R20 114T
Price Range
Prices on the DynaPro RH12 range from approximately $103 and up. You may also find occasional rebates, discounts, coupons and special offers on this tire.
Click Here To Find The Current Prices On All Hankook DynaPro HT RH12 Sizes
Warranty
A 5-year or 70,000 mile tread warranty is included on the DynaPro RH12. Tire uniformity is covered for one-year or the first 2/32 inch of wear.
Materials and workmanship are warranted for 5-years and provide for free tire replacement during the first year or first 2/32 inch of wear. A prorated amount is given for the remaining time period or down to the final 2/32 inch of tread depth.
---