GT Radial Savero HT2 Tire Review & Rating
The GT Radial Savero HT2 is the company's highway all-season offering that is engineered to provide year round traction and handling, while also giving you the ability to haul heavier loads. Designed for pickups, SUV's and crossovers, the HT2 is available with load ranges C to E, as well coming in P-Metric and LT sizes.
An all-season tread compound and symmetric tread pattern combined with a continuous center rib provide added steering response and stability throughout the speed zone. Rounded shoulders and deeper outside grooves increase dry and wet traction, while enhancing cornering grip, which is an area this tire excels.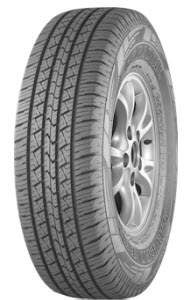 Four circumferential grooves and zig-zag grooves aid in evacuating water on wet surfaces. GITI Tires uses their unique Carcass Tension Technology on the HT2 to further enhance handling. Road noise is reduced due to the use of advanced noise cancelling technology in the tread blocks of the tire.
Inside the tire you will find a steel belted construction that adds strength and durability to the tire, as well promoting more even treadwear. This model carries a 40,000 mile tread guarantee and is available in a wide range of sizes from 15-20 inches.
Pros
Excellent dry and wet traction

Dry/wet braking is very good
Responsive steering and stability


Comfortable ride
Cons
Overall Thoughts
Although the Savero HT2 flies under the radar when compared to brands such as Goodyear, Cooper, Michelin and many others, this tire delivers solid performance at a lower price point. Traction and handling on both dry and wet road surfaces is quite good, and braking performance is very impressive. You'll find responsive steering and the tire feels very stable whether driving around in town or out on the highway.
Naturally, no tire is perfect and the HT2 does have its negatives. Winter traction could be a little better, especially deeper snow traction. That said, this tire isn't advertised as a winter tire. The other area is a shorter than expected treadlife for some drivers. Others have reported exceeding the 40K mile warranty, so it may likely depend on driving habits.

Ride comfort is good on this tire, and noise is not much of an issue, although the tires do become a little more noisy as they wear down. That's a common issue for most all low-cost tires though.
Overall, the HT2 is a nice option for pickup trucks, SUV's and crossovers who are looking for dependable performance for everyday driving needs. It may also save you some extra money with its lower price.
Click Here To Find Current Lowest Price
What Vehicles Will The GT Radial HT2 Fit?
Fits these vehicles and many others:
Buick Enclave

Cadillac Escalade

Chevrolet Tahoe, Silverado, K-Blazer, Trailblazer, Suburban

Dodge Durango, Dakota, Ram, Nitro

Ford F-Series, Expedition, Ranger, Explorer

GMC Sierra, Envoy, Yukon

Infiniti QX4 SUV

Jeep Wrangler, Grand Cherokee, Commander, Liberty

Mercedes Benz G500

Nissan Titan, Frontier, Pathfinder

Toyota 4-Runner, Sequoia, Tundra, Tacoma, Highlander

Volkswagen Touareg
Tire Sizes
15″
30×9.50R15 104R OWL
31×10.50R15LT 109R OWL
P235/75R15 105T OWL
LT235/75R15 104/101R OWL
16″
P255/65R16 106S BSW
P215/70R16 99T BSW
P225/70R16 101T OWL
P235/70R16 104T OWL
P245/70R16 106T OWL
P255/70R16 109T OWL
P265/70R16 111T OWL
275/70R16 114H OWL
LT225/75R16 115/112R BSW
P225/75R16 106S OWL
P235/75R16 106T BSW
P245/75R16 109T OWL
LT245/75R16 120/116S OWL
P265/75R16 114T OWL
LT285/75R16 126/123R OWL
LT235/85R16 120/116R BSW
17″
225/65R17 102H BSW
P235/65R17 103T BSW
P245/65R17 105T BSW
P255/65R17 108S BSW
P265/65R17 110T OWL
P275/65R17 113T OWL
P235/70R17 108S OWL
P245/70R17 108T OWL
LT245/70R17 119/116R BSW
P255/70R17 110S OWL
P265/70R17 113T OWL
LT265/70R17 121/118S OWL
P235/75R17 108S OWL
LT245/75R17 121/118S BSW
LT235/80R17 120/117R BSW
18″
255/55R18 109V BSW
235/60R18 107V BSW
P265/60R18 109T OWL
P235/65R18 104T OWL
P265/65R18 112S OWL
LT275/65R18 123/120S OWL
P275/65R18 114T BSW
P265/70R18 114S OWL
LT275/70R18 125/122S OWL
19″
P245/55R19 103S BSW
20″
P255/55R20 107H BSW
P275/55R20 111H BSW
P275/60R20 114S OWL
Price RangePrices on the HT2 range from approximately $85 and up. You may also find occasional rebates, discounts, coupons and special offers on this tire.
Click Here To Find The Current Lowest Prices On All GT Radial Savero HT2 Tire Sizes
Warranty
The HT2 comes with a 40,000 mile tread warranty. A first 2/32 inch of wear is included on the tire's uniformity.
Materials and workmanship are warranted for 5-years and include free replacement during the first 2/32 inch of wear. A prorated amount is given for the remaining time period or until the tire reaches the final 2/32 inch of tread depth.
---
Share this review