GT Radial Savero A/T Plus Tire Review & Rating
The GT Radial Savero A/T Plus is an all-terrain tire that also advertises itself to be an excellent choice for driving on the highway as well. It's designed to provide drivers of light trucks and SUVs a smooth ride and added stability, response, and traction.
A symmetrical tread pattern features multiple sipes and open shoulders with wide grooves around the tread. Solid blocks and lugs give the AT Plus increased traction while off the road, while a center rib enhances steering stability and overall handling on the highway.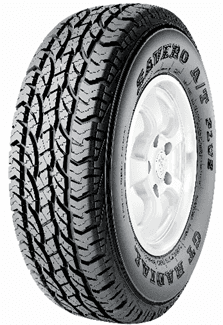 When conditions turn wet on the road, the tire's zig-zag circumferential grooves help to not only channel away water and decrease the chances of hydroplaning, but these grooves further aid in delivering a bit more grip in snow and mud.
The tire has been designed in such a way to minimize annoying road noise while maximizing ride comfort, although this is not a strength for this model. Furthermore, the tough design allows drivers to expect a longer tread life and a reduced chance of tire punctures.
The Savero A/T Plus is available in sizes ranging from 15-17 inches, and GT Radial also includes a limited tread life warranty.
Pros
Long tread life

Good traction on and off road

Budget priced
Cons
Slightly higher road noise than desirable
Overall Thoughts
The Savero A/T Plus does its job well as a budget-friendly option. It performs very good for the most part with only a few drawbacks. It handles well on the highway in both dry and wet driving conditions, and can offer you the traction you need to navigate most off road terrain.
Furthermore, depending on your typical usage scenario, it's very likely that the tire will offer you a longer lasting tread life, an area where many other tires in this class suffer. This, coupled with a very reasonable price, makes it a solid value and good quality offering.
However, no tire is perfect and this model is no different. Expect to find a bit more noise than you would on other AT tires like the Michelin A/T2. Additionally, while the tire performs well in light snow, you may not find the added traction necessary for most severe winter weather conditions, especially on ice.
Overall, we find the GT Radial AT Plus to be a solid buy among budget priced all-terrain tires, especially if you only need it for light off-road driving.
What Vehicles Will The GT Radial A/T Plus Fit?
Fits these vehicles and many others:
Cadillac Escalade

Chevrolet Silverado, Blazer, Suburban, Colorado, S-10, Tahoe

Dodge Dakota, Durango, Ram

Ford Ranger, Econoline, Explorer

GMC Canyon, Sonoma, Yukon, Sierra, Savana

Honda Passport

Jeep Wrangler

Lexus GX470, LX450

Mazda B3000

Mitsubishi Raider, Montero

Nissan Frontier, Pathfinder, Xterra

Suzuki Equator

Toyota 4Runner, Tacoma, Sequoia, Tundra, Land Cruiser
Tire Sizes
15″
205/70R15 96T RBL
235/70R15 103S OWL
265/70R15 112T RBL
225/75R15 102T RBL
235/75R15 105T RBL
16″
245/70R16 107T RBL
265/70R16 112T RBL
275/70R16 114T OWL
225/75R16 104T RBL
245/75R16 111T RBL
265/75R16 116T RBL
17″
265/60R17 108T RBL
265/65R17 112T RBL
275/65R17 115H RBL
Price Range
GT Radial Savero A/T Plus prices range from approximately $96 and up. You may also find occasional rebates, discount prices, coupons and special offers on this tire.
Warranty
GITI Tire provides a limited tread warranty on the Savero A/T Plus. Tire uniformity is guaranteed for the first 2/32 inch of wear. Materials and workmanship are warranted for 5-years include free replacement during the first 2/32 inch of wear. A prorated amount is given for the remaining time period or until the tire reaches the final 2/32 inch of tread depth.
---