GT Radial Maxtour Tire Review & Rating
The GT Radial Maxtour features a touring all-season design that is built to maximize traction and handling, while also delivering a tread life that exceeds expectations. Ideal for use on coupes, sedans, minivans and smaller SUV's and crossovers, the Maxtour's tread pattern is created to provide a quiet, smooth ride while the casing structure increases the durability of the tire.
An all-season tread compound and advanced tread pattern give the Maxtour well-rounded all-weather performance on all types of road surfaces. Rain, sleet and light snow conditions are not an issue as the tires grip the pavement to gain traction and the tread pattern allows for more reliable performance.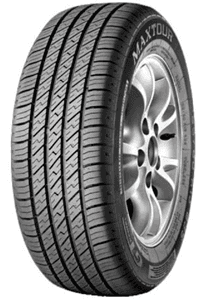 Circumferential grooves are excellent for water evacuation and are deep enough to ensure that water is quickly evacuated from under the tire, which lowers the risk of hydroplaning and adds more confidence when driving in bad conditions.
A big plus on this tire is the lower noise levels due in part to the tread pattern. Not only does the tread perform well and is reliable, but it also provides a smooth, quiet ride without all the annoying road noise so often found in other models.
Inside the tire you find two steel belts that add strength and durability to the tire. A warranty of 80,000 miles is given on the tire's tread which adds value to the already lower price point. Sizes from 12-17 inches are available.
Pros
Dry and wet traction

Quiet and comfortable ride
Cons
Winter handling in deep snow and ice

Treadlife may not meet expectations for some
Overall Thoughts
For the lower cost of the Maxtour, we feel that performance is very good. We found the tire to deliver good all-weather traction, with the exception of rough winter conditions. It simply lacks deeper snow and ice handling, although this can be said for virtually any all-season tire.
The 80k mile warranty is nice, but we've heard some drivers mention that the tire will never see that many miles. To be fair, treadlife is not that bad and for the price it offers good all-around value. An added plus with this model is the availability of 12, 13 and 14 inch sizes.
Overall, this is a middle of the class performing tire that will meet the vast majority of everyday driving needs, while also satisfying those on a tighter budget.
What Vehicles Will The Maxtour Fit?
(This is not a complete list of ALL vehicles this tire will fit)
Buick Century, LeSabre

Chevrolet Cavalier, Astro, Blazer, Impala

Chrysler Sebring

Dodge Intrepid, Caravan

Ford Contour, Windstar, Crown Victoria, Escape

Hyundai Accent

Mazda B2300

Mercury Villager

Saturn Ion

Toyota Corolla
Tire Sizes
12″
145/80R12 74T BSW
13″
175/70R13 82T BSW
185/70R13 86T BSW
14″
185/60R14 82T BSW
195/60R14 86T BSW
175/65R14 82T BSW
185/65R14 86T BSW
195/65R14 89T BSW
165/70R14 81T BSW
185/70R14 88T BSW
195/70R14 91T BSW
205/70R14 95T BSW
185/75R14 89T BSW
195/75R14 92T BSW
205/75R14 95T BSW
15″
195/60R15 88T BSW
205/60R15 91T BSW
185/65R15 88T BSW
195/65R15 91T BSW
205/65R15 94T BSW
215/65R15 96T BSW
205/70R15 96T BSW
205/70R15 96T WR
215/70R15 98T BSW
215/70R15 98T WR
225/70R15 100T BSW
235/70R15 103T BSW
235/70R15 103T WR
205/75R15 97T BSW
215/75R15 100T BSW
225/75R15 102T BSW
235/75R15 105T BSW
16″
215/60R16 95T BSW
225/60R16 98T BSW
235/60R16 100T BSW
215/65R16 98T BSW
225/70R16 103T BSW
235/70R16 106T BSW
17″
215/60R17 96T BSW
P225/60R17 98T BSW
235/65R17 104T BSW
Price Range
GT Radial Maxtour prices range from approximately $39 and up. You may also find occasional rebates, discount prices, coupons and special offers on this tire.
Warranty
The MaxTour comes with an 80,000 mile tread warranty. Tire uniformity is guaranteed for the first 2/32 inch of wear.
Materials and workmanship are warranted for 5-years and include free replacement during the first 2/32 inch of wear. A prorated amount is given for the remaining time period or until the tire reaches the final 2/32 inch of tread depth.
---