GT Radial Champiro UHP1 Tire Review & Rating
The Champiro UHP1 from GT Radial is designed as an ultra-high performance tire for summer driving use. Engineered for drivers of sport coupes and luxury sedans, the UHP1 is all about delivering more powerful cornering, faster braking and increased traction on wet or dry pavement.
A high performance silica tread compound with larger shoulder blocks provides solid dry or wet traction. It also enhances cornering abilities that you would normally expect to find only on tires costing much more. Reviews from drivers speak highly of how well this tire grips the corners and how stable it is at higher speeds.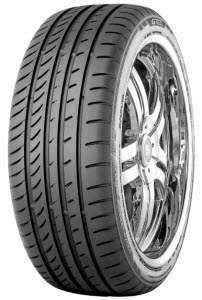 The tire's continuous center rib makes the steering more responsive and crisp, while also increasing straight line stability throughout the speed range. Four circumferential grooves and numerous lateral grooves evacuate water from under the tread and reduce the risk of hydroplaning.
An optimized tread pitch sequence virtually eliminates road noise and adds more driving comfort in town or out on the open highway. Inside the tire you will find steel belted construction that provides strength and durability, as well as promoting more even tread wear. The UHP1 is available in a wide range of 15-20 inch sizes and V or W-speed ratings.
Pros
Excellent dry and wet traction and braking

Cornering grip is outstanding

Exceptional value and performance for a very low price
Cons
Treadwear has been an issue for some
Overall Thoughts
We really like the summer high-performance UHP1 for many different reasons, most notably due to its outstanding grip in the corners, as well as its traction and braking on dry or wet pavement. The tire provides excellent steering response and overall feel. Another aspect that can't be overlooked is the lower price it carries. Comparable tires from Michelin or Bridgestone are twice the price if not more in some cases.
Make no mistake though, this model is not without its flaws. The main issue deals with treadlife. We've heard several drivers mentioning this in reviews on this tire. Naturally, the harder you push the tire the shorter the treadlife, but some of these problems go further than that. So this is something to keep in mind. Fortunately, with the lower cost involved it softens the impact of fewer miles a bit.
Overall, the UHP1 is one of the better low cost summer high-performance tires available today. No, it may not match up to a Michelin Super Sport, PS2, Continental DW or Bridgestone S-04 Pole Position among others in terms of street performance, but for the money it holds its own and is a nice option for tighter budgets.

Click Here To Find Current Lowest Price
What Vehicles Will The GT Radial UHP1 Fit?
Fits these vehicles and many others:
Chevrolet Cobalt, Malibu, Impala

Chrysler PT Cruiser

Dodge Caliber, Charger

Ford Focus, Edge, Fusion, Mustang

Honda CR-V, Accord, Civic

Mazda 6, 3, CX-7

Nissan Sentra, Altima

Toyota Camry, Corolla

Volkswagen Golf
Tire Sizes
15″
195/45R15 78V BSW
195/50R15 82V BSW
205/50R15 89V BSW
195/55R15 85V BSW
205/55R15 88V BSW
16″
215/40ZR16 86W BSW
195/45R16 84V BSW
205/45ZR16 87W BSW
195/50R16 88V BSW
205/50ZR16 91W BSW
225/50ZR16 96W BSW
195/55R16 91V BSW
205/55ZR16 94W BSW
205/55R16 91V BSW
215/55ZR16 97W BSW
225/55ZR16 99W BSW
17″
205/40ZR17 84W BSW
215/40ZR17 87W BSW
245/40ZR17 91W BSW
205/45ZR17 88W BSW
215/45ZR17 91W BSW
225/45ZR17 94W BSW
235/45ZR17 97W BSW
245/45ZR17 99W BSW
205/50ZR17 93W BSW
215/50ZR17 95W BSW
225/50ZR17 98W BSW
215/55ZR17 94W BSW
225/55ZR17 101W BSW
18″
255/35ZR18 94W BSW
265/35ZR18 97W BSW
225/40ZR18 92W BSW
235/40ZR18 95W BSW
245/40ZR18 97W BSW
225/45ZR18 95W BSW
245/45ZR18 100W BSW
255/45ZR18 103W BSW
19″
225/35ZR19 84W BSW
235/35ZR19 91W BSW
245/35ZR19 93W BSW
255/35ZR19 96W BSW
255/40ZR19 96W BSW
20″
255/35ZR20 97W BSW
Price Range
Prices on the UHP1 range from approximately $78 and up. You may also find occasional rebates, discounts, coupons and special offers on this tire.
Click Here To Find The Current Lowest Prices On All GT Radial Champiro UHP1 Tire Sizes
Warranty
The UHP1 comes with a limited tread warranty. Tire uniformity is guaranteed for the first 2/32 inch of wear. Materials and workmanship are warranted for 5-years include free replacement during the first 2/32 inch of wear. A prorated amount is given for the remaining time period or until the tire reaches the final 2/32 inch of tread depth.
---