GT Radial Champiro Touring A/S Tire Review & Rating
Built for all-season traction, a smoother ride and longer life, the GT Radial Champiro Touring A/S also features a lower budget-friendly price. GITI has designed the Touring AS for drivers of all types of coupes, sedans, minivans and smaller crossovers.
A silica-enhanced tread compound and symmetric tread pattern sports larger shoulder blocks that increase stiffness for improved handling and cornering performance on dry or wet pavement.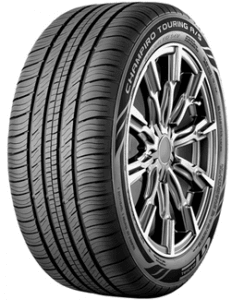 Four circumferential grooves combined with the added silica in the tread compound help this model deliver extra grip on wet road surfaces, while also reducing the risks of hydroplaning. The additional biting edges that the full-depth sipes provide, help with traction on light snow covered surfaces. However, this is an all-season tire and winter performance in deeper snow and ice is not the best.
GT Radial has added optimized variable pitch tread blocks that are designed to lower the road noise and provide a quieter ride, which is a plus for this tire.
The Touring A/S includes a built-in rim protector to aid in protecting your wheels from curb damage, which is a nice added feature. Sizes ranging from 14-18 inches are available, and all sizes feature a T, H or V-speed rating. A 60K mile tread warranty is included on all sizes.
Pros
Reliable dry/wet traction
Responsive handling and cornering stability
Smooth quiet ride
Cons
Winter traction in deep snow and ice
Overall Thoughts
The Touring A/S from GT Radial offers drivers basic touring all-season performance that is comparable to tires like the Arizonian Silver Edition III, Cooper CS3 Touring and several others. Expect to find dependable dry and wet traction with a smooth and quiet ride.
One area where you may encounter issues is with this tires' grip in deep snow and on ice or hard-pack. Yes, the added sipes help with traction in 2-3 inches of snow, but when it piles up or turns icy, this tire can struggle. That said, it's a common problem for most any all-season tire.
Overall, with its lower price and good performance, we feel the Touring A/S is a nice option in basic all-season tires.
What Vehicles Will The GT Radial Touring A/S Fit?
Fits these vehicles and many others:
Acura TSX
BMW 5 Series
Chevrolet Cruze, Malibu, Impala
Chrysler Town & Country, 300
Dodge Challenger, Charger, Grand Caravan, Journey, Caliber
Ford Edge, Ford Flex, Ford Mustang, Focus, Crown Victoria, Fiesta
Honda Accord, Odyssey, CrossTour
Hyundai Elantra, Sonata, Accent, Santa Fe
Kia Forte, Optima Sedona, Soul, Sportage
Lexus ES300h, ES350, GS350
Mazda3, Mazda6
Mitsubishi Gallant
Nissan Altima, Rogue, Maxima, Cube
Subaru Forester
Toyota Avalon, Camry, RAV4, Corolla, Sienna
VW Beetle, Jetta, Passat
Tire Sizes
14″
185/65R14 86H BLK
15″
175/65R15 84H BLK
195/60R15 88H BLK
195/65R15 91H BLK
205/65R15 94H BLK
215/70R15 98H BLK
16″
205/65R16 95H BLK
205/60R16 92V BLK
205/55R16 91H BLK
215/55R16 93H BLK
215/60R16 95H BLK
215/60R16 95V BLK
215/65R16 98H BLK
225/60R16 98H BLK
225/65R16 100T BLK
235/60R16 100H BLK
235/65R16 103T BLK
17″
205/50R17 93V XL BLK
215/50R17 95V XL BLK
215/55R17 94V BLK
215/60R17 96H BLK
215/65R17 99T BLK
225/50R17 94V BLK
225/55R17 97V BLK
225/60R17 99H BLK
225/65R17 102H BLK
235/55R17 99H BLK
235/60R17 102T BLK
235/65R17 104H BLK
18″
225/50R18 95T BLK
225/60R18 100H BLK
235/55R18 100H BLK
Price Range
GT Radial Champiro Touring A/S prices range from approximately $79 and up. You may also find occasional rebates, discount prices, coupons and special offers on this tire.
Warranty
GT Radial provides a 60,000 mile tread warranty on the Touring AS. Tire uniformity is guaranteed for the first 2/32 inch of wear.
Materials and workmanship are warranted for 5-years and include free replacement during the first 2/32 inch of wear. A prorated amount is given for the remaining time period or until the tire reaches the final 2/32 inch of tread depth.
---