GT Radial Champiro HPY Tire Review & Rating
The Champiro HPY max-performance summer tire from GT Radial is built for drivers of all types of sports cars and other sporty vehicles. Designed to deliver high end performance in dry and wet road conditions, the tire has also been engineered with a focus on lower in-vehicle pattern noise and improved ride comfort at higher speeds.
A full silica tread compound is used in order to improve grip on wet road conditions, as well as to enhance heat dissipation on hot, dry roads. An asymmetric tread pattern features a completely solid center rib to improve steering stability and response, as well as to improve overall handling and cornering grip.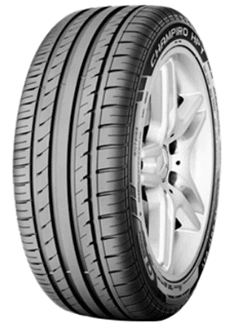 Four circumferential grooves around the tire help in channeling away water on rain soaked pavement, while reducing the risk of hydroplaning at high speeds.
The inner and outer shoulder designs have both been optimized for performance. The inner shoulder features lateral grooves to help disperse water, which further reduces the chances of hydroplaning. The outer shoulder has been designed to enhance overall cornering stability and response by maximizing surface contact.
The Champiro HPY is available in a wide range of sizes from 17-20 inches, and carries either a W or Y-speed rating. GT Radial also provides a limited tread life warranty.
Pros
Affordable price point

Very good traction on dry and wet road conditions

Good ride comfort
Cons
Tread wear faster than desirable
Overall Thoughts
When taking into account the pricing of GT Radial's Champiro HPY, the tire becomes a better-than-average offering. While not perfect by any means, the tire can deliver on its promises of offering you excellent traction on both dry and wet surfaces. Grip is above average, allowing the tire to maintain a high level of handling, steering response, and tight cornering.
While delivering an acceptable level of ride comfort, this model does have a bit of road noise. This is an area that other drivers have mentioned as well. Another thing to keep in mind is the fact that this is definitely not a tire to drive on in cold or winter weather conditions.
Perhaps the biggest issue we see with the HPY is lower than expected tread life that has been reported by a number of driver reviews. To be fair to GT Radial, if you are a more spirited driver who tends to push the limits on a more regular basis, then you already know the tire is not going to last forever.
Overall, the HPY is an excellent entry-level high performance summer tire that delivers more than capable performance, while coming at a much lower price than other similar models.
What Vehicles Will The GT Radial HPY Fit?
(This is not a complete list of ALL vehicles this tire will fit)
Acura RDX, ZDX, ILX, RSX

Audi Q5Cadillac ATS, SRX

Ford Flex

Honda Pilot, Odyssey, S2000

Hyundai Santa Fe

Jeep Liberty

Kia Sorento

Land Rover LR2, Discovery Sport

Lexus RX350

Mazda CX-7
Tire Sizes
17″
215/55ZR17 94W BW
205/50ZR17 XL 93W BW
225/50ZR17 XL 98Y BW
235/50ZR17 XL 100W BW
205/45ZR17 XL 88W BW
215/45ZR17 XL 91Y BW
225/45ZR17 XL 94Y BW
235/45ZR17 XL 97Y BW
245/45ZR17 XL 99Y BW
245/40ZR17 XL 95Y BW
255/40ZR17 XL 98Y BW
18″
235/50ZR18 XL 101Y BW
225/45ZR18 91Y BW
245/45ZR18 XL 100Y BW
255/45ZR18 XL 103Y BW
225/40ZR18 XL 92Y BW
235/40ZR18 XL 95Y BW
245/40ZR18 XL 97Y BW
255/35ZR18 XL 94Y BW
265/35ZR18 XL 97Y BW
19″
225/40ZR19 XL 93Y BW
255/40ZR19 96Y BW
225/35ZR19 XL 88Y BW
235/35ZR19 XL 91Y BW
255/35ZR19 XL 96Y BW
20″
255/35ZR20 XL 97Y BW
Price Range
GT Radial Champiro HPY prices range from approximately $109 and up. You may also find occasional rebates, discount prices, coupons and special offers on this tire.
Warranty
GITI Tire provides a limited tread warranty on the Champiro HPY. Tire uniformity is guaranteed for the first 2/32 inch of wear. Materials and workmanship are warranted for 5-years include free replacement during the first 2/32 inch of wear. A prorated amount is given for the remaining time period or until the tire reaches the final 2/32 inch of tread depth.
---