GT Radial Champiro 228 Tire Review & Rating
The Champiro 228 is GT Radial's high performance touring tire that is engineered to provide all-season traction and handling to go with a smoother and more comfortable ride. Designed mainly for drivers of coupes and smaller sedans, the 228 is one of the company's most popular models.
A Nanotek silica tread compound provides all-season performance on dry or wet roads, including light snow. Beyond that, the tread compound is designed to lower rolling resistance and increase fuel efficiency, which results in saving a little extra money at the gas pump over time.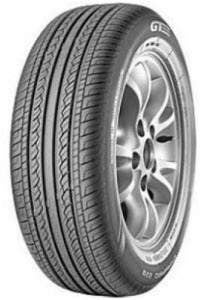 The tire's outside shoulder design and extended grooves add more grip and cornering stability on dry pavement, while also reducing road noise. This new design works well, with many reviews mentioning how well the tire handles. Wet surface traction and handling are enhanced through the four circumferential grooves and added sipes around the tread. This creates a safer ride and reduces the risk of hydroplaning.
Inside the tire you will find a steel belted construction that adds strength and durability to the tire, as well as a more even tread wear. The Champiro 228 is available in 14-18 inch sizes and comes in either an H or V-speed rating.
Pros
Very good dry/wet traction and braking

Cornering grip is above average

Tires ride comfortably

Long lasting treadlife

Excellent value for the money
Cons
Winter handling could be better
Overall Thoughts
Yet another pleasant surprise from GT Radial. While we feel you really can't put this tire in line with some of the best all-season touring tires from Michelin, Continental and other top manufacturers, the Champiro 228 definitely has its place. The money you'll save is substantial compared to the top models, but beyond that, the performance you will get is very good.
This model provides predictable traction whether the roads are dry or wet. Cornering grip will satisfy even those more spirited drivers. It handles itself very well. The only area that could see some improvement would be winter handling, but this is not advertised as a winter tire.
Expect a pretty comfortable ride without all the outside noise, as well as a longer treadlife. Overall, the value and performance for the low cost makes this a good option in new tires.
Click Here To Find Current Price
What Vehicles Will The GT Radial Champiro 228 Fit?
(This is not a complete list of ALL vehicles this tire will fit)
Chevrolet Cobalt

Chrysler PT Cruiser

Dodge Caliber

Ford Focus

Honda CRV, Civic

Mazda 3

Nissan Sentra

Toyota Camry, Corolla

Volkswagen Golf
Tire Sizes
14″
185/55R14 80H BSW
195/60R14 86H BSW
185/65R14 86H BSW
15″
195/50R15 82V BSW
185/55R15 82V BSW
195/55R15 85V BSW
185/60R15 84H BSW
195/60R15 88V BSW
205/60R15 91V BSW
215/60R15 94H BSW
185/65R15 88H BSW
195/65R15 91H BSW
195/65R15 91V BSW
205/65R15 94V BSW
16″
205/50R16 87V BSW
195/55R16 87V BSW
205/55R16 91V BSW
205/55R16 91H BSW
215/55R16 93V BSW
225/55R16 95V BSW
205/60R16 92V BSW
215/60R16 95V BSW
225/60R16 98V BSW
17″
225/50R17 94V BSW
235/50R17 96V BSW
235/55R17 99H BSW
215/65R17 99H BSW
18″
225/60R18 100V BSW
Price Range
Prices on the 228 range from approximately $57 and up. You may also find occasional rebates, discounts, coupons and special offers on this tire.
Click Here To Find The Current Prices On All GT Radial Champiro 228 Tire Sizes
Warranty
The Champiro 228 comes with a limited tread warranty. Tire uniformity is guaranteed for the first 2/32 inch of wear. Materials and workmanship are warranted for 5-years and include free replacement during the first 2/32 inch of wear. A prorated amount is given for the remaining time period or until the tire reaches the final 2/32 inch of tread depth.
---