Goodyear Wrangler SR-A Tire Review & Rating
The Goodyear Wrangler SR-A all-season highway tire is mainly used for original equipment on a wide variety of new pickup trucks. However, it is also a popular replacement model for drivers of SUV's and crossovers as well.
The all-season tread compound utilizes Goodyear's WetTrac technology to go with a symmetrical tread pattern to provide added traction on wet surfaces, as well as on gravel, mud and light snow. Wide circumferential grooves and zig-zag sipes around the tread evacuate water from under the tire and reduce the risk of hydroplaning, although this is not a strength for this tire.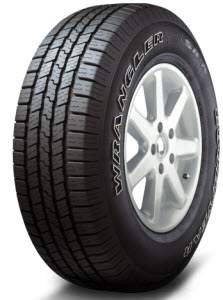 Dry pavement grip is enhanced through the tire's independent tread blocks, lateral grooves and wider contact patch. The SR-A maintains a quiet ride with its tread design that is designed to resist vibrations and lower outside road noise, which is an area frequently mentioned in driver reviews as one this tire does very well.
Inside the tire you will find two high tensile steel belts that provide added strength and durability. Goodyear has created this model in P-metric and LT sizes, as well as heavy duty D and E load ranges. You'll find 15-20 inch sizes available, and it comes backed with up to a 50K mile warranty.

Pros
Traction on dry pavement, gravel and dirt is very good

Tires ride comfortably and have low road noise

Crisp steering response
Cons
Wet and winter handling could be better

Treadlife has been an issue for some drivers
Overall Thoughts
Although the SR-A is mainly used as original equipment on a variety of pickups, it has become a popular choice for all types of trucks and SUV's. Traction and grip on dry pavement is very good for this model. Steering response is quick, and ride quality is equally as impressive.
However, far too many have complained about wet surface handling, as well as traction on snow and ice. It's simply lacking when compared against other top models in this class. A shorter than expected treadlife has also been an issue for some drivers in ratings on this model.
Overall, we like this tire for its comfort and dry surface performance, but if you drive on wet roads the majority of the time, or live in an area which sees quite a bit of snow and ice, you may want to look at a different tire. Tires like the Yokohama YK-HTX or Michelin Defender LTX M/S would provide higher performance and make a better option.
Click Here For Current Goodyear Coupons
Click Here To Find Current Price
What Vehicles Will The Goodyear SR-A Fit?
Fits these vehicles and many others:
Chevrolet Tahoe, Silverado, Trailblazer, Avalanche

Dodge Ram, Durango, Dakota, Nitro

Ford Explorer, F-150, Expedition, Ranger

GMC Yukon, Sierra, C1500, Suburban

Hyundai Santa Fe

Jeep Grand Cherokee, Liberty, Wrangler

Mazda CX-7

Mercury Mountaineer

Nissan Titan, Murano, Armada, Pathfinder, 4Runner

Toyota Sequoia, Tundra, Sienna
Tire Sizes
15″
31X10.50R15LT 109R C OWL
P225/70R15 100S OWL
P225/75R15 102S OWL
P235/75R15 105S OWL
P265/70R15 110S OWL
P265/75R15 112S OWL
16″
LT215/85R16 115P E BSL
LT225/75R16 115R E BSL
LT245/75R16 120R E BSL
LT245/75R16 120R E OWL
LT265/75R16 123R E OWL
LT285/75R16 126R E OWL
215/70R16 100S VSB
P235/70R16 104S OWL
P245/70R16 106S VSB
P245/70R16 106S OWL
P245/75R16 109S VSB
P235/75R16 109S XL OWL
P265/70R16 111S OWL
P265/75R16 114S OWL
225/70R16 103T OWL
17″
P265/70R17 113R VSB
P265/70R17 113R OWL
LT245/70R17 119R E OWL
LT245/75R17 121R E OWL
P235/65R17 103S OWL
P245/70R17 108S VSB
P235/75R17 108S OWL
P265/65R17 110S VSB
P255/75R17 113S OWL
LT265/70R17 121S E BSL
P215/65R17 98S OWL
18″
LT275/65R18 123Q E OWL
LT275/70R18 125R E OWL
LT265/70R18 124S E VSB
245/60R18 105T VSB
P265/60R18 109T VSB
P265/65R18 112T BSL
P255/70R18 112T OWL
P275/65R18 114T OWL
20″
P275/55R20 111H VSB
P275/60R20 114S VSB
LT305/60R20 118S D BSL
Price Range
Prices on the Wrangler SR-A range from approximately $103 and up. You may also find occasional rebates, discounts, coupons and special offers on this tire.
Click Here To Find The Current Price On All Goodyear Wrangler SR-A Sizes
Warranty
A 6-year or 50,000 mile treadlife warranty on P-metric sizes only is included on this model, as well as a 6-month or first 2/32 inch of wear on the tire's uniformity.
Materials and workmanship are guaranteed for 6-years and come with first year or first 2/32 inch of wear free tire replacement. A prorated amount is given for the remaining time period or down to the final 2/32 of tread depth.
---